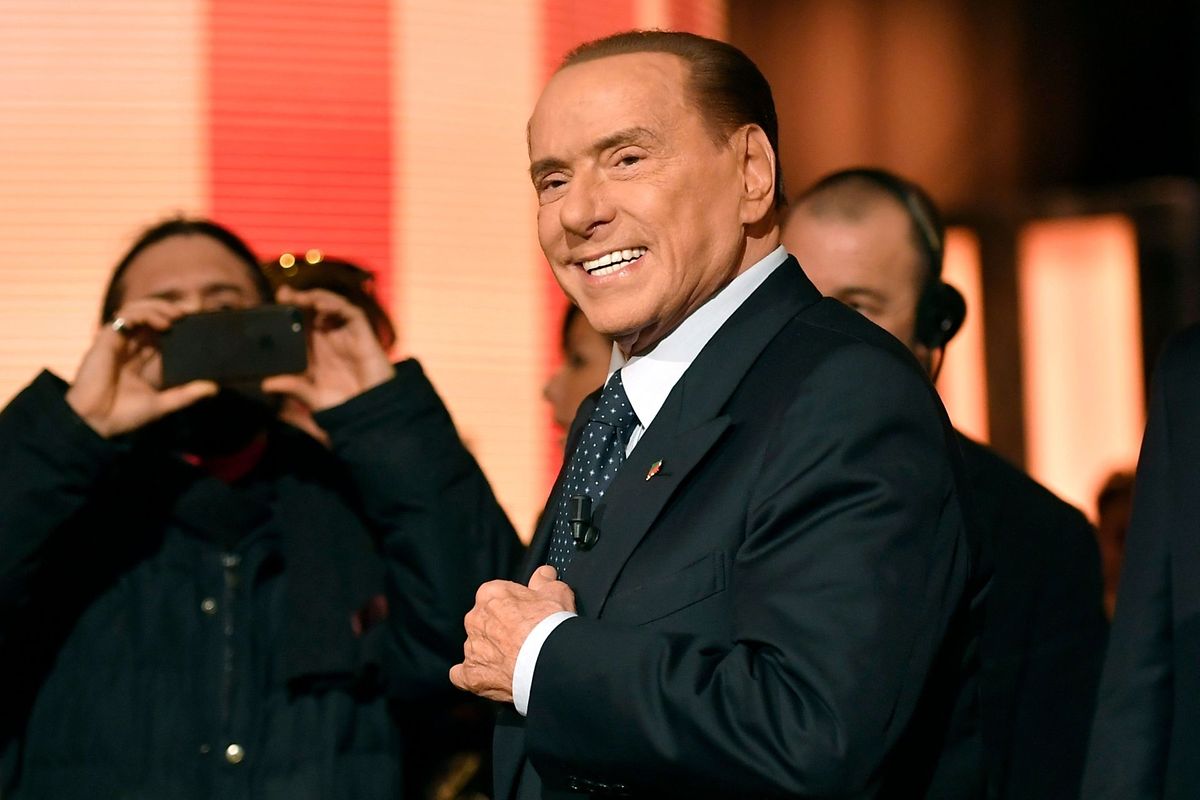 Berlusconi could win a landslide in southern Italy (AFP)
Polls may be downplaying the chances that a center-right coalition backed by former Premier Silvio Berlusconi will win a majority in the upcoming Italian elections on 4 March.
The so-called ''shy-factor'' in the polling process, which underestimates voting intentions for right-wing parties, and a new electoral law that favors coalitions, may give Berlusconi's bloc enough seats to form a government, according to Lorenzo Pregliasco, managing director of Agenzia Quorum, which manages pollster YouTrend.it.
That would allow them to beat both the ruling Democratic Party, which is losing support, and the anti-establishment Five Star Movement, which polls as the biggest single party but has so far eschewed alliances. Berlusconi is banned from public office for a tax-fraud conviction, but could play a key role in the choice of premier.
''The trend is down for the Democratic Party and Berlusconi could win a landslide in the South,'' said Pregliasco, noting that their projections show his coalition only 2 percentage points away from being able to form a government. ''A center-right majority is more likely.''
While polls have been relatively stable so far, the campaign was jolted over the weekend when a drive-by shooting in central Italy saw six African migrants injured. A member of Berlusconi's right-wing ally, the Northern League, was arrested after the attack.
Berlusconi told Canale 5 television on Sunday evening that immigration is ''a very urgent issue'' because 600,000 migrants in Italy ''don't have the right to stay.'' He described them as "a social time bomb, because they're ready to commit crimes.''
Analysts have so far been predicting a hung parliament and probable grand coalition as both the most likely outcome and the most preferred by markets, as it would mark a continuity with Premier Paolo Gentiloni's government. Those predictions are based on a straight-forward analysis of polls, which show the main parties all below 40 percent.
That doesn't consider a possible final boost close to the vote nor the ''shy factor'' in right-wing voters' declarations to pollsters. A new electoral law that assigns one-third of parliamentary seats through a first-past-the-post system also plays to the advantage of the center-right which is ahead of rivals as a bloc and has its support concentrated in the populous North and South.
A Bloomberg calculated average of January polls has the center-right at 37 percent of the vote, the center-left at 27 percent and Five Star at 27.7 percent.
Seat projections
Agenzia Quorum sees Berlusconi's coalition as likely to win more than 60 percent of constituency seats. YouTrend projections for the AGI newswire currently see the bloc getting 284 seats, just 32 seats shy of an absolute majority in the lower house.
In addition, Pregliasco says about 10 percent of voters are expected to pick sides at the last minute, even inside polling stations.
The lack of a clear candidate as prime minister in the center-right is not seen as affecting voting intentions, according to Pregliasco.
The center-right has been underestimated before. In 2008, exit polls gave a 2 percentage point lead to Berlusconi's bloc over the Democratic Party, less than the final 9.3-point lead he actually won in the lower house. In 2006, Romano Prodi won by less than 0.1 percentage points after first exit polls gave him a 5-point lead. In 2013 the center-left candidate Pier Luigi Bersani's 6-point lead in polls shrunk to a few decimal points in real votes.
Heading right
''The wind is blowing in that direction. The Democratic Party is not sticking,'' Roberto Baldassari, president of pollster Istituto Piepoli said referring to a possible better-than-expected result by the center-right. He added that Five Star doesn't seem to be underestimated in polls.
A few analysts are also starting to shift their expectations.
Barclays economist Fabio Fois on 29 January changed his baseline scenario to a center-right government which would, however, ''remain exposed to risks of a government crisis and/or snap elections during the next legislature.'' He said that's because cohabitation between Berlusconi's Forza Italia and its less moderate and euroskeptic right-wing ally the Northern League "could prove difficult over the medium term.''
In the meantime billionaire hedge-fund manager Ray Dalio's Bridgewater Associates tripled its bearish wagers against Italian banks and insurers ahead of the country's elections.
''A grand coalition is not a forgone conclusion,'' Teneo Intelligence's Wolfango Piccoli said in a note on 31 January. ''Attempts to form a government could be slowed down by a crossfire of vetoes.''
A blackout period for polls is due to start two weeks before the vote on 4 March.