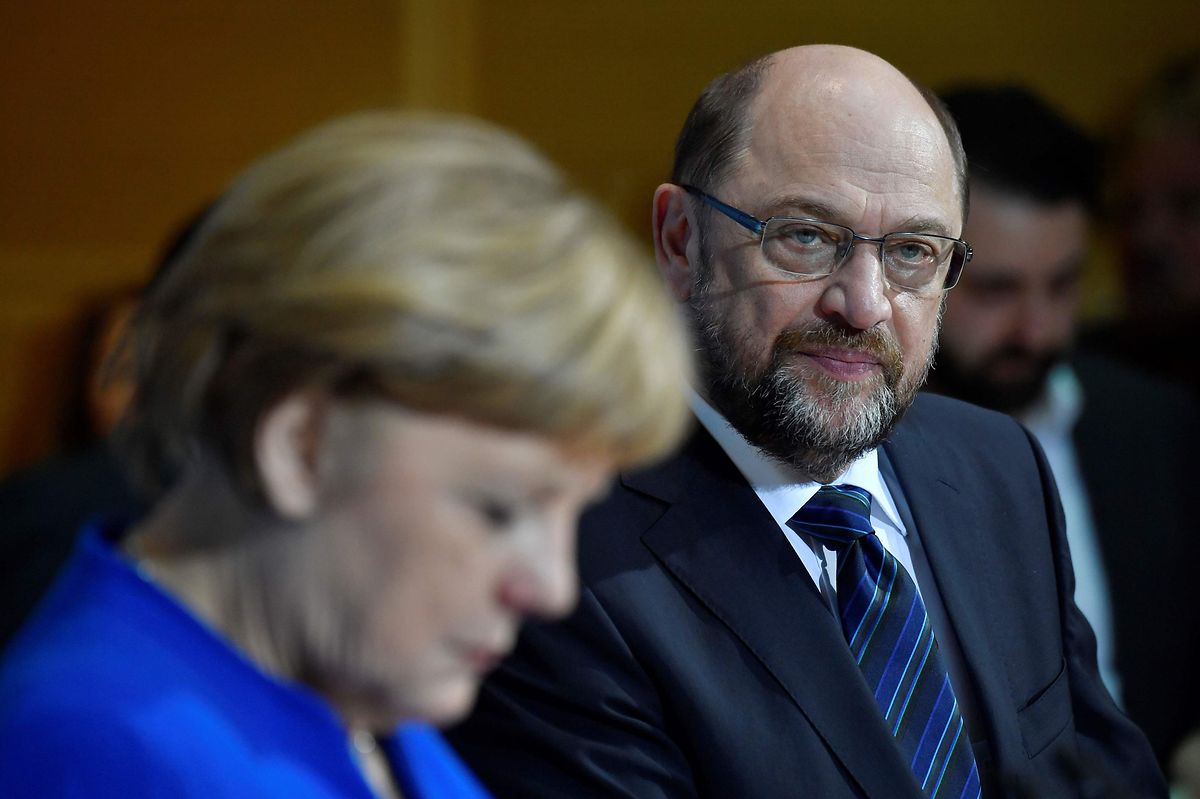 Schulz is travelling the country to shore up support to move on to formal negotiations on a common platform for government (AFP)
Germany's deeply divided Social Democrats are starting to face up to political reality.
Confronted with a crucial vote this weekend on whether to enter formal coalition talks with Angela Merkel's bloc or cast themselves into the wilderness to rebuild the party, many SPD members are coming to the conclusion that a return to government carries the lesser risk.
Senior party officials said the option of spending another four years governing with Merkel in a so-called grand coalition poses less of an existential threat than the most likely alternative: a snap election that polls suggest could see the SPD vote drop from a postwar low, cost the party its leadership and extend Germany's political stalemate to all Europe.
"Of course there's big resistance to a grand coalition, since the SPD emerged weakened each time," said Hans Eichel, German finance minister from 1999 to 2005 under then-Chancellor Gerhard Schroeder. Europe faces a crucial year and the party "needs to enter into a grand coalition" in order to move forward the reform agenda with French President Emmanuel Macron, Eichel said in an interview.
After securing a 28-page draft in marathon exploratory talks last week, Social Democratic leader Martin Schulz is crisscrossing the country to shore up support to move on to formal negotiations on a common platform for government. A total of 600 SPD delegates from Germany's 16 states will gather on Sunday in the former capital Bonn for the vote, with the party's youth organisation leading calls to oppose another term with Merkel's Christian Democratic Union-led bloc.
All states have divisions over the party's direction, but the key swing votes will come down to the membership-heavy western German industrial states of North-Rhine Westphalia, Baden-Wuerttemberg and Bavaria, according to Axel Schaefer, a former SPD deputy caucus leader in the lower house of parliament who now speaks on European affairs.
Ruhr Valley
"The SPD's situation in North-Rhine Westphalia is difficult," Schaefer, who once led the state's parliamentary delegation, said in an interview. He cited the SPD's loss of power in the state, Germany's most populous, last year as a complicating factor. But he still predicted a majority vote in favor of coalition negotiations once delegates weigh the risk of fresh elections and the potential damage to the party leadership.
Schulz lobbied the base in the Ruhr Valley city of Dortmund and in Dusseldorf, both in North Rhine Westphalia, saying he was "optimistic" he could convince members of the advantages of the deal, including a road map for Europe, pension increases for poorer retirees and tax breaks for lower-income earners.
That's nowhere near enough for the SPD's youth organisation, which cites the absence of SPD demands such as expanded public health insurance and increased taxes on the wealthy for its opposition to the draft deal reached last week.
That sentiment has resonated with portions of the party. The SPD in the eastern state of Saxony-Anhalt rejected coalition talks at a weekend regional conference, as did members in the city-state of Berlin. Brandenburg, which surrounds Berlin, and the city state of Hamburg supported further negotiations.
State delegates
But those three states' combined 39 delegates for Sunday's convention pale beside Bavaria's 78-strong delegation. North Rhine Westphalia's 144 delegates mean its decision is potentially decisive.
Josef Huelsduenker, an SPD member and union representative in the state's North Ruhr region, said that amid differing perspectives, sentiment in his union-strong region is tipping in favor of a stable government with Merkel.
"The tenor is not what we dream of, but what we can do?" Huelsduenker said in a phone interview.
A compromise position is being put forward by the popular Social Democratic state leader of Rhineland Palatinate, Malu Dreyer, who has dropped her initial outright opposition to another grand coalition. Instead, she now says that the outline deal reached with Merkel's bloc should be a starting point to secure more concessions in the formal coalition talks to come.
"The preliminary deal hasn't exactly caused an outpouring of cheering," said Klaus Barthel, a former SPD lawmaker who leads the party's labor organisation. Yet it has the potential to lead to better things. "We expect that in upcoming coalition negotiations more will be achieved for workers and social equality," Barthel said in an interview.