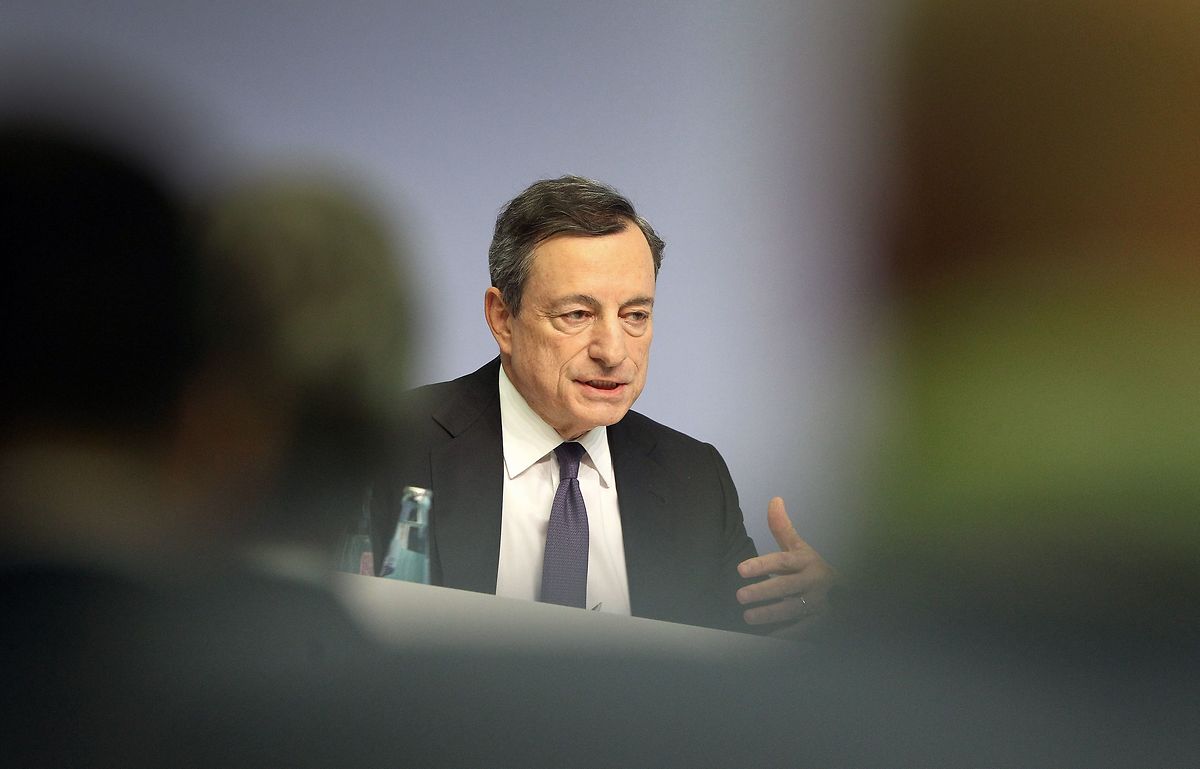 Mario Draghi, president of the ECB, addresses the media during a press conference in Frankfurt (AFP)
Mario Draghi said policy makers refrained from discussing the end of asset purchases or even the stronger euro as they focused on gauging the health of the region's economy.
The Governing Council spent its two-day meeting assessing a raft of weaker economic data, the European Central Bank president said at a news conference in Frankfurt.
While Draghi acknowledged that momentum softened at the start of the year, he reaffirmed his confidence in the durability of the euro-area expansion.
"The interesting thing is that we didn't discuss monetary policy per se," he said. "It's quite clear that since our last meeting, broadly all countries experienced, in a different extent of course, some moderation in growth or some loss of momentum."
Draghi said that policy makers didn't focus on volatility in the currency.
The euro gained as much as 0.4% against the US dollar and traded at $1.2182 at 3:50pm in Frankfurt.
The comments "should put a floor below the euro", Credit Agricole analyst Manuel Oliveri said.
The ECB confirmed expectations by leaving policy unchanged earlier on Thursday, keeping to its commitment to bond-buying at a monthly €30 billion until at least September, with rates on hold "well past" then.
Trade threat
The central bank's quest to restore sustainable inflation of just under 2% has been complicated by data suggesting that the euro area's strongest growth in a decade may be faltering.
As well as waning industrial output and deteriorating business confidence, the threat of a global trade war is hanging over Europe's export-oriented economy.
"Incoming information since our meeting in early March points towards some moderation, while remaining consistent with a solid and broad-based expansion of the euro-area economy," Draghi said.
"The underlying strength of the euro area economy continues to support our confidence that inflation will converge towards our inflation aim of below, but close to, 2% over the medium term."
Policy makers had already signalled that they expected growth to stabilise at a solid pace.
An initial look at euro-area gross domestic product in the first quarter will come next Wednesday, with economists predicting growth of 0.5% – weaker than the 0.7% recorded at the end of 2017, but still pointing to above-potential expansion.
Draghi reaffirmed his confidence that inflation will eventually rise to the ECB's goal of just under 2%, even if there are still "no convincing signs of a sustained upward trend".
While wages may be finally headed higher, consumer-price growth was unexpectedly revised down to 1.3% in March from an initial estimate of 1.4%.
"Measures of underlying inflation since our last meeting moved sideways," Draghi said, adding that there have been "certain encouraging signs on nominal wage growth".
German wages
Supercore inflation – a measure by Bloomberg Economics that focuses on items that have the strongest connection to the spare capacity in the economy – has been slowly rising in recent months.
In Germany, public-sector employees signed a pay deal that should eventually boost inflation, following a similar deal for factory workers.
In his opening statement, Draghi repeated a pledge to monitor exchange-rate developments and their potential impact on inflation.
Companies have complained about the euro's gain of almost 12% in the last year.
Credit Suisse has estimated that each 10% gain shaves 6% off of European stocks' earnings per share.
Even if the single currency's rise has petered out for now, exporters like Continental and Volkswagen flagged the exchange rate as a risk.