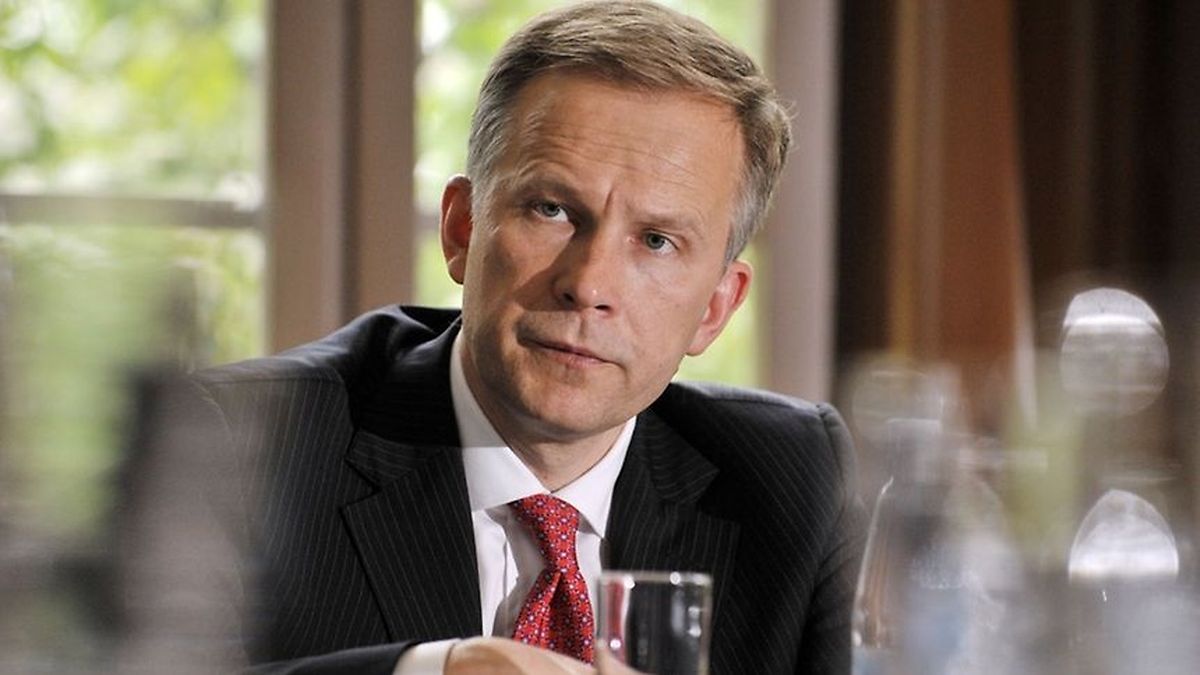 The ECB governing council was arrested after a search of his office (AFP)
Latvian central bank governor Ilmars Rimsevics, a member of the European Central Bank's governing council, was detained by the country's anti-graft bureau, prompting calls for him to step aside to prevent harming the country's financial sector.
The detention followed a search by authorities of the governor's office and private property, state-owned LTV reported, without saying how it got the information. Rimsevics's lawyer, Saulvedis Varpins, said Latvia's top monetary official considered his arrest "clearly illegal," according to the Leta news service.
While government officials gave no reason for his arrest, finance minister Dana Reizniece-Ozola called for Rimsevics to step down during the probe, which she said may hurt Latvia's credit position.
"Each day that Mr Rimsevics remains in the central bank's leadership significantly worsens" the situation, Reizniece-Ozola said at a news conference in Riga on Sunday.
"I think that at this moment it would be wise if Mr Rimsevics would at least during the course of the investigation step down."
These developments deal a new setback to Latvia, which just last year saw economy struggle back to pre-crisis levels after losing more than a fifth of its output in the global financial crisis.
Last week, the US Treasury proposed banning the biggest domestic bank, ABLV, from the US financial system, saying it helped entities allegedly linked to North Korea's missile program process transactions – charges the lender denies. Reiznice-Ozola warned of an impact on the Baltic state's credit score and, without elaborating, said her ministry had changed its borrowing strategy.
At the same time, the finance minister said the banking sector isn't facing a liquidity crunch and there were no doubts about the financial regulator's capabilities. In a statement, prime minister Maris Kucinskis said there were no signs of threats to the Latvian financial system.
'Years ago'
Rimsevics, 52, has worked at the Baltic nation's central bank since graduating with an MBA from Clarkson University in Potsdam, New York in 1992.
After first taking the role of deputy governor that year, he was promoted to governor in 2001. He later became a member of the ECB governing council since 2014, when Latvia adopted the euro.
Varpins, the lawyer who spent more than eight hours at the anti-graft bureau in Riga with Rimsevics before the governor was taken away in a bureau van, said his client was being held at the state police station and hasn't been charged, according to Leta. Varpins, who didn't return repeated calls and text messages, cited the reason for the detention as alleged acts from years ago.
None of the government officials explained why Rimsevics was detained. Under Latvian law, authorities can hold someone for 48 hours, then the detained person may be named as a suspect and either held for longer or released with limits. Deputy Governor Zoja Razmusa will fulfill Rimsevics's role while he's not at the bank, spokesman Janis Silakalns said.
The ECB declined to comment. Another ECB governing board member, Bank of Greece Governor Yannis Stournaras, is also being accused of bribery, an accusation he vehemently denies, alleging political persecution aimed at forcing him to resign.
Reputation crisis
Reiznice-Ozola said the country was suffering a crisis of reputation over ABLV, which has denied all accusations from the US Treasury and said it will work with US officials and provide information so that doubts about it can be laid to rest. Latvia has asked the US Treasury to discuss and share data on ABLV, she said. The central bank is helping the lender with liquidity, said Edvards Kusners, a member of the monetary authority's board.
Latvia's banking regulator has imposed tighter rules, record fines and annual checks for those working with foreign clients as part of an effort to shake off a reputation that the country's institutions hold wealth with questionable origins.
It fined three banks a total of €5.5 million euros for handling accounts that were involved in a $1 billion Moldovan fraud in 2014. Five Latvian banks agreed last year to fines totaling €3.5 million for failing to perform adequate due diligence and gather sufficient information on transactions and beneficiaries of deals linked to North Korea.