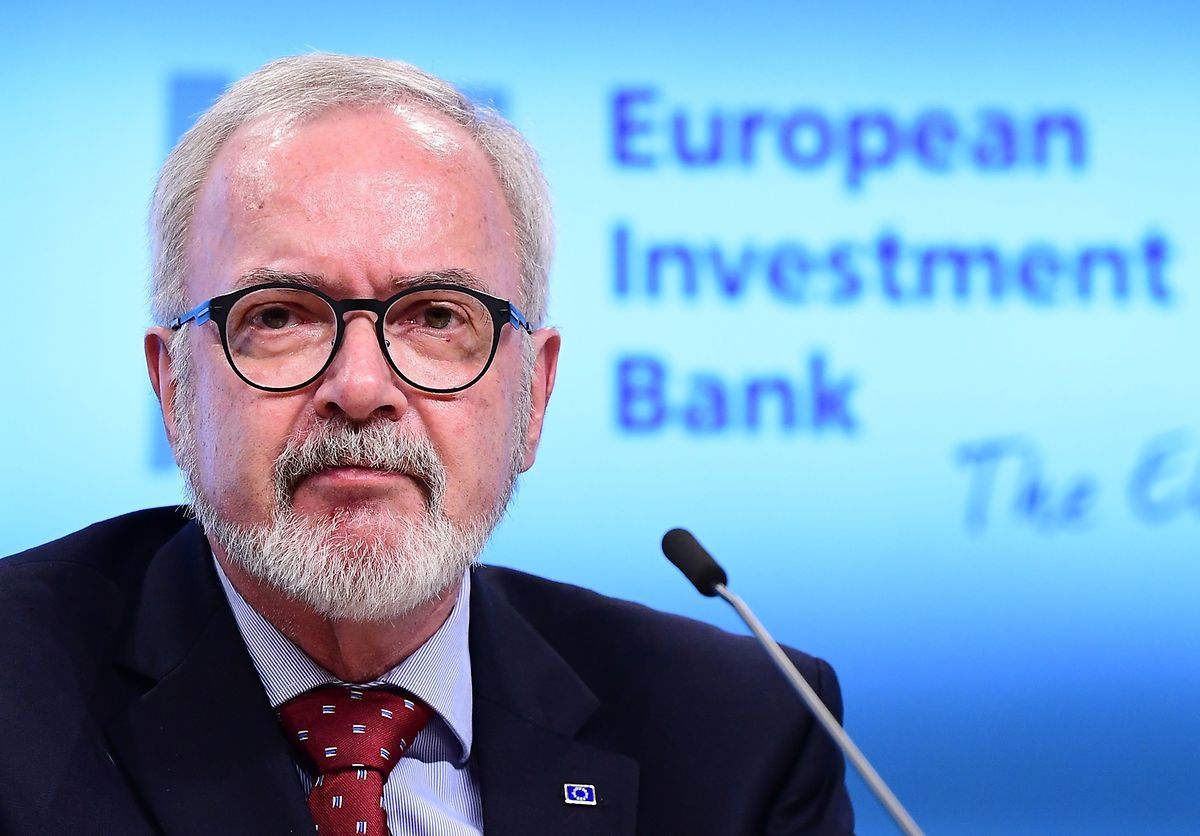 European Investment Bank (EIB) president Werner Hoyer addresses a press conference on EIB Group results for 2017 and a strategic 2018 outlook in Brussels, on 18 January (AFP)
The Luxembourg-based European Investment Bank, which celebrates 60 years of existence this year, released its 2017 results in Brussels on Thursday.
The lending arm of the European Union and world's biggest multilateral lender invested over €78 billion in innovation, environment, infrastructure, and small and medium-sized enterprises (SMEs) last year.
It invested in a record number of 901 projects, marking a 15% increase compared to the previous year.
In 2017, the EU bank increased its lending to support innovation in various industries to a total of €14 billion. It also provided lending of up to €17 billion for environmental projects and made investments of €18 billion in infrastructure.
The EIB also met its target for climate action by approving €19 billion of financing in projects addressing climate change, which represented 27% of the bank's total finance during last year.
Almost €30 billion were invested in SMEs and midcaps, which supported 3.9 million jobs in more than 285,000 firms, according to EIB president Werner Hoyer.
Part of the EIB group, the European Investment Fund (EIF) committed to €9.34 billion of financing last year.
The EIB reached 25% of the additional €6 billion volume agreed in the economic resilience initiative, a project launched by the bank at the end of 2016 to support the EU's southern neighbourhood region and the West Balkans.
As a multilateral development bank, in 2017, the bank invested one-tenth of its financing volume – almost €8 billion – outside of the EU bloc.
Areas of improvement
Hoyer told journalists on Thursday that investment in infrastructure across Europe is lagging, particularly in member states hit hardest by the financial crisis. Current financing in infrastructure lies at 20% below pre-crisis level.
He added that more support should be given to SMEs in the future, referring to small companies, innovative firms and start-ups that "invest in intangibles" and "cannot offer much collateral for bank financing".
Since launch, the EIB has engaged in close to 12 000 operations, in 162 countries, and paid out over €1.1 trillion which generated €3 trillion of investment.
"This has been a very good deal for Europe, and an enormous benefit to the EU citizens", said Hoyer, further adding that "only around €14 billion have ever been paid in, in cash, by the member states – a little more than 1% of the total investment the EIB contributed to generate."
Joining the EIB in 2012, Hoyer started his second six-year term at the bank's helm on 1 January 2018.