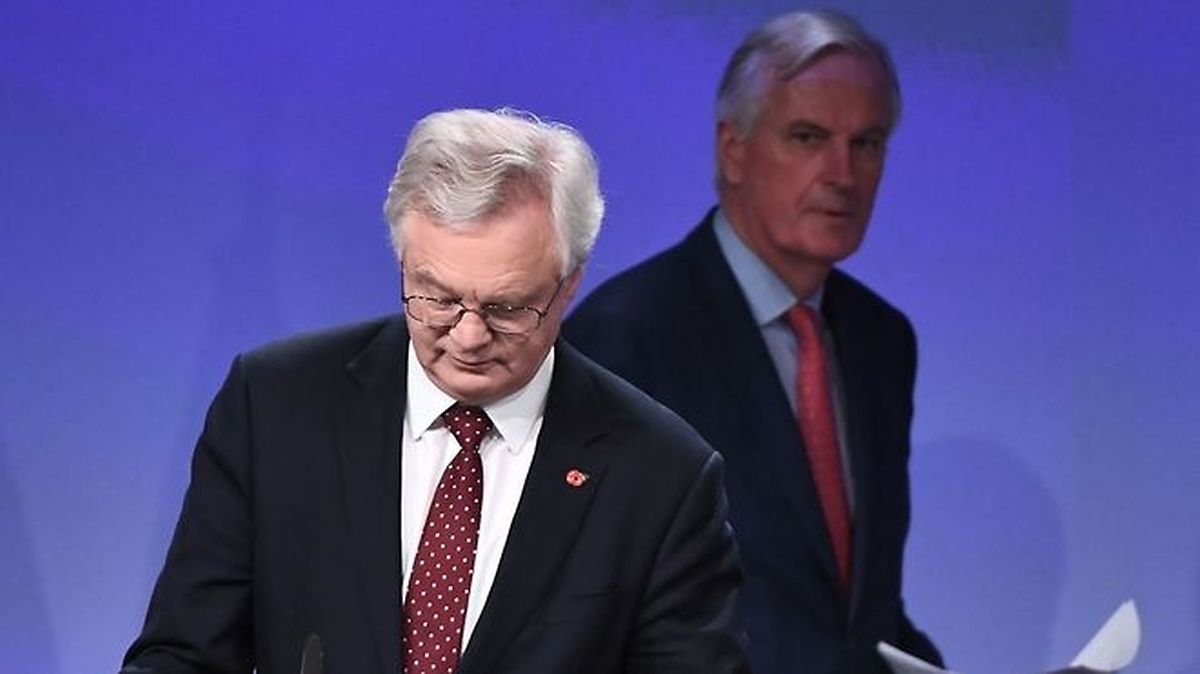 Michel Barnier, the EU's cheif Brexit negotiator passes behind his UK opposite number David Davis (AFP)
The European Union may be willing to discuss residency rights for EU citizens arriving in the UK after Brexit, a senior EU official said, in what could signal a less rigid approach from the bloc ahead of next week's separation talks in Brussels.
While the EU won't accept an end to the freedom of movement during the transitional period after March 2019, the fate of those who move to Britain after its withdrawal from the bloc and haven't stayed long enough to acquire residency rights by December 2020 is a legitimate question, the official said.
Under EU law, permanent residence rights are automatically granted after five years.
UK Prime Minister Theresa May has vowed to fight the EU's attempts to extend protection for expats as a condition for a transition period of 21 months. Britain's leader said there should be different rights for European nationals who arrive in the UK before Brexit day next year compared with those who go there during the transition.
The EU wants the cut-off date for citizens-rights acquisition to coincide with the end of the transitional period on December 31, 2020; the details of the arrangement are subject to negotiations set to begin next week in Brussels. Britain wants to reach a deal on transition by the end of March, as any further delay would raise doubts about its usefulness in cushioning the impact of Brexit.
Within Reach
A compromise on the rights of citizens would still leave several thorny issues to be resolved before a deal is within reach.
Even as the UK accepts that it will have to abide by EU laws during the transition period, it demands to have a say over legislation that could be harmful to its interests, a demand that the EU has rejected.
The EU will only grant limited access to its single market for UK banks following the end of the transition, and only on the condition that Britain stays aligned with the bloc's regulatory standards.
The UK wants instead a trade deal with the EU that will also include access for financial services.
The bloc's chief Brexit negotiator, Michel Barnier, will meet with his UK opposite number David Davis in London on Monday, before officials from both sides begin three days of talks in Brussels, starting on Tuesday.
In addition to transition and the plans for the future relationship, the talks will also revisit issues still unresolved from the first stage of negotiations, including Northern Ireland's boder with the Republic which post-Brexit will be the sole EU-UK mainland border.