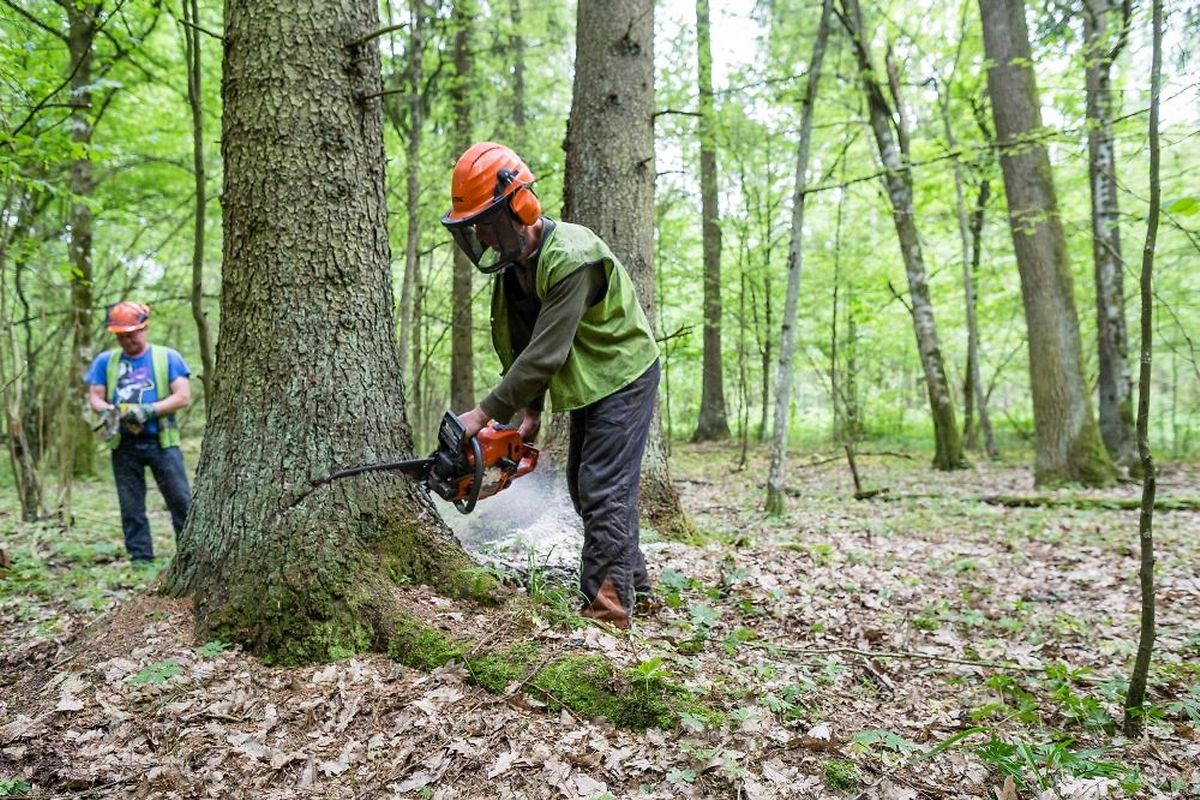 Forest workers cut down a spruce tree attacked by woodworms in the Bialowieza Forest in Poland (AFP)
The European Union won a court battle against Poland over logging in one of the continent's last primeval forests, underscoring their strained relations as they seek to resolve a wider conflict over democratic values.
The Luxembourg-based European Court of Justice sided with the EU's executive on Tuesday by ruling that Poland's move to cut down in 2017 parts of the Bialowieza forest, home to the European bison as well as numerous bird species, breached environmental rules.
Poland risks a fine of at least €4.3 million if it doesn't reverse decisions on logging.
Facing the threat of unprecedented EU sanctions and a weaker negotiating position for funds from the bloc's next multi-year budget, the government of prime minister Mateusz Morawiecki has in past months sought rapprochement with Brussels.
It has stopped mass logging near Bialowieza and offered to change parts of recent court overhauls that the European Commission said posed a risk of "systemic threat to the rule of law".
The EU hasn't yet decided if Warsaw's actions to address concerns about the judiciary, which critics called a "smokescreen", will convince it to drop the threat of sanctions.
Ministers from EU nations are set to discuss the rule of law in Poland in Luxembourg on Tuesday, but aren't expected to take any decisions.
'Huge victory'
In its binding ruling, the EU's top court said Poland's was wrong to argue it needed "active forest management operations" to stop the spread of the spruce bark beetle.
This is not the end of our fight

James Thornton
Such explanations have triggered months of protests by environmental lobby groups.
"This is a huge victory for all defenders of Bialowieza Forest," ClientEarth Chief Executive James Thornton said in a statement. "This is not the end of our fight."
He called on a full withdrawal from logging and enlarging the national park to encompass the entire forest.
On the rule of law front, the Helsinki Foundation for Human Rights think-tank said the government's latest court revamps aren't deep enough to meet demands set out by Brussels, tighten politicians' grip on the justice system and fail to "repair the damage done to the judiciary in the past two years".
Lawmakers passed bills forcing the government to publish several 2016 rulings of the Constitutional Tribunal, which the cabinet has refused to do, preventing them from becoming binding.
The new legislation includes a disclaimer, however, that the verdicts won't have legal consequences.
Other tweaks will force the justice minister to consult judiciary bodies before dismissing court presidents while failing to reinstate about 130 senior judges sacked by the government in past months.
Law & Justice won't agree to a more substantive reversal of its judicial reform

Mujtaba Rahman, Naz Masraff
Despite this legislation, which still need to be signed by President Andrzej Duda, Poland's ruling party probably has to do more to reach a compromise with Brussels and avoid the threat of sanctions, according to Eurasia Group, a political risk consultancy.
"While Warsaw may agree to additional but limited changes, Law & Justice won't agree to a more substantive reversal of its judicial reform which it sees as critical to its ideology," Eurasia's Mujtaba Rahman and Naz Masraff said in a note.
"And if there is no progress, the threat of advancing" with the sanctions process or "reducing the amount of structural funds Warsaw receives, will remain".