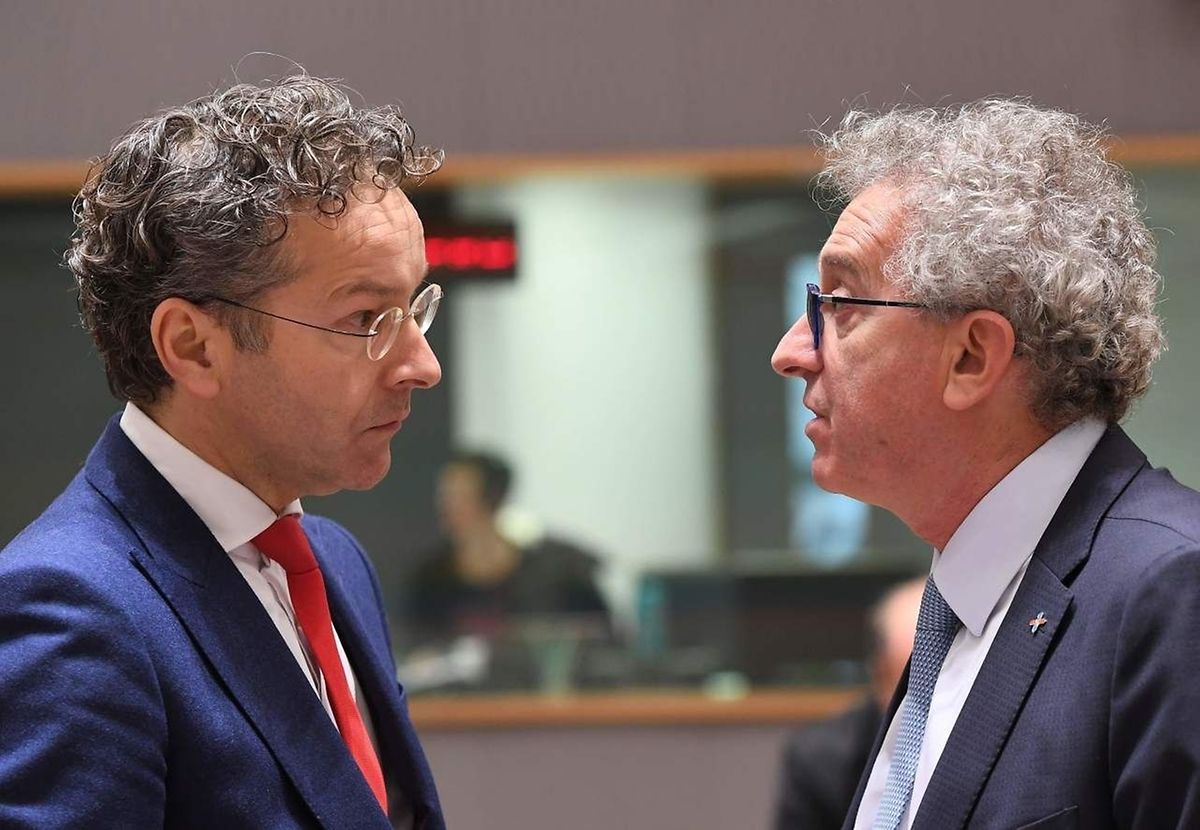 Jeroen Dijsselbloem (left) and Pierre Gramegna (AFP)
The eurozone is recovering from the financial and sovereign debt crises a decade ago, and it must still be diligent about any problems ahead, Luxembourg Finance Minister Pierre Gramegna said as he bids to become Eurogroup president on Monday.
His comments – which cited improving labour markets, "solid and broadening economic expansion" and 19 consecutive quarters of economic growth – were made in his application letter to become president of the Eurogroup.
The Eurogroup is an informal body of ministers from the 19 countries using the euro that discusses matters relating to the common currency.
Gramegna is running against three other finance ministers – Portugal's Mario Centeno, Slovakia's Peter Kazimir and Latvia's Dana Reizniece-Ozola.
The Luxembourg Times has seen the application letters from all four contenders.
A "key priority" will be "to build up the necessary resilience of our economies in order to prepare for future challenges and be ready in case a cyclical downturn were to materialise in the future", Gramegna wrote.
"We should avoid falling into the trap of complacency."
Both the eurozone and the 28-member European Union had third-quarter economic growth of 2.5% year on year, according to data from Eurostat, the EU's Luxembourg-based statistics office, on November 14.
Ahead of Monday's vote, Gramegna spoke to reporters outside the European Council, saying he was expecting to "fare well" in the first round.

"I entered the race because I thought I had a chance to win the race. I'm reasonably optimistic."
Whoever wins will replace former Dutch Finance Minister Jeroen Dijsselbloem, who became Eurogroup president in 2013 and was re-elected in 2015.
He steps down in January.
To become president, contenders have to secure a simple majority of at least 10 backers at the meeting in Brussels.
If no candidate reaches that point, each of the ministers running will be told how many people backed them.
They will then have the opportunity to withdraw, and voting will continue.
Portugal's Centeno has emerged as the favourite to secure the Eurogroup presidency, the Financial Times reported on Thursday, citing diplomats familiar with the talks.
Key platform
"The eurogroup will be a key platform for an appropriate coordination of our economic policies, and my focus as president will be firmly geared towards addressing the most relevant challenges," Gramegna says in his letter.
"More needs to be done to increase the growth potential and competitiveness of our economies."
Gramegna said he would strengthen relations with the chairs of the European Central Bank's Supervisory and Single Resolution Boards (SRB).
"I will put the focus of our future discussions on key issues such as tackling remaining crisis legacies, as well on financial stability issues most relevant for the euro area as a whole," he writes.
The SRB was established as an independent EU body in 2015. Its aim is to handle the winding down, or rescue, of failing banks.