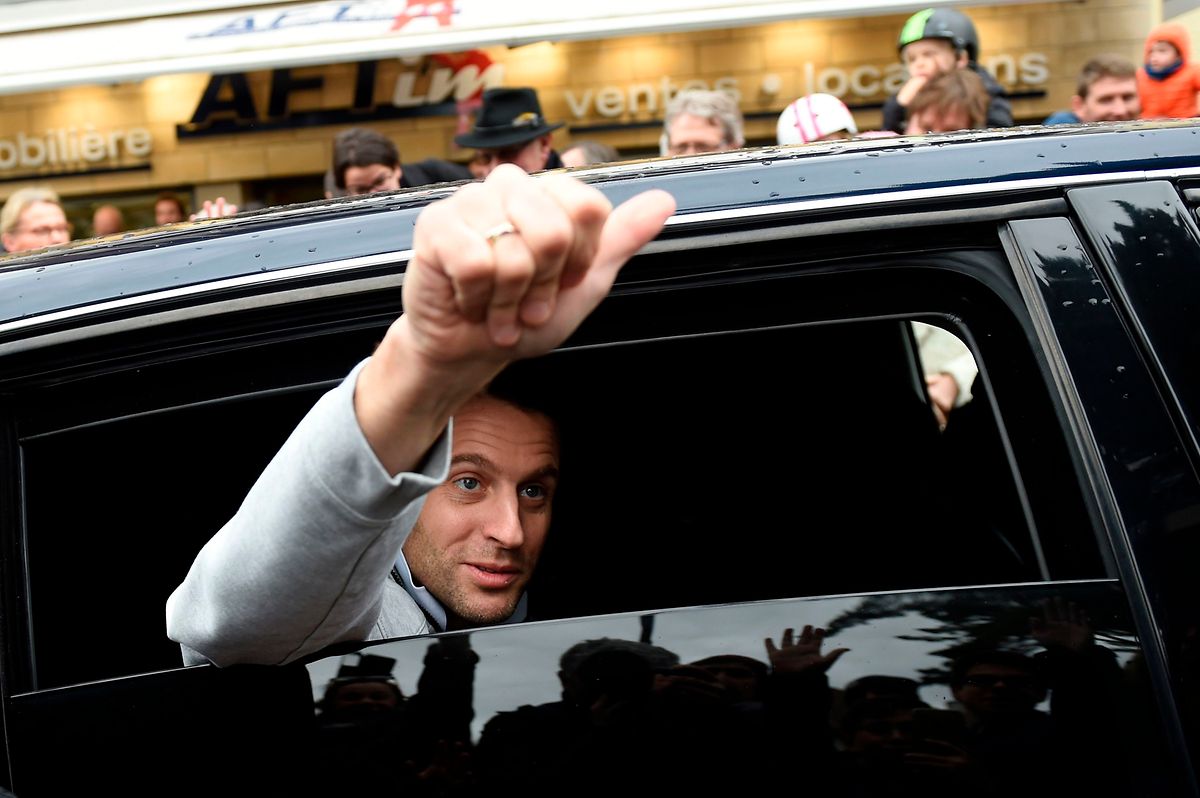 French president Emmanuel Macron waves at the crowd on 2 April in Le Touquet, where he spent the Eastern weekend (AFP)
Content updated on Tuesday, 3 April at 10:25
Trains and planes were canceled across France as unions pushed forward with protests against President Emmanuel Macron's plans to overhaul the status of some state workers.
A strike at railway operator SNCF began Monday evening and will run through Thursday morning, with only one in every eight long-distance trains running and one-in-five shorter regional trips due to depart on Tuesday. Roughly half of RER commuter trains to Paris are running. Eurostar, which runs service between London and Paris, canceled five trains today in each direction, or about one-third of the trains it would run on a normal Tuesday.
Unions say half of SNCF workers are striking, including 77% of train drivers. SNCF advised passengers to postpone trips, and television stations showed footage of near empty train stations.
"This reform is essential," Elisabeth Borne, transport minister said on BFM Tuesday, though she said she's still willing to make some changes to meet union demands. "We are halfway through our discussions, why block the country? I am still open to dialog." Borne Tuesday re-iterated the government's line that it won't assume parts of the SNCF's 45 billion-euro debt unless the company has taken steps to cut its losses.
Air France, where there's an unrelated strike over pay, said it expects to operate three-quarters of its flights Tuesday.
Macron's challenge
The strikes are the latest in a series of disruptions that started last month and also involve energy and garbage collection companies, as well as students protesting changes at state-backed universities. Demonstrations across the country have already caused severe disruption in commuter trains and school shutdowns.
Labour unions plan their biggest protest against changes at SNCF, the indebted national railroad, where Macron plans to deny future hires the job security, early retirement and special pensions of existing workers, while opening up train lines to competition. There are 36 days of strikes planned at the train operator over the coming months.
Taking on the railway company's 74,000 workers will be tough for Macron, after he pushed through a liberalisation of France's labour code and cut taxes on capital in his first year in office. Next, he's planning to overhaul jobless benefits, simplify France's retirement systems and streamline parliamentary procedures.
Union protests against Macron's earlier measures were timid and quickly faded. French strikes have generally been unsuccessful since 1995, when a series of massive strikes forced the government to back down on making cuts to the country's welfare and pension system. Strikes failed to stop President Nicolas Sarkozy raising the retirement age in 2010, nor Francois Hollande making it easier to fire workers in 2016.
"This government has had an easy time so far, but this is a real political battle." former transport ministers Dominique Bussereau, who supports the government reforms, said on France2 television. "One advantage is that Macron was elected on a platform of reforms, which was not the case with earlier governments."
Public opinion is split. An Ifop poll released over the weekend said 46% think the SNCF strike is justified, while 53% say it isn't.
Air France, where unions are pushing for pay increases after several years of frozen wages, said it expects to operate 70% of long-haul flights, 76% of medium haul, and 85% of domestic flights.