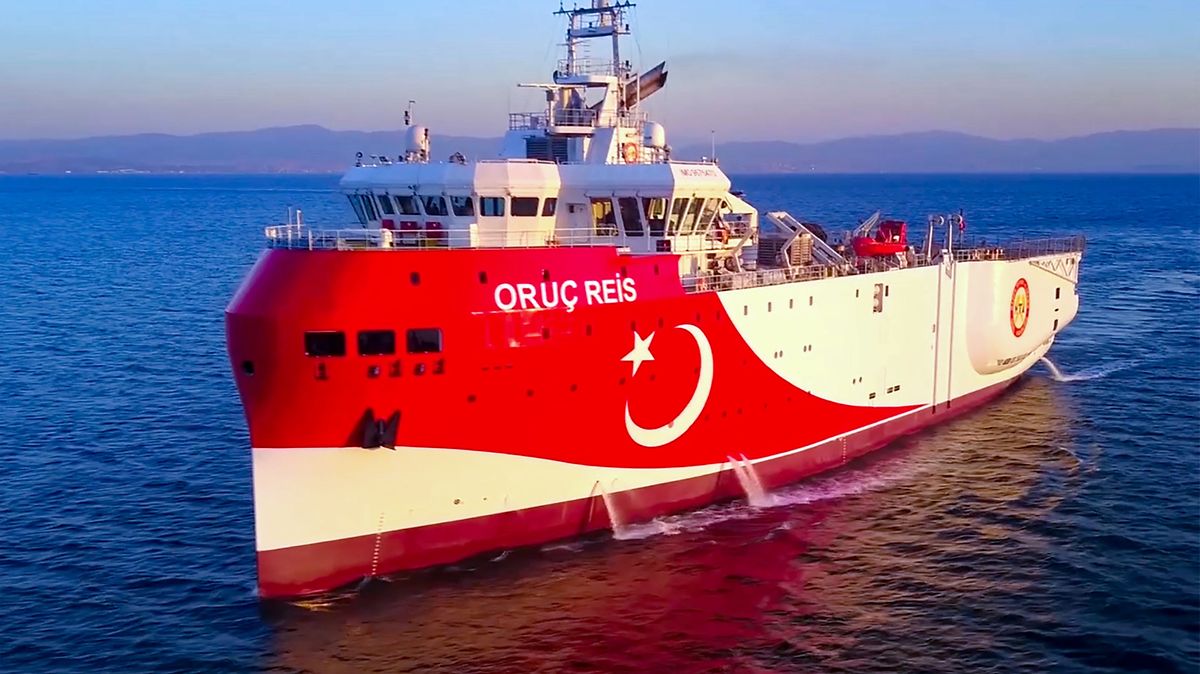 Turkish seismic research vessel 'Oruc Reis' on the Mediterranean Sea Photo: AFP/Turkish Defence Ministry
France is set to send a frigate and two military jets to support Greece in its stand-off with Turkey to the Eastern Mediterranean over oil and gas exploration.
The two Rafale fighters and the frigate 'Lafayette' are part of plans to increase the western European country's military presence in the region, the armed forces ministry said on Thurday.
"I have decided to temporarily reinforce the French military presence in the eastern Mediterranean in the coming days, in cooperation with European partners including Greece", the French President Emmanuel Macron said on Twitter on Wednesday.

NATO allies Turkey and Greece strongly disagree with regards to each other's claims of oil and gas resources in the disputed waters, which are a constant source of contention for Greece, Cyprus, Turkey, Israel and Egypt, media have widely reported in recent days.
The feud between the two treaty allies escalated after Turkey dispatched a seismic research ship and navals vessels near the Greek island of Kastellorizo which led Greece to deploy warships in turn.
Turkey said it wants to open some of the area for exploration and it needs to collect seismic data which it can sell to sell to potential bidders.
The fact that France - equally a NATO member - is increasing its presence in the region marked its "determination to uphold international law" and to monitor the situation, Macron's office said in a statement.
The French military already conducted joint exercises with the Greek military near the island of Crete on Thursday, Reuters reported.
Kyriakos Mitsotakis, the Greek Prime Minister, urged Turkey to show "logic" on Wednesday in the naval showdown in the Eastern Mediterranean which he warned could lead to a military incident.
Mitsotakis tweeted in French that "Emmanuel Macron is a true friend of Greece and fervent defender of European values and international law" as a response to France's show of solidarity.
A month ago, he called on the EU to impose sanctions over Turkey's unilateral behaviour towards EU members Greece and Cyprus.
Greece signed an agreement over exclusive economic zones with Egypt only last week, which Turkey took as a provocation whilst it was sitting for talks with the southern European country.
Macron called the Western military alliance NATO 'braindead' last year over his frustrations with the unilateral measures taken by Recep Erdogan's Turkey and Donald Trump's US.
---
Get the Luxembourg Times delivered to your inbox twice a day. Sign up for your free newsletters here.