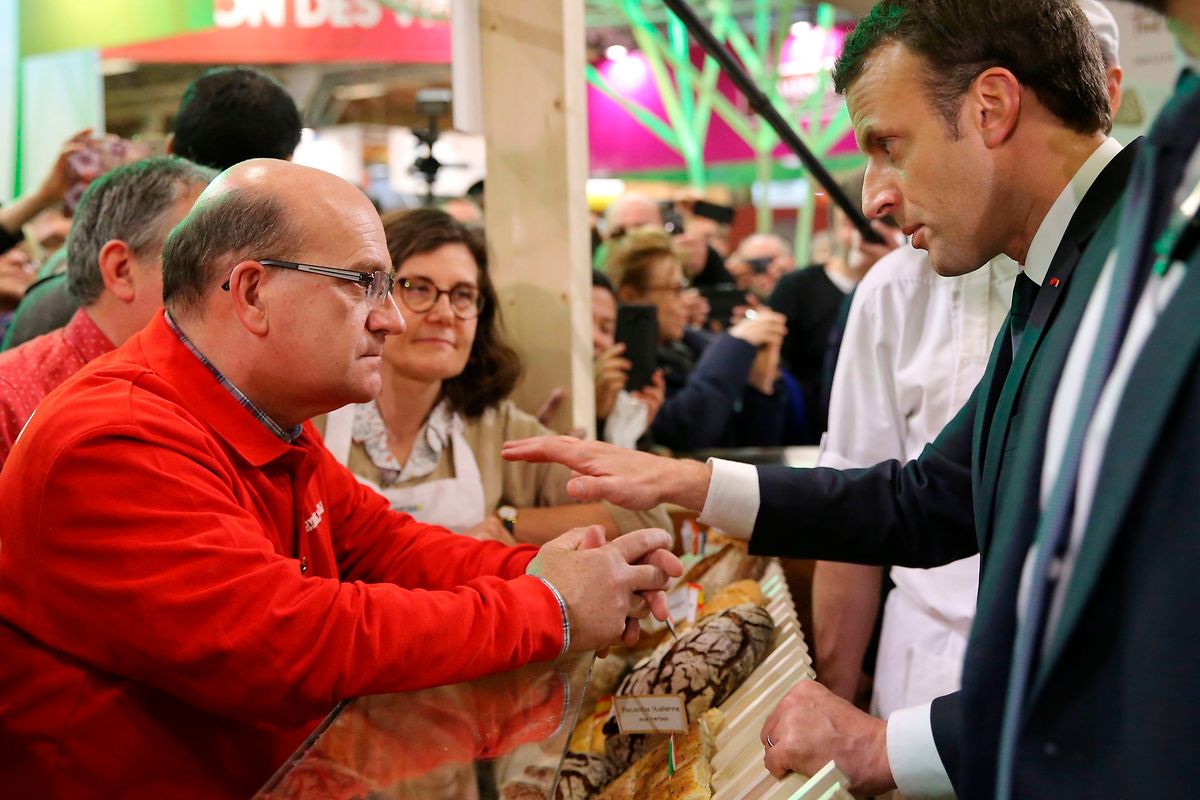 French President Emmanuel Macron speaks with a baker as he visits the 55th International Agriculture Fair in Paris on 24 February 2018 ( AFP)
Stephane Gaudot says that a year after setting up as a freelance designer, she's still not sure how she's supposed to make it work under French labour law.
The French government is struggling to sort it out too.
The 36-year-old Parisian made just over €40,000 in 2017 and is targeting an additional 25% this year. But she doesn't know how much she'll be left with because a screw up between two government departments saw her tax filings delayed. She'd like to start a family too, but she can't figure out if she'd get paid maternity leave.
"I just shut down, there's too much to process," she says. "I want to take on more work. I can't put my energy into sorting out how this crazy system works."
President Emmanuel Macron's vow to transform a land of giant corporations and an all-pervasive state into a "Start-Up Nation" will hinge in part upon making the labour market work for Deliveroo drivers, programmers-for-hire and freelance consultants like Gaudot. But the 40-year-old former investment banker also needs to effect a cultural change in the rest of the economy where the idea of self-employed is still often met with head-scratching.
Nine months after taking office, Macron's government has already overhauled the rules for salaried workers and is working on changes to job training and pensions.
But five months after releasing a draft plan, his team is still wrestling with how to cut red tape for workers like Gaudot, developing a portfolio of clients, without letting giants like Uber dodge responsibility for their workers.
Crunch Meeting
Labour unions, employers groups and officials are due to complete their plans to revamp the government training systems within weeks and that will include crucial components for self-employed workers.
The government has given up on its efforts to give the self-employed the same unemployment benefits as salaried workers, Le Figaro reported Saturday, though unions and officials will continue discussing ways to protect freelancers who work exclusively, or almost exclusively, for one platform.
The self-employed are already the fastest growing group in the French economy, reaching 2.8 million in 2016, up from 1.7 million a decade earlier, as a new generation of entrepreneurs set up online businesses.
Guillaume Herrnberger, the head of Adecco Group's market place for self-employed workers predicts an increase of at least 40 percent in five years. "It will be a tidal wave," he said in an interview.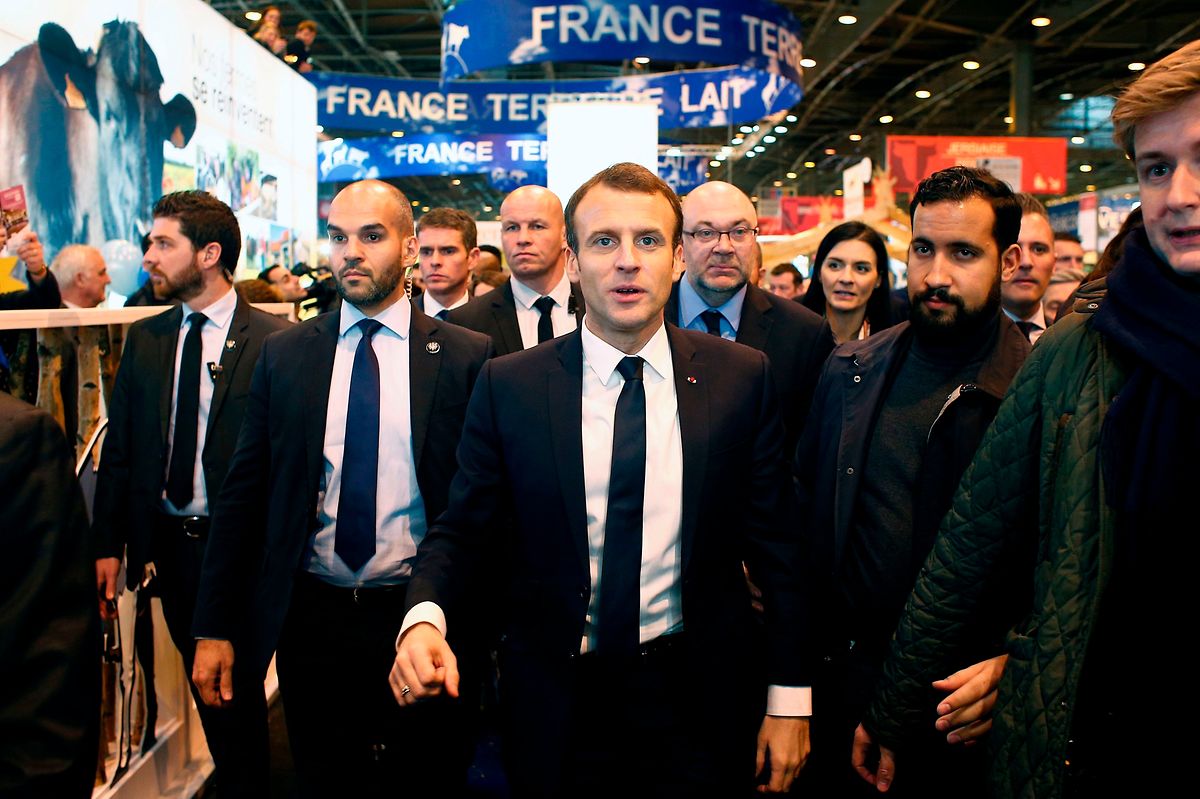 French President Emmanuel Macron visits the 55th International Agriculture Fair at the Porte de Versailles exhibition center in Paris on 24 February 2018 (AFP)
Macron's team is trying to work out how to preserve the French traditions of workers' protections in an era when the most valuable companies move their goods along optic fiber rather than railroads and the ties to their employers are being dramatically weakened.
"As French, we are culturally so used to protections – health, unemployment, pensions, privacy," said Gaudot, who previously worked for agencies that handled accounts for the likes of Renault and Remy Cointreau. "I still can't see how this won't apply to future generations but if not we will need a total cultural change."
Protecting Workers
The risk is that you create a two-speed labor market, fueling competition between permanent workers and freelancers, says Anne-Elisabeth Combes, a lawyer at E&Y in Paris who specializes in labour law.
"We see a lot of employees being replaced by self-employed workers," she says.
The French union CFDT has opened a unit to lobby for independent workers – as they are known in France. Its officials wants the government to understand that while someone like Gaudot, with a portfolio of different clients to fall back on, may genuinely be independent, the same can't be said for someone who's only source of income is a single Internet platform such as Uber.
Prime Minister Edouard Philippe is trying to narrow the gap to salaried workers by boosting support for all self-employed. But his team is struggling to work out how far they can go without jeopardizing Macron's budget pledges, according to officials on his staff.
One major problem is modeling the budget impact of any measures. The officials have no forecasts for how many self-employed workers they may be dealing with in the future –Adecco's prediction notwithstanding – and even data on the current situation is sketchy. The government's outdated statistical framework puts gig economy workers into old categories that don't properly capture the nature of their work, making it difficult to run analysis.
While Macron's team try to sort out that mess, Gaudot says that freelancers just need to avoid getting too tangled up in it themselves.
"The bottom line is: until the government sorts it out, get a good accountant and maybe you'll be able to stay afloat,'' says Gaudot. "My accountant is my new best friend."
Her accountant, of course, is also self-employed.