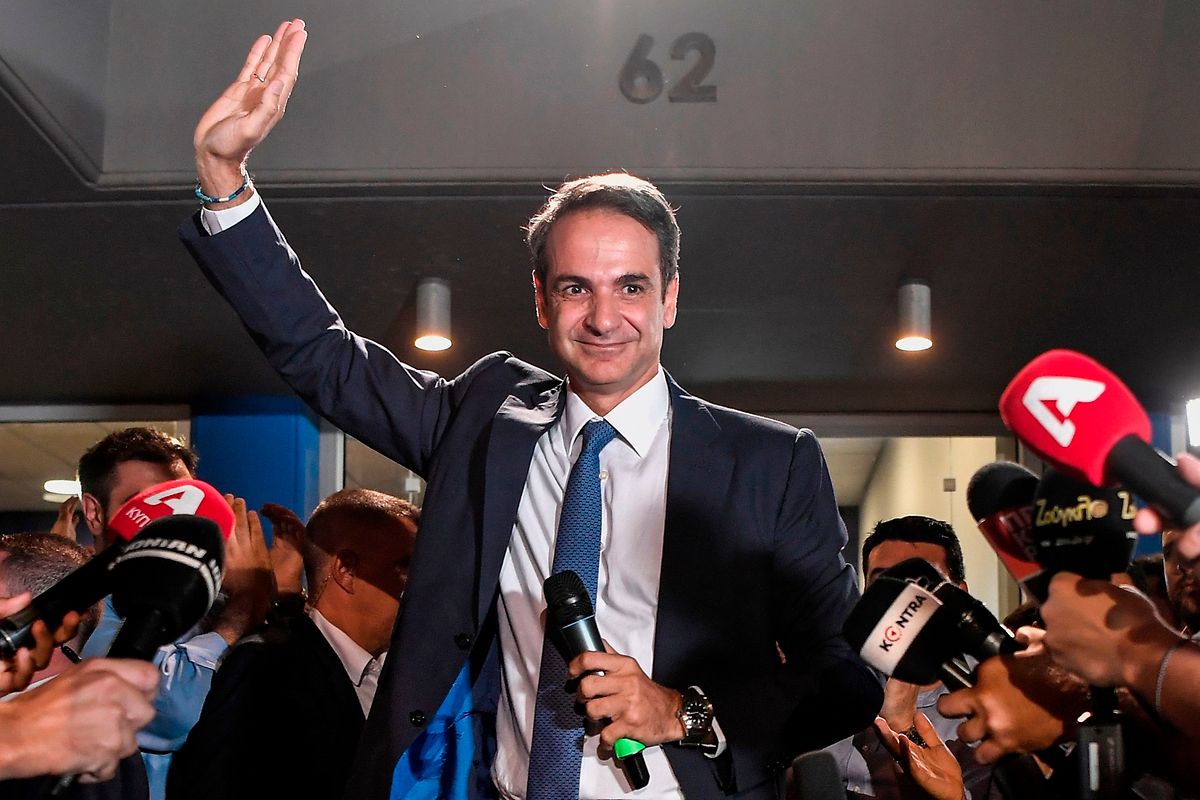 Greece's newly elected prime minister Kyriakos Mitsotakis Photo: AFP
Greece's centre-right New Democracy party leader Kyriakos Mitsotakis will take over as prime minister, after Sunday's election victory handed the former banker a mandate to tackle the nation's chronic woes after a decade-long financial crisis.
The conservative New Democracy won 39.6% of the vote, with three quarters of the ballots counted, according to the interior ministry, compared with 31.6% for the leftist Syriza party of outgoing premier Alexis Tsipras.
Tsipras conceded the election at a news conference in Athens and said he will hand power to Mitsotakis on Monday. The results broadly confirmed pre-election polls, although Syriza did not do as badly as some predictions. New Democracy will have a clear parliamentary majority as expected, with about 158 lawmakers in the 300-seat chamber.
Investors expect the 51-year-old Mitsotakis to prove his business-friendly reputation is deserved. The Harvard-educated former management consultant will need to make good on pledges to address issues including government finances, soured loans and crippling bureaucracy, while working within the tight fiscal constraints creditors have set for the country.
Although he has inherited an economy on the mend and a stock market that's soaring, they are rebounding from shrunken bases. Mitsotakis must ensure that Greece can attract the investment it desperately needs and create jobs as the country digs itself out of the crisis that took a toll on living standards.
"Starting today, we begin a difficult struggle," he said in a victory speech in Athens. "We're going to roll up our sleeves."
Tsipras called the snap vote after Syriza suffered a drubbing in May's European election. Many voters lost faith in the prime minister after he agreed to the demands of creditors for more spending cuts and tax increases and failed to cope with an influx of refugees.
The economy went back into recession just when it was about to start growing again and has failed to meet growth targets since, while unemployment remains among the highest in Europe, with young people suffering the most.
Movement for Change, which groups former Pasok socialist party lawmakers, won 7.9%, the results showed. The Communist Party of Greece was on 5.4%, far-right party Greek Solution had 3.8% and former finance minister Yanis Varoufakis's MeRA25, the Greek wing of his pan-European movement DiEM25, had 3.5%. Golden Dawn, another far-right party, was on 2.9%. Parties need 3% to enter parliament.
---
Get the Luxembourg Times delivered to your inbox twice a day. Sign up for your free newsletters here.