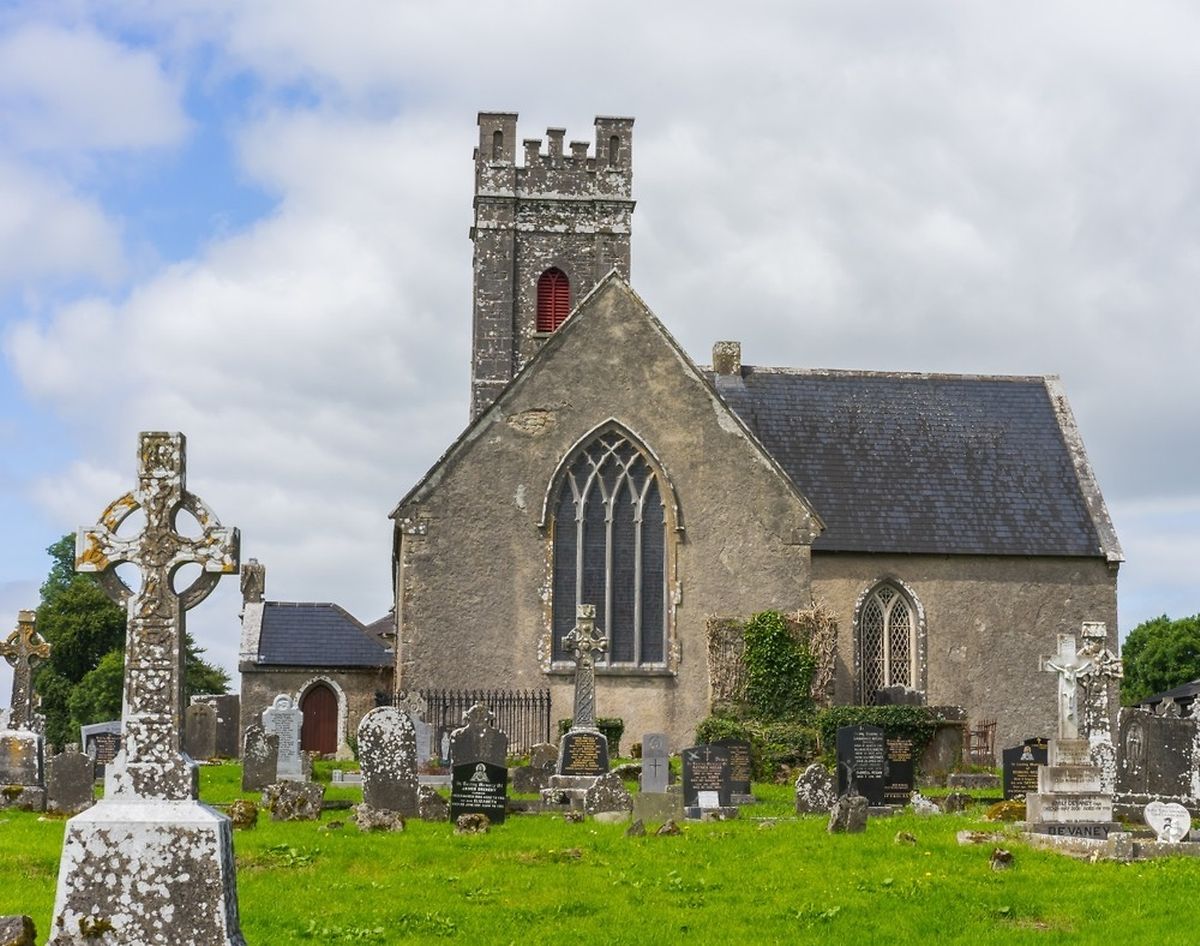 Vintage church and graveyard at Ardcarne Co. Roscommon, Ireland (Shutterstock)
Operating from near the town of Cavan in the Republic of Ireland less than three miles from where checkpoints disappeared decades ago, the journey back and forth to the UK province of Northern Ireland has been straight forward and required little paperwork for most of Michael Leydon's career. He's now worried that's about to change dramatically.
Cavan is set to become a frontier town again, right next to what will be the European's Union new land border with the UK after it leaves. The free movement of corpses is one of the more extreme examples of how Brexit's seemingly most intractable issue still has to play out regardless of British Prime Minister Theresa May's deal with the EU.
"If we are going to go back to a hard border, it would create severe problems for me and fellow undertakers in this area," said Leydon, 68, whose grandfather in the trade was regularly stopped while crossing the border in the 1940s and 1950s. "I can't see the UK government allowing no border, I cannot see that."
When a person dies in Northern Ireland and are to be cremated or buried in the republic, funeral directors just need a coroner's certificate to remove the remains from one jurisdiction to another. What people are concerned about is the reintroduction of customs checks and the inevitable delays.
"The way it is at the minute works very well for us -- we fill out the form and get it away and that's it," said Austen Stinson, who has been running an undertakers in the Northern Irish town of Enniskillen for 31 years. "But if other documentation is needed after Brexit we will do whatever the law of the land says."
The border between the Republic of Ireland and Northern Ireland. (AFP)
In the deal agreed this month to move Brexit talks on, May guaranteed that no hard border will re-emerge in Ireland. Northern Ireland would play by the same rules as those south of the 499km frontier if all else fails. May also gave an assurance there'll be no barriers between Northern Ireland and the rest of the UK.
But it's not clear how that might work if UK rules begin to move away from those in the EU. What's sure is that it will be part of the final agreement that British lawmakers are now set to get a vote on after May's Brexit bill was defeated in favour of an amendment last week to give them a say.
Stinson says this month's statements have reassured him, though he's reliant on the beleaguered UK government coming good on its promise.
"I'm not confused by Brexit, I am happy with the way it is," he said. "If it stays the way Theresa May has said, there will be no change at all."
Others remain to be convinced. Patsy McCauley, 69, an undertaker from the rural village of Belleek in Northern Ireland, has spent 50 years carrying out funerals in the two countries just half a mile a part. Before the Good Friday Agreement that largely ended the province's sectarian conflict, his hearse used to be stopped when trying to cross the border by customs officials who then signed forms to allow a body to continue on its journey.
"It was awkward, you were holding up the families," he said. "If those days return, it's going to make life very difficult for everybody."