French President Emmanuel Macron is seen on screens as he speaks during a TV interview from the Elysee Palace, in Paris, on 22 March, 2023
French President Emmanuel Macron doubled down on his plan to reform pensions, comparing protesters to the crowds who stormed the US Capitol.
In a lunchtime interview on the most-watched French television channels a day before a new round of strikes and demonstrations against his reform, Macron said he would keep his Prime Minister Elisabeth Borne and expand his base by working with other parliamentary forces.
"When the US experienced what it went through on Capitol Hill, when Brazil experienced what it experienced, when you had the extreme violence in Germany, in the Netherlands or sometimes here, we must say: we respect, we listen," Macron said Wednesday. He added: "But we cannot accept rebels and factions."
The comparison with riots in the US and Brazil came as a surprise, given there has been no storming of large national institutions in France. Besides a few small, violent, leaderless groups setting fire to piles of garbage in recent days or attacking the police, anti-reform demonstrations led by unions in France have been largely pacific.
Nothing in France has come close to the events on Jan. 6 2021, when thousands of Donald Trump supporters descended on Capitol Hill to try and overturn his electoral defeat to President Joe Biden. Or like when thousands of supporters of former Brazilian president Jair Bolsonaro barged into government buildings in the capital of Brasilia, ransacking the presidential palace, Congress and the Supreme Court to protest against the new president, Luiz Inacio Lula da Silva.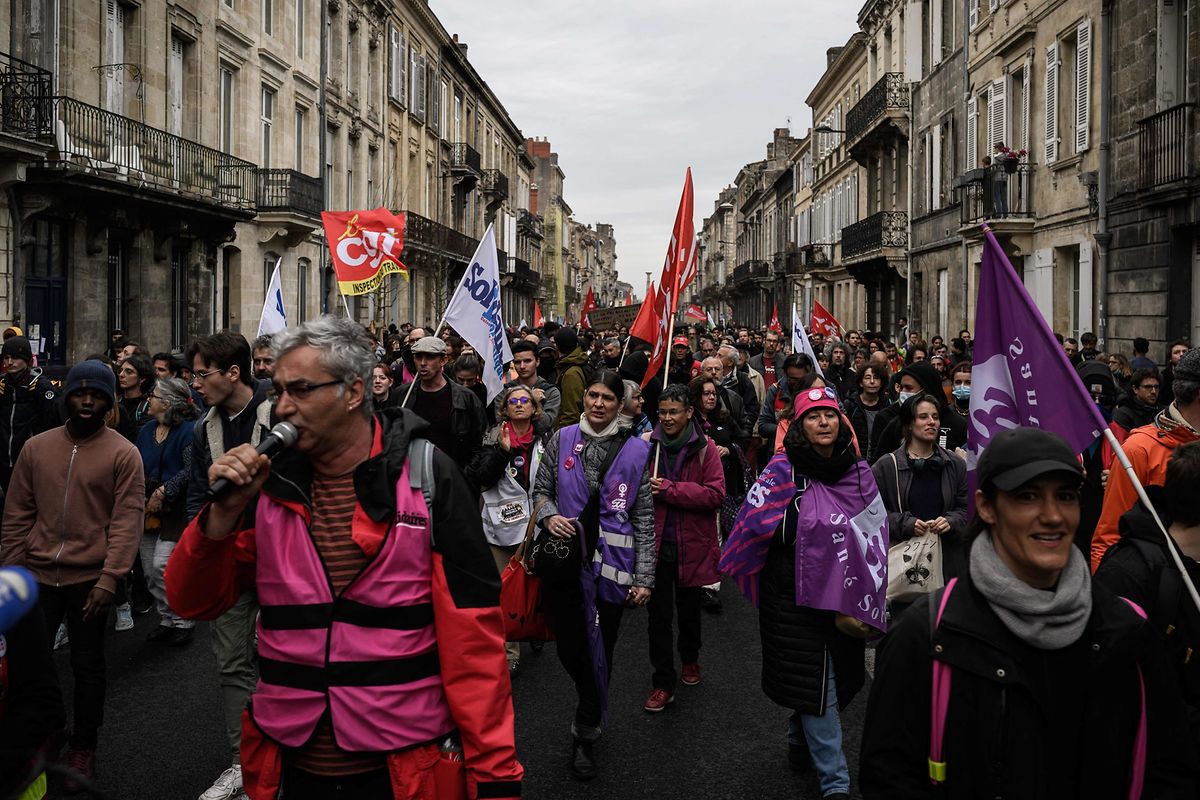 Protesters march during a demonstration, after the government pushed a pensions reform through parliament without a vote, using the article 49.3 of the constitution, in Bordeaux, southwestern France, on March 22, 2023
AFP
The anger in France has been directed not just at the reform but also the manner in which it was pushed through. Macron's flagship reform was adopted Monday after the opposition failed to pass a no-confidence motion against his government by a meager nine votes.

The 45-year-old leader has emerged bruised by the episode.
Pushing through such an unpopular reform "doesn't make me happy," he said, adding, "We must go ahead because it's in the higher interest of the nation. Between opinion polls and short-term considerations, I pick the general interest."
Most French people still oppose his plan to raise the minimum retirement age from 62 to 64, polls show.
Macron said people were angry for reasons other than the pension reform, citing unemployment and adding that he is working on ways to force companies carrying out share buybacks to distribute more of their profits to workers.
'A Mockery'
The interview did little to appease his opponents.
"He's speaking a day before a social movement — that's a provocation," said Danielle Tartakowski, a historian who studies labour protests in the 20th century. "His strategy is letting the movement rot, and repress it."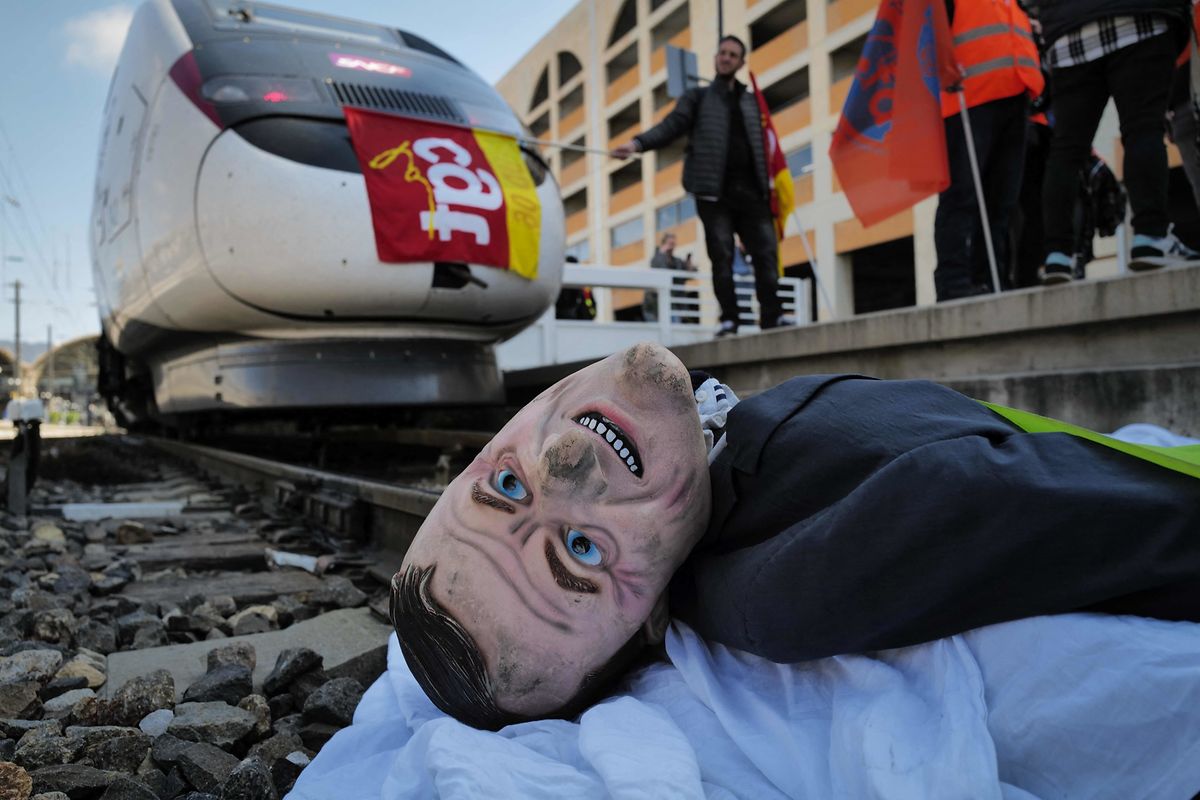 Protestors lay an effigy of French President Emmanuel Macron on a railway track during a demonstration at Nice's railway station, south-eastern France, on 22 March, 2023
AFP
Soon after the interview, CGT union leader Philippe Martinez called it "a mockery" on LCI television.
Sporadic demonstrations have already sprung up this week, and around 300 people were arrested Monday evening, according to Agence-France Presse. Around 7% of gas stations in the country were out of fuel due to walkouts at refineries, AFP reported, with the government starting to requisition staff.
But perhaps the most visible sign of the tension is garbage piling up on the streets of Paris as local services continue to strike.
Olivier Marleix, the head of the Republicans in the lower house, urged the president earlier Wednesday to start talks with unions, adding that while he backed the gist of the pension reform, Macron should "change his behavior."
A recent Elabe poll showed that for 68% of the French, "anger" was the word which described most accurately their state of mind toward the use of the constitutional provision. The word especially resonates among poorer workers, according to the survey.
Asked if he had made any mistakes, Macron said, "perhaps that I didn't manage to convince people that this reform is needed."
©2023 Bloomberg L.P.
---