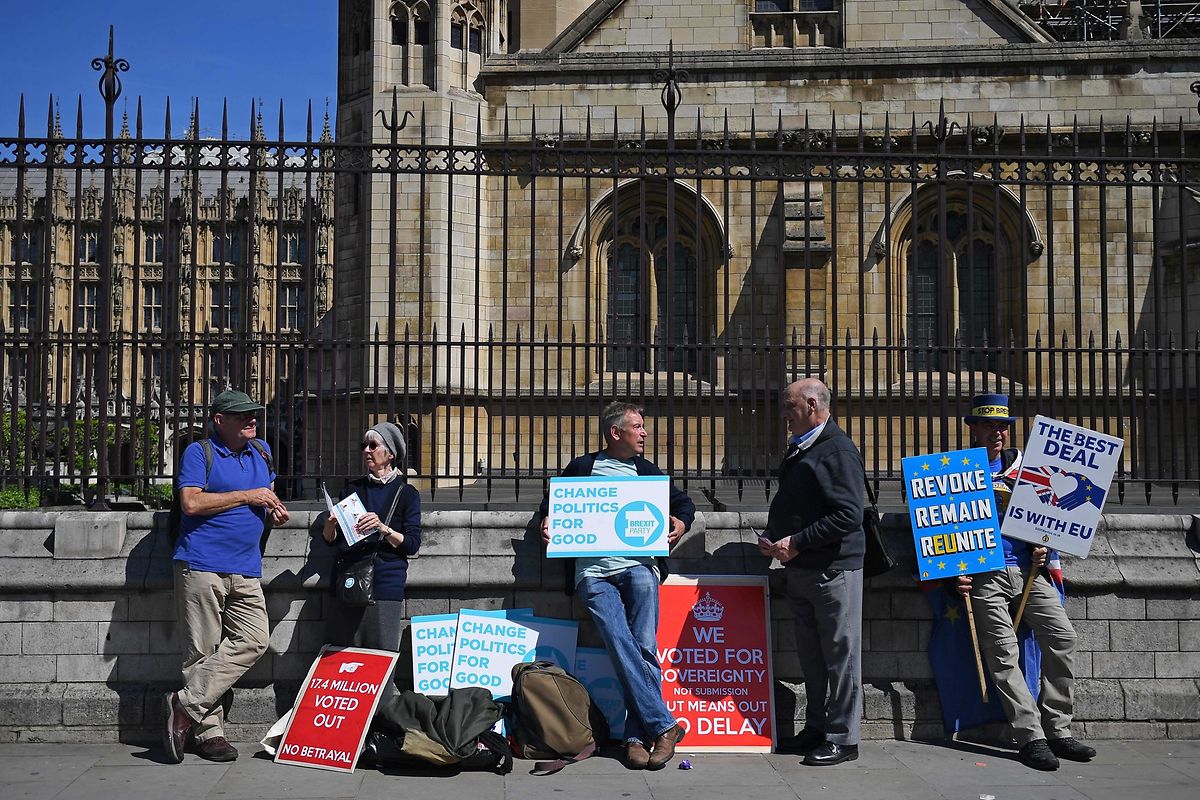 Theresa May set a date for her final Brexit showdown, promising to bring her deal back to Parliament at the start of June.
Talks with the opposition Labour Party haven't yielded an agreement, but she's hoping members of Parliament, stung by voter revolts, will back her in order to end the process that's tearing both main parties apart.
"It's time for Parliament to make a decision," Brexit secretary Steve Barclay told the BBC. "The country needs to move forward. Business needs to have certainty."
In reality, May has run out of options. She opened talks with Labour seven weeks ago, arguing that nothing else had worked. Her Conservative Party was furious. But the talks didn't deliver a breakthrough, and it was never clear that they could deliver a majority.
The next stage of May's plan, as it was announced in April, was moving to a series of indicative votes if the talks failed. That appears to have been shelved.
Instead, in the week of 3 June, while Donald Trump is in the UK on his state visit, she'll put before Parliament the Withdrawal Agreement Bill, which would write her deal into law. The government said this was "imperative" if the bill was to pass before Parliament goes on vacation in July.
Treacherous terrain
The WAB, as it's known, has been repeatedly postponed since last year, as May has tried to find a majority in Parliament for her deal. She has failed three times to get the House of Commons to support it. Some Conservatives, and her allies in Northern Ireland's Democratic Unionist Party, oppose it because of the "Irish backstop" section that deals with Northern Ireland's border.
If the bill is defeated, May can't bring it back again without ending this parliamentary session and starting a new one, which would require a review of the confidence-and-supply agreement with the DUP that props up her minority government. It would also raise the prospect of defeat on votes on the government's legislative programme.
In reality, it would almost certainly mean a new prime minister. Even May, who has survived so many bruising defeats, would struggle to argue she should stay on as Conservative leader if her deal is voted down.
Opposition stand
May set out her plan to Labour leader Jeremy Corbyn in an hour-long meeting in Parliament on Tuesday evening. He told her that Labour wouldn't back the bill without a formal agreement, according to a person familiar with their discussions.
According to a Labour statement, Corbyn "raised doubts over the credibility of government commitments, following statements by Conservative MPs and Cabinet ministers seeking to replace the prime minister". The government promised to bring back more proposals Wednesday, Labour said.
It's very hard to see how the bill will pass without Labour support. The last time May asked Parliament to approve her deal, on 29 March, it rejected it by 344 votes to 286. On that occasion, even though key Brexit supporters including Boris Johnson and Jacob Rees-Mogg gave in and voted with her, 34 other Conservatives still held out and voted against. It was this intransigence that led her to begin talks with Labour.
'Default legal position'
May's only hope is that the results of next week's European elections are so bad that Conservative and Labour MPs decide they need to get Brexit done. Foreign secretary Jeremy Hunt on Tuesday expressed the hope that the likely victory of Nigel Farage's Brexit Party, which wants to leave the EU without a deal, would shock his colleagues into line. But as many of them want the same thing as Farage, it's more likely to harden their resolve.
The DUP made clear that they weren't shifting position. "What has changed?" asked its Westminster leader, Nigel Dodds. "Unless she can demonstrate something new that addresses the problem of the backstop, then it is highly likely her deal will go down to defeat once again."
Labour MPs might also see reason to move. Brexit is tearing them apart, too, and they failed to benefit from the Conservatives' woes during the recent local elections, instead losing seats. There were faint signs of hope for May on Tuesday evening. Labour's Lucy Powell sent a tweet that suggested she wanted Labour to back a deal. "The most likely outcome without the cross party consensus is 'no deal'," she wrote. "That's the default legal position for October and is a dead cert with a new Tory PM."
But for many Labour MPs, the defeat of May's deal, and her removal and a replacement with a leader who has little more chance of getting anything through Parliament, is a necessary step toward the fresh referendum that they want in order to reverse Brexit. And for Corbyn, it's a step toward a general election that could see him running the country.