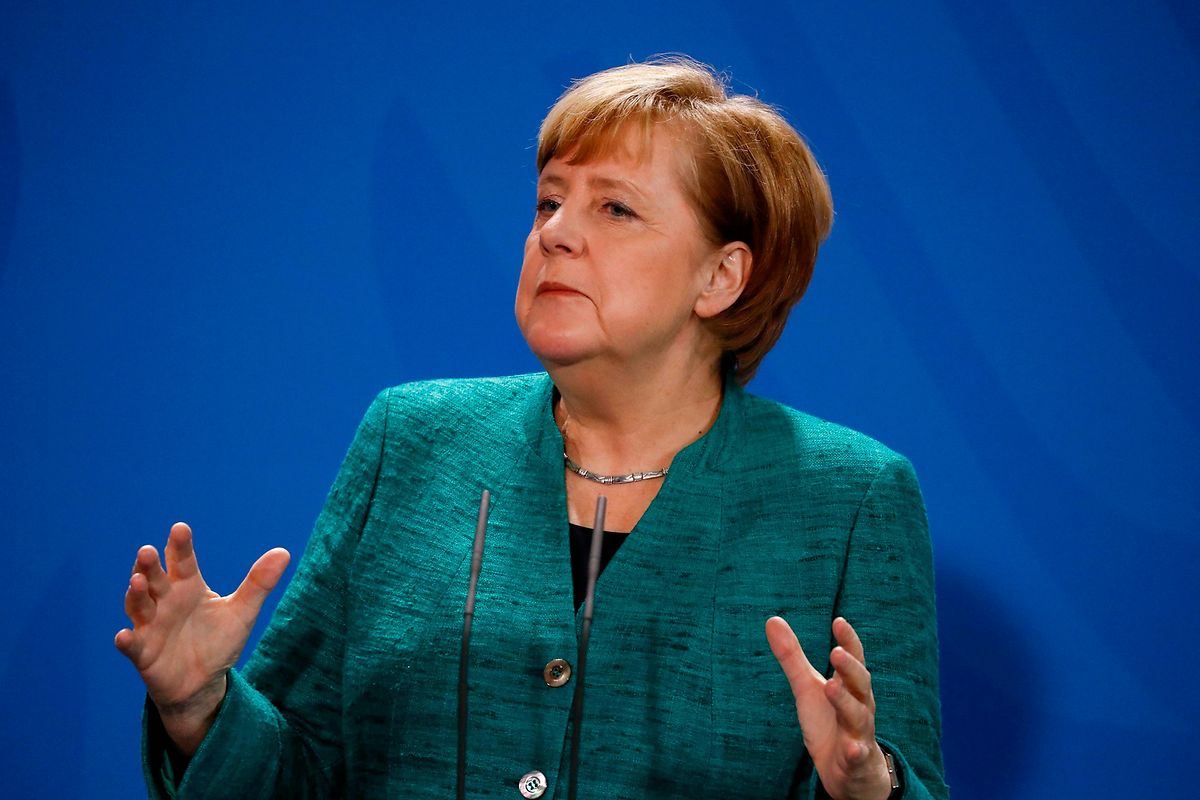 German Chancellor Angela Merkel is trying to form a government (AFP)
Tensions are mounting ahead of a party vote this weekend that threatens to make or break Germany's political order, with Chancellor Angela Merkel's allies coaxing the reluctant Social Democrats to enter formal coalition talks for the sake of the country.
Almost four months after an inconclusive election in Europe's biggest economy, Merkel's fourth term continues to hang in the balance, with a rerun of the so-called grand coalition of the two main parties the only viable majority government.
Social Democratic Party delegates will meet on January 21 in the former capital of Bonn to decide whether to enter official coalition negotiations with the chancellor's Christian Democratic Union-led bloc.
"I wish those Social Democrats who are in favor of the grand coalition good luck," Volker Kauder, caucus chief for Merkel's bloc in parliament, told ZDF television on Thursday. "They really don't have an easy time until Sunday."
The SPD leadership is facing internal resistance to reviving an alliance with Merkel after it recorded its worst result of the postwar period in September's election. Sunday's ballot of 600 delegates is an all-or-nothing vote that stands to break the political deadlock or prompt fresh elections.
After securing a 28-page draft in exploratory talks last week, Social Democratic leader Martin Schulz is crisscrossing the country to shore up support.
Bolstered by provisions that allow the parties to reassess the coalition after two years, there are signs that SPD members are prepared to accept the deal as the lesser evil. Even so, party officials are predicting a very tight vote amid a highly emotional debate about the SPD's future direction.
Merkel's Plea
Ralf Stegner, deputy SPD leader, tweeted on Thursday that while he's "sceptical," he supports coalition talks because of gains for workers and families in the preliminary agreement and because a failure to form a government could drag Germany to the right. Others are falling in line.
"I have spoken out for negotiations," Matthias Miersch, leader of a caucus of left-leaning SPD members in parliament, told reporters on Thursday in Berlin. "We should take this route so that every member can decide over the coalition agreement."
With the vote's outcome uncertain, Merkel threw her prospective governing partner a bone by signalling that the Social Democrats could have leeway to further flesh out policies in formal talks.
While the blueprint agreed in exploratory talks is set, "there are coalition negotiations where things can be spelled out, or perhaps there are issues that we didn't take up," Merkel told reporters in Berlin on Wednesday. "That's what we need to do in coalition negotiations. Otherwise we wouldn't need to have them."
If Merkel fails in her second attempt at forming a government following the collapse of talks with the Free Democrats and the Greens, the outcome would most likely be new elections. That would extend the political uncertainty and risk further damaging the established parties. A Forsa survey released on Thursday suggested SPD support had dropped to a record low of 18%.
"I can only appeal to everyone to pull themselves together and bring a government into being," Horst Seehofer, head of Merkel's Bavarian CSU sister party, said in an interview with the Bild newspaper published on Thursday. Failed talks "would be a political catastrophe for our country."