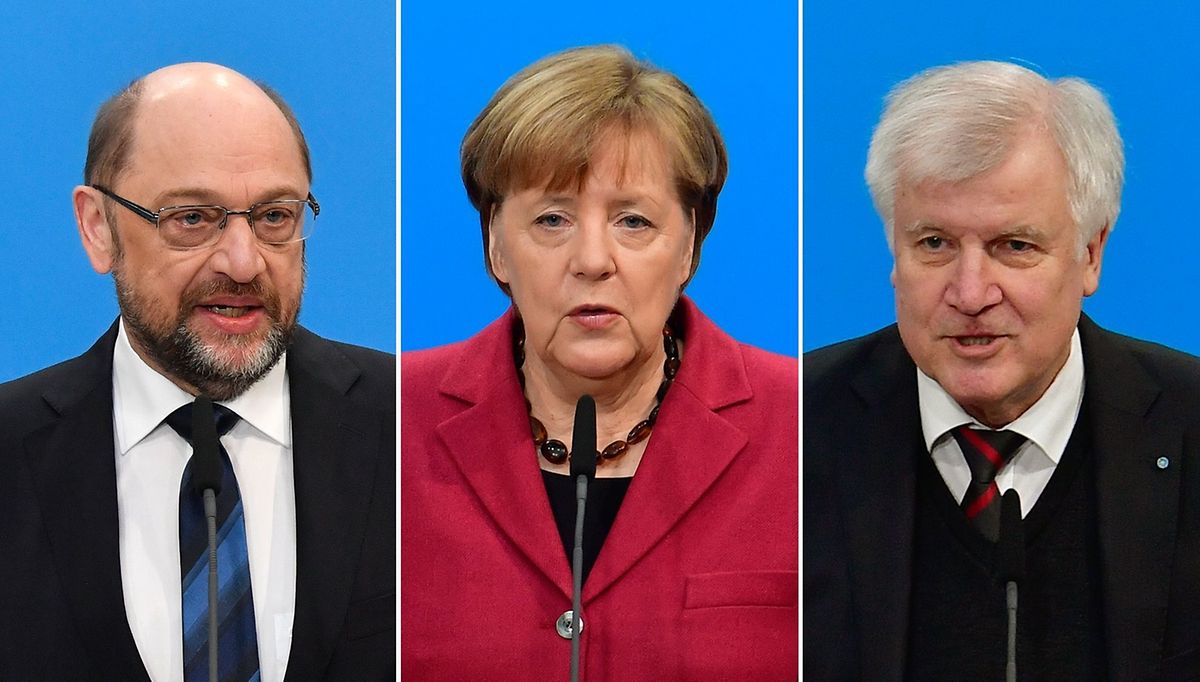 SPD leader Martin Schulz, German Chancellor Angela Merkel of the CDU and CSU leader Horst Seehofer (AFP)
German Chancellor Angela Merkel moved forward in talks on forming her next government as negotiators reached a deal on refugee policy, one of three key disputed areas.
The agreement between Merkel's Christian Democratic-led bloc and the Social Democrats suggests that the German leader's push to end months of political deadlock, begin her fourth term and avoid a renewed election is advancing.
Both sides want to conclude coalition talks by Sunday, though a final policy pact would still be put to SPD members for approval.
Under the compromise reached Tuesday, restrictions on the rights of certain asylum seekers to invite family members to Germany would be extended through July, avoiding a showdown between liberal Social Democrats and conservatives on Merkel's side led by her Bavaria-based CSU sister party.
"We will set up an interim solution," SPD lawmaker Eva Hoegl said in an emailed statement. "I'm happy to say that we reached a good accord on family reunifications."
Two key SPD demands remain to be negotiated: tighter restrictions on temporary job contracts and an alignment of doctors' pay for privately and publicly insured patients.
Merkel, SPD head Martin Schulz and CSU head Horst Seehofer plan to meet later Tuesday to try to keep momentum toward a coalition pact on track.
The deal on refugees creates an exception for hardship cases and the SPD will work to ensure that currently suspended family reunification rights will resume on 1 August, Hoegl said.