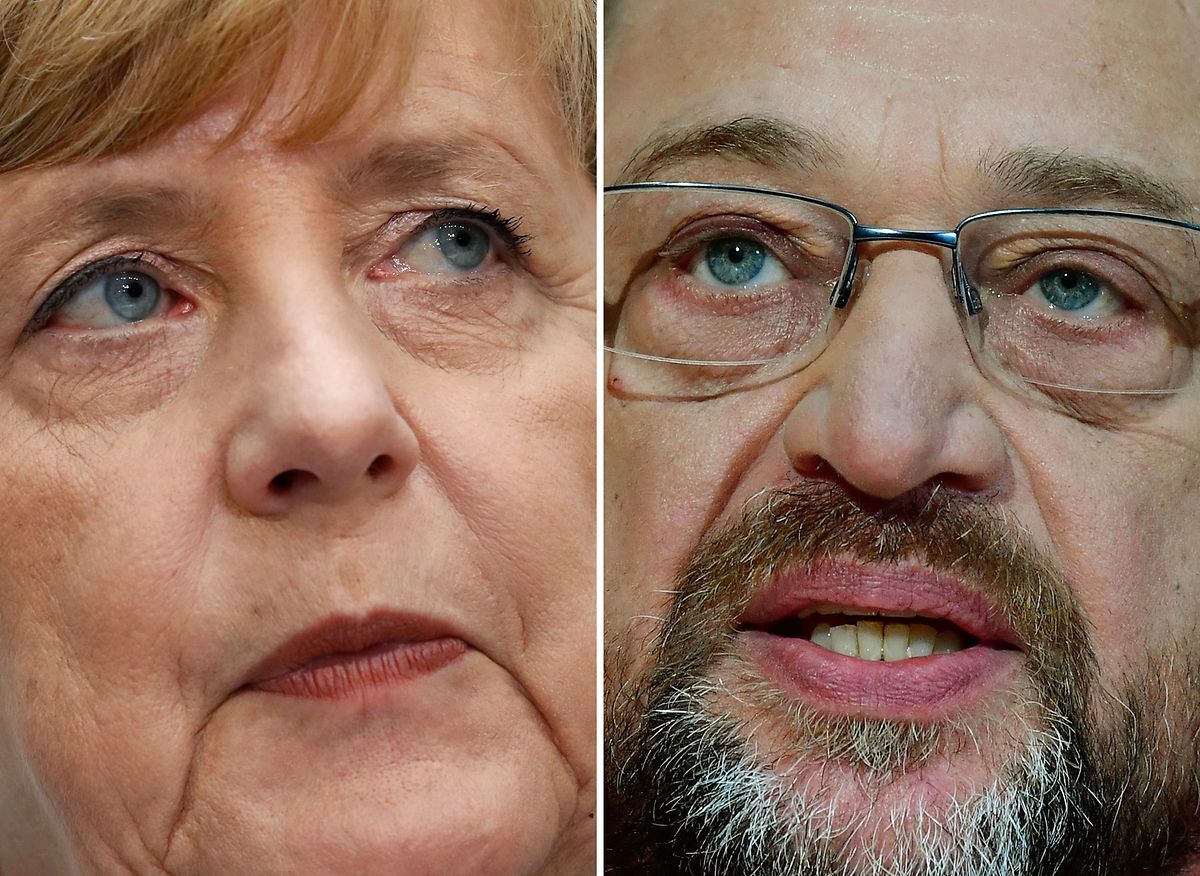 German Chancellor Angela Merkel (left) and Martin Schulz, leader of Germany's SPD party.
Chancellor Angela Merkel and the leader of the Social Democrats, Martin Schulz, agreed to keep talking as they stepped up joint efforts to break an impasse over forming Germany's next government.
Merkel told her Christian Democratic Union party's board during a call on Friday that she and Schulz would continue to hold discussions on a way out of the political stalemate, according to a participant.
The talks will remain open as to possible options to pursue, the person said, asking not to be identified because the discussion between the leaders was private.
"There was broad support for not ruling out anything regarding forming a government," Schulz told reporters in Berlin on Friday. "We have a caretaker government and no time pressure."
More than two months after the CDU emerged victorious but weakened from a national election, Merkel is in the very beginning phase of sounding out the SPD on the prospect of a return to the so-called grand coalition of the two parties that Merkel has led for the past four years. The commitment to continue dialog was reached during a two-hour meeting hosted by Germany's president in Berlin on Thursday evening.
President Frank-Walter Steinmeier, who last week warned against holding a new election, said political leaders have a duty to try to form a government after Merkel's talks with two other parties collapsed in acrimony.
While the SPD, which suffered their worst post-second world war result in the September 24 ballot, has opened the door to possibly governing again with Merkel, any agreement is still far from a done deal.
Next step
The next step is an SPD conference at the end of next week, where the party is expected to introduce a motion to hold talks with Merkel's bloc without committing to a particular outcome. Only 36% of SPD members back a rerun of the coalition with Merkel, though even fewer, 13%, support holding a new election, according to a Forsa poll published Wednesday.
The Social Democrats have said any deal must include issues from their party platform such as deeper European integration, health-care reforms and improved pensions. Along with the possibility of being part of a coalition, the SPD could also back a minority government for Europe's biggest economy run by Merkel without actually joining the cabinet.
"There is no automatic decision in favor of a grand coalition," Schulz said on Friday.
Merkel's CDU and her Bavarian CSU sister party emerged bruised after four weeks of talks with the Greens and the Free Democratic Party fell apart. The FDP pulled out of negotiations on November 19, failing to secure agreement on European, migration and energy policy.
That threw pressure onto the SPD, which sat out the talks and prepared for a role as lead opposition party. The CDU's leadership plans to meet directly after the SPD conference to discuss the way forward.
"The board was in agreement that the CDU is prepared to have serious talks with the SPD on forming a stable government," Klaus Schueler, the CDU's national campaign manager, said on Friday in Berlin. "We now have to wait and see how the SPD positions itself. The next few days should bring clarity on this."
Scepticism isn't confined to the SPD. Some officials within Merkel's bloc began warning about a renewed tie-up and urged the chancellor to consider a minority government supported by parties outside a coalition. The CDU's business council, a pro-market faction that has often been critical of Merkel, said in a statement on Thursday that a new so-called grand coalition would require "unaffordable promises of social benefits."
"If the SPD declares that it's ready to begin talks, then exploratory discussions could begin before Christmas," Ursula von der Leyen, German defense minister and CDU member, told TV newschannel N24 on Friday. "Further steps would then come later."