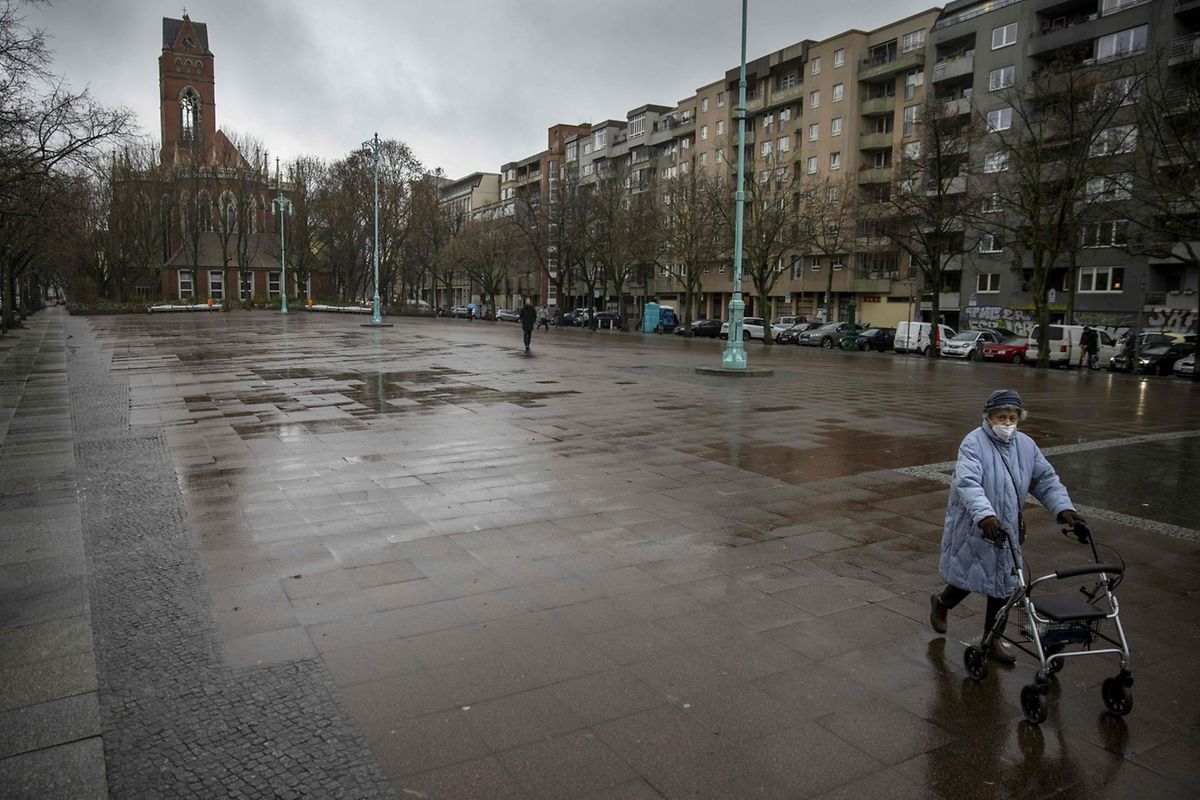 A woman makes her way across the largely deserted Winterfeldtplatz square, a tourist hot spot in Berlin's Schoeneberg district Photo: AFP
Chancellor Angela Merkel warned that Germany faces hard lockdown measures into late March if authorities fail to contain a fast-spreading variant of the coronavirus.
During a video call on Tuesday, the German leader said that a strain that surfaced in Britain could lead to a rapid increase in the country's contagion rates and prompt a 10-week extension of virus curbs, according to a person on the call who asked not to be identified.
Germany has struggled to control the spread of the disease despite weeks of stricter measures, including the closing of schools and non-essential stores and limiting contact between people. The news was first reported by the Bild newspaper. Merkel's chancellery declined to comment when contacted by Bloomberg.
The numbers of infections and fatalities have roughly doubled since the end of November, rising to nearly 2 million and almost 42,000 respectively. The infection rate has been climbing in recent days and was at 165 cases per 100,000 people on Tuesday, more than triple the level the government has determined to be manageable without wide-ranging contact restrictions.
German officials are on alert over a strain of the virus that could be over 50% more transmissible. Since first being detected in southeast England in mid-December, British hospitals have been swamped with Covid-19 patients as infections surge despite a faster pace of vaccinations than anywhere else in Europe.
The variant has spread to other countries, notably Ireland, which now has one of the world's highest contagion rates.
Because Germany's labs don't regularly examine the structure of the virus, it's unclear how widespread the variant may already be in the country. To counter this, Merkel's government is looking to make funds available and require labs to share data with the country's RKI public health institute.
Authorities will meet on 25 January to discuss the next steps in the fight against the pandemic. Current measures are set to run until at least the end of the month, but are widely expected to be extended.
The opposition Green party called for restrictions beyond the current lockdown, including obliging people to work from home where feasible and requiring seat reservations on commuter trains.
Germany and its European Union partners began rolling out a vaccine at the end of December, but progress has been slow and officials have said it will take months for the shots to have a tangible impact.
Misinformation is undermining Germany's campaign, including discouraging workers in old age and nursing homes from getting the shot, Bavarian state premier Markus Soeder said on Tuesday.
He said the government should consider making vaccinations obligatory for people coming into close contact with vulnerable individuals, adding that Germany already requires inoculations for the measles, which is far less dangerous than the coronavirus.
"It's surprising," he told ZDF television. "It has to do with this incredible fake news that spooks around on the web."
©2021 Bloomberg L.P.
---
The Luxembourg Times has a brand-new LinkedIn page, follow us here! Get the Luxembourg Times delivered to your inbox twice a day. Sign up for your free newsletters here.
---