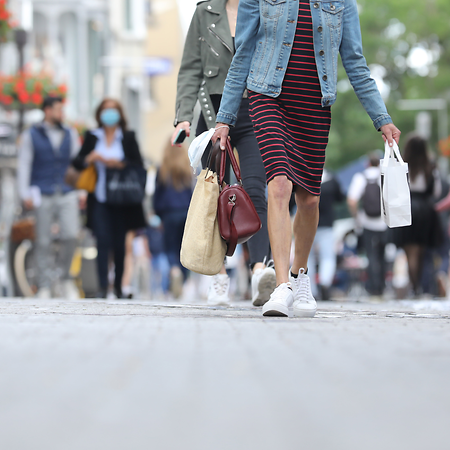 Shoppers in June, when the coronavirus had retreated in Luxembourg Photo: Guy Wolff
The saving rate of EU households showed a record year-on-year increase of 3.5 percentage points in the first quarter of 2020, statistics body Eurostat said on Thursday.
The spike was mainly driven by a 1.7%-drop in spending, a stark contrast with rises of above 2% recently. An increase in gross disposable income by 2.4% also contributed to the rise in the saving rate.
The household saving rate increased in all countries for which data are available, but this does not include Luxembourg and other countries whose economic output is below 1% of overall GDP.
Slovenia recorded the highest year-on-year savings increase, followed by Poland and Spain. Swedes, Czechs and Germans put aside the least.
The most significant drop in household expenditure was among Italians, Slovenians and Spaniards. Six EU countries increased consumption spending when compared with the first three months of last year, with the most substantial increases in Poland and Czechia.
---
Get the Luxembourg Times delivered to your inbox twice a day. Sign up for your free newsletters here.