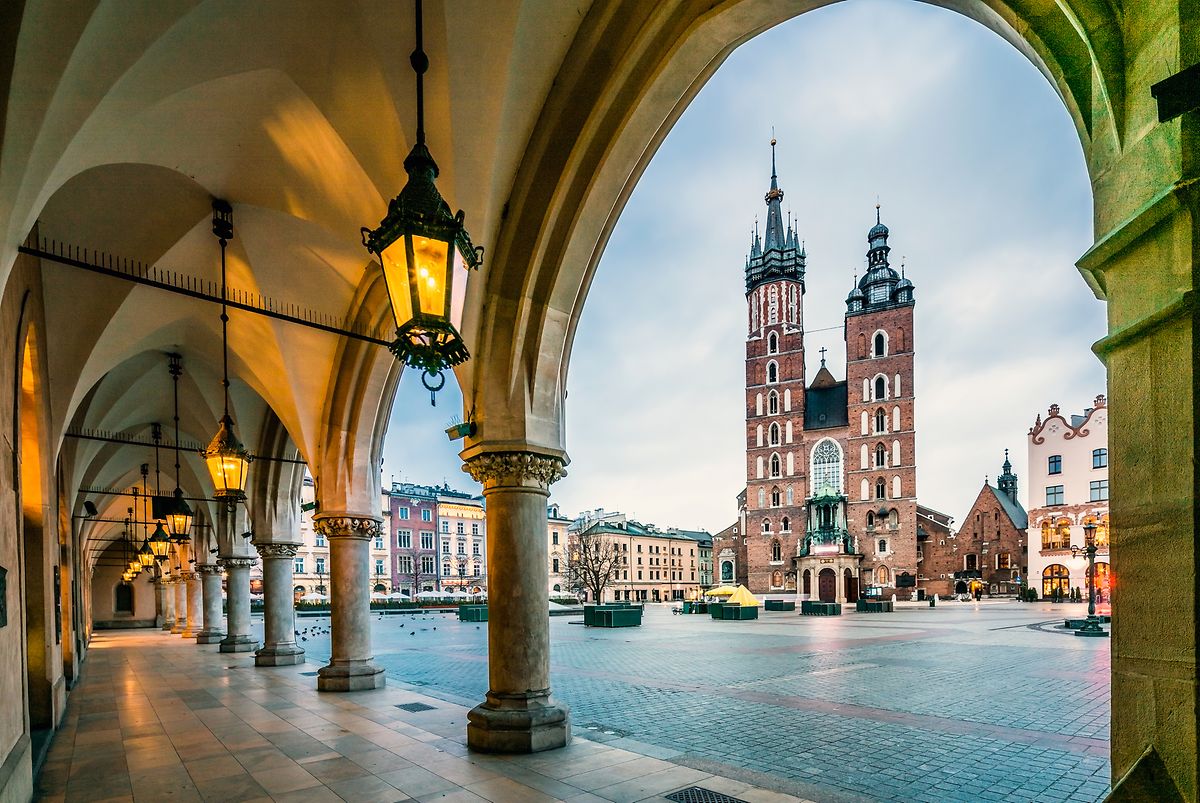 Krakow market square Photo: Shutterstock
The European Union took the first step toward punishing Poland over a controversial overhaul of its top court, heaping more pressure on a government that's already facing street protests in Warsaw over its judicial-reform plans.
Worsening tensions between the EU and its biggest eastern member, the bloc handed the government an initial warning on Monday, two days before the law takes effect. Critics say the bill, which would replace many Supreme Court judges and its head, grants the ruling Law & Justice party too much sway. Ex-President Lech Walesa is set to join demonstrations against it.
The judicial revamp is at the center of a conflict that's turned Poland from a poster-child for ex-communist Europe's transition to democracy to one of the EU's biggest headaches, risking billions of euros in aid.
The European Commission recommended in December that its member states consider disciplining Poland for failing to uphold the bloc's democratic values, an unprecedented process that risks stripping the country of its voting rights.
"This is the last call for Poland to change something in this area, but it seems that the Polish government feels its power, as Poland has the proper back-up to block sanctions," said Rafal Benecki, ING Bank Slaski SA's chief economist. "In the long run, the losses will be visible and it will be visible in EU funds."
Exit date
The Supreme Court legislation would force two-fifths of Supreme Court judges into retirement next month, unless they get special permission from President Andrzej Duda, a former Law & Justice legislator. He'll announce Tuesday when the court's head, Malgorzata Gersdorf, will leave, the Dziennik Gazeta Prawna newspaper reported, citing Duda's office.
Several thousand Poles plan to protest at the court in Warsaw that evening and Wednesday, according to Obywatele RP, a pro-democracy civil-society group that's helping organize the rallies. Solidarity leader Walesa vowed to lead protests on July 4 if the court is "in any way attacked."
After the overhauls, Polish courts will have "a striking resemblance to the institutions which existed in the Soviet Union," according to a report by the Venice Commission, a democracy watchdog. Gersdorf said Law & Justice was building a "terrifying" system to enshrine single-party rule and "bullying" judges who oppose it.
Law & Justice say the reform is necessary to purge communist throwbacks and improve efficiency. The Commission's "justification isn't right and we'll prove it before the European Court of Justice," Foreign Minister Jacek Czaputowicz said Monday. "We're confident, we're awaiting the decision."
Monday's "letter of formal notice" gives Poland one month to respond and potentially answer calls from Vice President Frans Timmermans for amendments to the reforms. A final warning would come next in the form of a "reasoned opinion," after which a lawsuit could be filed at the EU court.