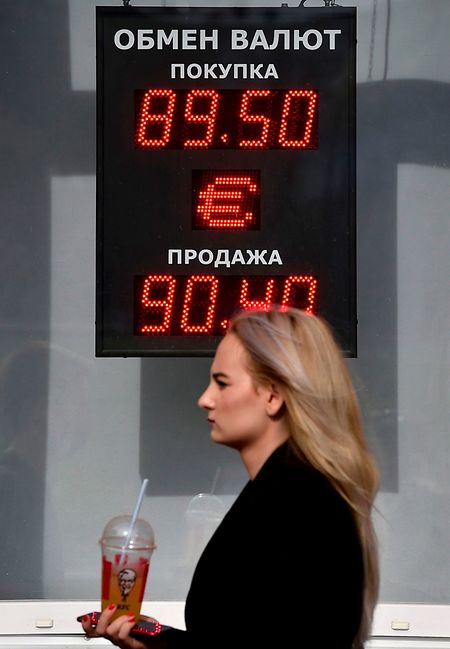 A woman walks past a screen displaying the currency exchange rate of the Russian ruble with Euro on Monday. PHOTO: AFP
Though Russia last week became only the fourth country to report more than 1 million cases of Covid-19, its economy is coming through the pandemic better than most other big emerging markets. Analysts say the outlook could yet improve.
"When the pandemic broke out, Russia was in pretty good shape: low inflation, low unemployment, stable banking sector and huge reserves," Renaissance Capital Chief Economist Sofya Donets said by phone from Moscow. "If there are no additional shocks, there will be a wave of forecast upgrades for Russia's economy this year."
Renaissance is among the most upbeat on the outlook, forecasting a contraction of 3.3% this year and a 3.8% rebound next. Even the current Bloomberg survey, which shows a 4.8% shrinkage this year, is less than half what the government feared when the virus first hit.
The Kremlin is already touting the performance, with Maxim Oreshkin, the president's economic aide, saying key indicators like employment will be back up to pre-crisis levels next year. Russia will even meet a long-sought Kremlin goal of reaching number five among world economies this year, measured by purchasing power parity, according to the International Monetary Fund, which expects Germany to retake its position starting next year.
"Thanks to sanctions back in 2014, Russia has now much smaller reliance on external capital flows, so the shocks from the pandemic have hurt the economy less," said Elina Ribakova, deputy chief economist at the Institute of International Finance in Washington.
Russia's service and small-business sectors, hit especially hard by the lockdowns amid the virus, are relatively small compared to those in many other countries. Some economists see a sluggish rebound, as the government is planning to end its limited stimulus and tighten the budget next year. State bank VEB sees growth capped at 3% through 2024, below the global average.
©2020 Bloomberg L.P.