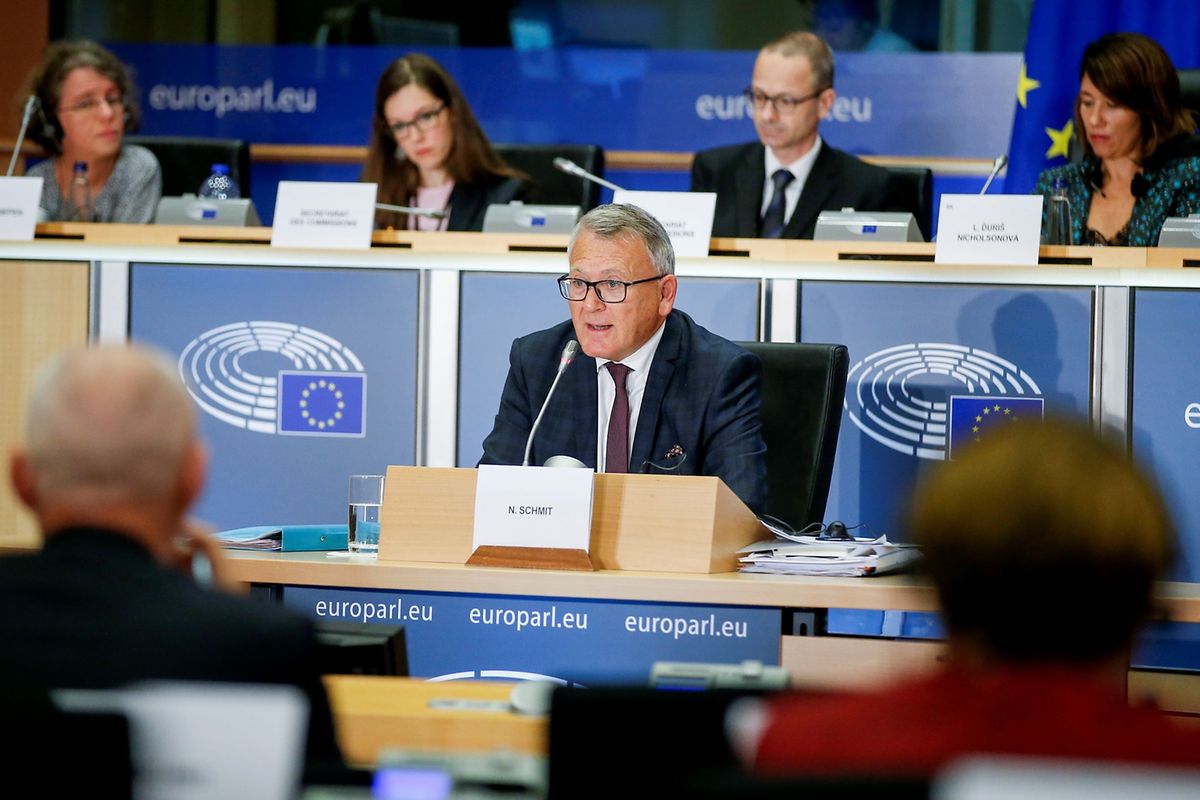 Nicolas Schmit during his hearing on Tuesday Photo: European Union 2019 - Source : EP
Nicolas Schmit emerged unscathed from a hearing with members of the European Parliament to confirm him as Luxembourg's member of the European Commission, after representatives had shot down candidates put forward by Romania and Hungary.
The commissioner-designate, a former Luxembourg labour minister, faced MEPs on Tuesday morning in a three-hour hearing with the parliament's employment and social affairs committee that is set to determine whether he can join Ursula von der Leyen's team.
A strong social agenda was part of his mission, Schmit said, adding he wishes to boost employment as well as promoting an "upward convergence" of social standards and inclusion.
One of the initiatives he put forward was "a legal instrument to ensure that every worker has a fair wage", and introducing a so-called child guarantee that would ensure all children have access to free healthcare and education, decent housing and adequate nutrition.
The European Parliament first proposed this measure in 2015, but it was never formalised.
Schmit's ambitious agenda also advocates stronger health and safety measures to protect workers, investment in skills, support for collective bargaining agreements, measures to protect workers from wage dumping, and initiatives to prevent brain drain in- and outside the EU.
"A strong social Europe needs strong social legislation that is up to date, properly implemented and enforced," Schmit said.
Schmit shied away from making formal commitments on what he would like to achieve within the first 100 days in office. Several issues would require the input from other commissioners, he said, for example in the fields of digitalisation, health and youth.
Schmit himself was elected to the European parliament in this year's European elections. He will cede his seat as MEP when confirmed as commissioner. The committee will now submit an evaluation letter to parliamentarians prior to a vote on the entire college on 23 October.
Hungary, Romania plan B
Commission president-elect von der Leyen is facing trouble over some of her other picks.

The parliament's legal affairs committee decided on Monday that Romania and Hungary's candidates had conflicts of interests that made them unfit to serve as commissioners.
Oliver Varhelyi, the country's envoy to the EU, has now been put forward by Hungary to replace Laszlo Trocsanyi. A lawyer by training, the diplomat has previously worked for the Commission. Von der Leyen will interview him before accepting him in her team.

Romanian Premier Viorica Dancila said her government will make a new nomination but has not yet confirmed who will be replacing Rovana Plumb in the Commission line-up.

The Commission has been a frequent critic of eastern members, including Hungary and Romania, over an alleged slide in their democratic standards and the rule of law.

It is the first time that prospective commissioners have been shot down before their formal hearing.
---
Get the Luxembourg Times delivered to your inbox twice a day. Sign up for your free newsletters here.