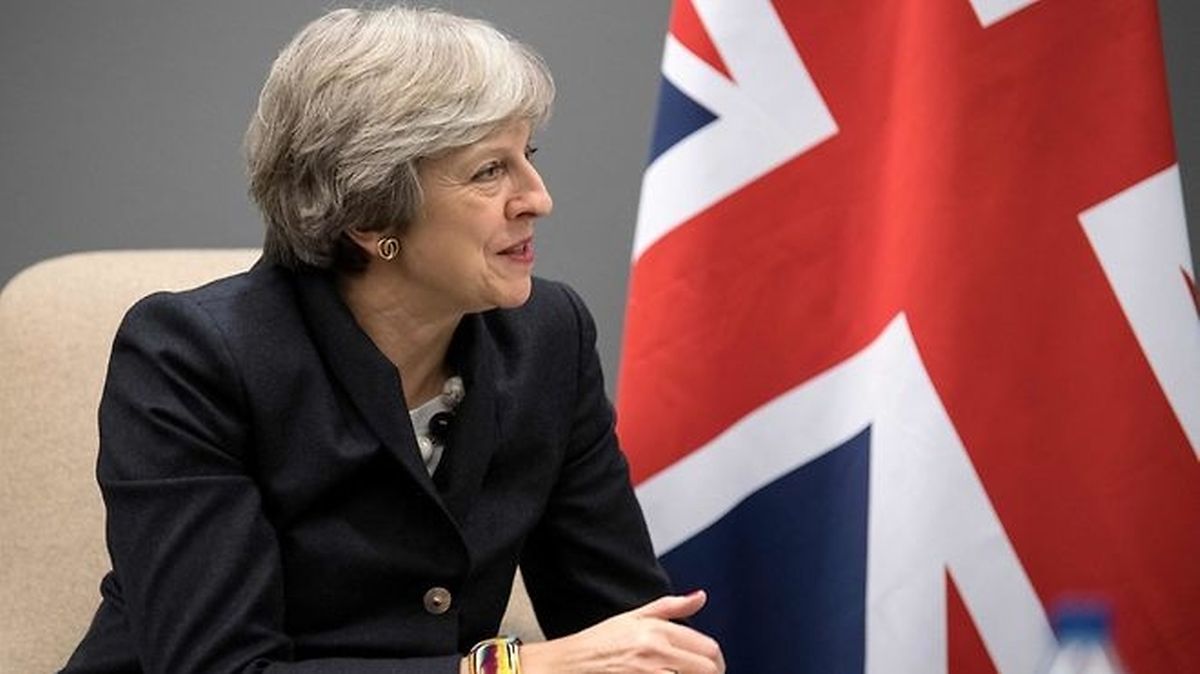 Turning tides? Theresa May (AFP)
The political tides could finally be turning against Theresa May.
The embattled British prime minister has defied odds to survive a disastrous election result and difficult Brexit negotiations by papering over differences among her Conservatives.
But there is a growing sense May's situation has become untenable as her party's divisions over the European Union spill out.
While it remains impossible to predict when her time as premier will be up, warning shots have been fired by the hardliners concerned that she's plotting to keep the country inside some form of customs union after leaving the EU.
Jacob Rees-Mogg, who wants a clean break and is a popular figure among the rank and file, has emerged as a power broker with the ability to influence the direction of Brexit.
He has accused Treasury officials of "fiddling the figures" on Brexit to make leaving the bloc look bad.
The union that represents civil servants attacked the lawmakers for peddling "unsubstantiated conspiracy theories."
The political establishment was appalled and yet he's not backed down, nor has May chastised Rees-Mogg, in a sign of her chronic weakness.
That job was left on Sunday to Home Secretary Amber Rudd, who is more on the pro-EU side of the party and has shown her value filling May's shoes on television in the past. She's also key in maintaining the delicate balance in the Cabinet between opposing voices on Brexit.
'He is Wrong'
"I am very surprised of Jacob because he is famously courteous, and famously thoughtful and articulate, so I am very surprised he has used that language," she said on the BBC's Andrew Marr Show on Sunday. "He is wrong here."
At the heart of the conflict is how close a relationship Britain should seek with the EU after Brexit.
Without a majority in Parliament or the confidence of her lawmakers, May cannot afford to offend those who want maximum distance and were infuriated by Chancellor of the Exchequer Philip Hammond arguing in Davos, Switzerland, for only a 'modest' separation.
May's so-called Brexit war cabinet has yet to thrash out what compromise can satisfy all sides – raising doubts almost a year into the process if it's possible to square that circle. From the European perspective, there is dismay at the lack of clarity from May.
Rees-Mogg has emerged as a champion for the pro-Brexit camp. He has appeal among the grassroots for being uncompromising, inviting comparisons to opposition Labour Party leader Jeremy Corbyn, also a true believer but on the other side of the political spectrum.
"They'll love him because he is unapologetic," said Philip Cowley, professor of politics at Queen Mary University of London, on Twitter after interviewing Rees-Mogg. "No triangulating. Argues for capitalism, unashamedly. He's basically a pinstriped Conservative Corbyn."
Cowley ventures further: "If he stands in any forthcoming leadership contest, if he gets through to the last two, he'll walk it." The Sunday Times pointed to a brewing plot that could see Boris Johnson, Brexit poster boy and foreign secretary, standing in a future contest with Rees-Mogg in lieu of Hammond to steer fiscal policy.
Life Under Boris
Marr to Rudd: "Could you ever imagine serving under Boris Johnson?" Her answer: "That is such a difficult question on so many different levels, I'm going to pass."
Political commentators have been quick to point to the momentum behind Rees-Mogg with The Independent newspaper running an opinion piece that said "it was time to take Jacob Rees-Mogg seriously."
He has become more outspoken since his election as the chairman of an influential group of euroskeptic Tories.
A staunch traditionalist – he believes abortion should be outlawed even in rape cases – Rees-Mogg attracts as many fans as detractors. He was caught in a scuffle this weekend after protesters disrupted a speech he was giving at a university campus in Bristol.
The backlash from eurosceptics came amid reports that one of May's key Brexit advisers – Oliver Robbins – was drawing up a plan for the UK to keep trading goods tariff-free with the EU.
It led to some parsing of words of whether the country would quit 'the' customs union but perhaps join 'a' customs union in some shape or form.
That argument seemed to be settled by the weekend. International Trade Secretary Liam Fox spelled out clearly that it was a red line for him. Dominic Raab, another pro-Brexit voice and an up-and-coming Tory, seemed to agree on air during Sky's 'Sunday with Paterson.'
"No I don't think we'll be in any form –at least as conceived in international trade practice – of customs union because if we were we'd have our hands tied in negotiating free trade deals with other parts of the world," Raab said.
That answer will satisfy Rees-Mogg, who last month launched his own podcast called 'The Moggcast,' who has led the march against what he calls 'BRINO' – Brexit in name only.