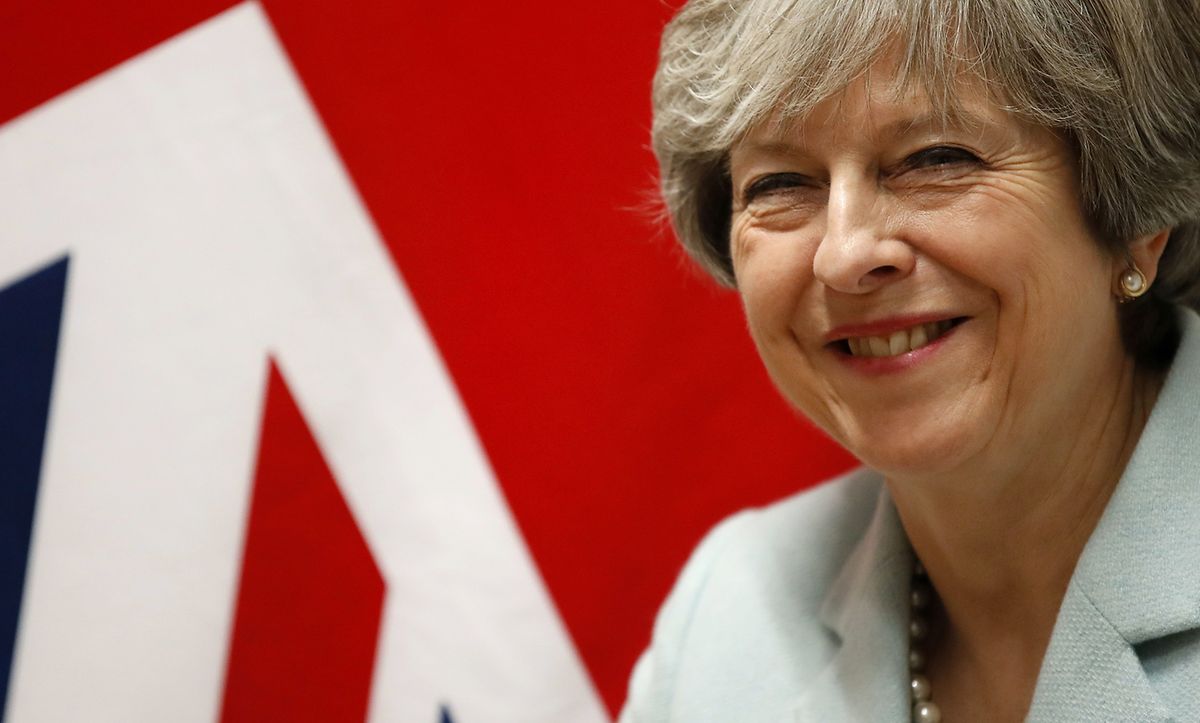 Britain's Prime Minister Theresa May (AFP)
UK Prime Minister Theresa May is battling to put out multiple political fires at home as she prepares for a crucial meeting in Brussels that she hopes will end the deadlock in Brexit talks.
Euro-skeptics including members of May's own Conservative party set out new "red lines" for the negotiations ahead of a lunch meeting she'll have on Monday with European Commission President Jean-Claude Juncker.
In two further blows, the government's social mobility advisers quit en masse, saying May has failed to improve the lives of the poorest people in Britain, while her deputy Damian Green is facing fresh calls to resign over allegations of sexual misconduct.
The storm of trouble swirling around May's leadership intensified just as Brexit negotiations reach their most sensitive stage. The European Union set her a deadline of Monday to make a better offer on the terms of the divorce that are currently stuck – including the so-called exit bill, legal protection for the rights of EU nationals, and avoiding a new hard border between the UK and Ireland.
December Deadline
If she fails to persuade the other 27 EU countries that her new offer on all three issues is acceptable, May will not be allowed to begin negotiating the new free-trade deal she wants with the EU, or the transition period that businesses crave.
Both sides want talks to move on from the divorce terms to this second phase focusing on future relations at a summit of European leaders on Dec. 14. Without a separation deal by the end of the year, British officials fear the talks will collapse.
May's room for maneuver was tightened by a new letter from Brexit supporters, including former Cabinet ministers John Redwood, Nigel Lawson and Owen Paterson. The letter called on the prime minister to give the EU a final ultimatum this week.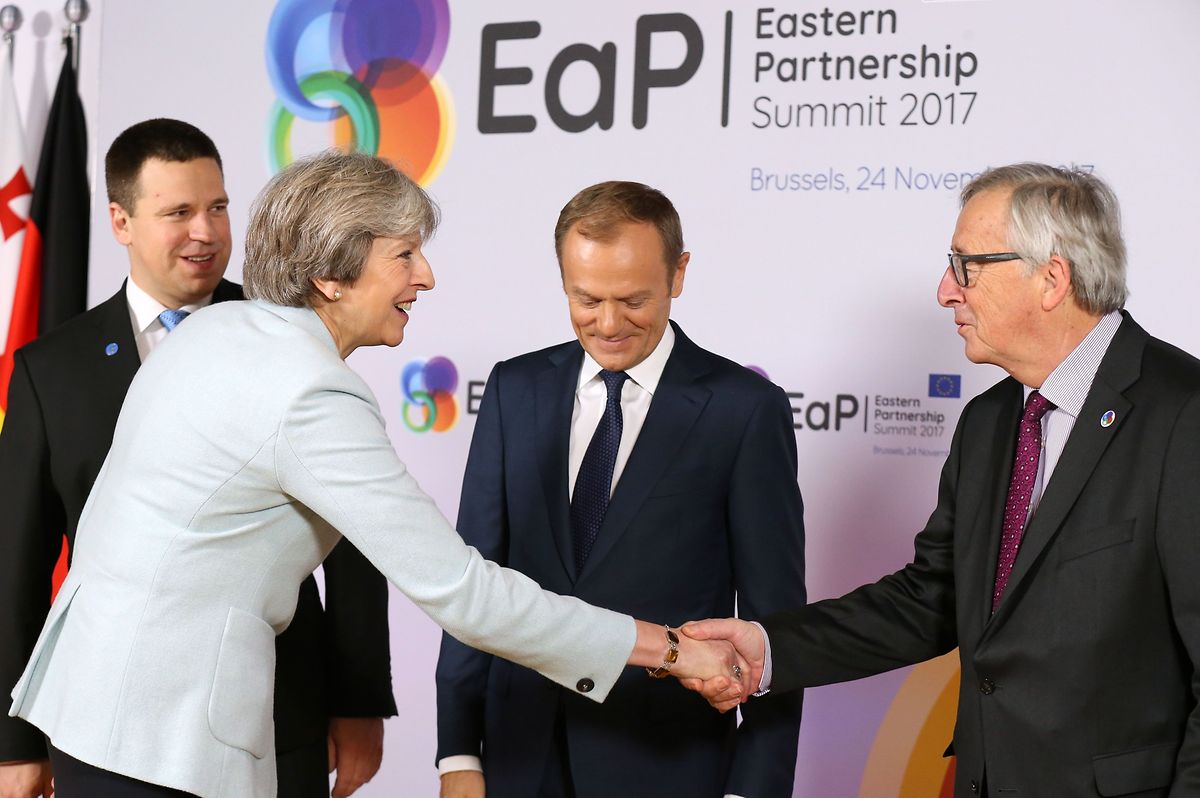 Estonian PM Juri Ratas and European Council President Donald Tusk stand as British PM Theresa May and President of the European Commission Jean-Claude Juncker shake hands during an EU Eastern Partnership summit (AFP)
If there is no deal by the end of this month's summit, "The UK – having exhausted every avenue – should suspend its participation in the negotiations and inform the EU that, unless they are prepared to talk to us seriously about a future free-trade arrangement, we will revert to World Trade Organization terms from 30th March 2019," the letter said.
The letter demanded that after Brexit day on March 29, 2019, free movement of people must end, the UK should be able to sign and implement new trade deals and the European Court of Justice must have no further role in British legal matters. Without agreeing to these terms, the EU must not receive a penny toward the 60 billion-euro bill ($71 billion) it's demanding Britain pay, the letter said.
European Court
On Sunday, UK Cabinet minister Jeremy Hunt confirmed reports that May is planning to allow the ECJ to have a role in protecting the rights of EU citizens living in the country after Brexit. If British law is not clear on an issue the Supreme Court in London should be able to refer a case to the European Court for a recommendation, he said.
"This is just a technical point," Hunt told ITV's Peston on Sunday program.
Some Euro-skeptics are likely to regard such a move as a betrayal of May's promise that the European judges at the ECJ will have no role in British legal systems after the country leaves the bloc. May has already won cabinet support to increase her offer to the EU on the money, leaving the final hurdle of the Irish border to be resolved.
There were signs of potential progress on this question too. Simon Coveney, Ireland's foreign minister and deputy prime minister, said he did not want to delay progress in Brexit negotiations and did not need a final resolution to the thorny issue of the future of border arrangements.
Border Lines
The Irish government simply needs May to set out the "parameters" for how the issue will be resolved in the months ahead, as negotiations move into discussions of the future trade accord, Coveney told BBC television's Andrew Marr show on Sunday. Ahead of meeting May on Monday, Juncker will hold talks with the European Parliament on Brexit, as attempts are made to break the deadlock.
In a series of interviews on Sunday, May's Cabinet ministers were forced to defend her First Secretary of State Green, amid allegations – which he denies – that he viewed pornography on a work computer.
The Sunday Times newspaper reported that May's chief of staff Gavin Barwell believed it was time for Green to resign. Losing Green would be a blow for May, as he's been her friend for decades and he acts as a powerful ally, enforcing her policies inside the UK Cabinet.
"If we don't back Theresa May we will have no Brexit," Hunt told ITV. Education Secretary Justine Greening also appealed for support for the premier. "Everyone needs to get behind the prime minister," who has an "immensely challenging" job negotiating Brexit, Greening told the Andrew Marr show.