Activity centres and treetop climbing
Activity centres and treetop climbing
Try a Tarzan swing, a 375 metre zip line or maybe some rafting for outdoor adventures in the Grand Duchy and the Greater Region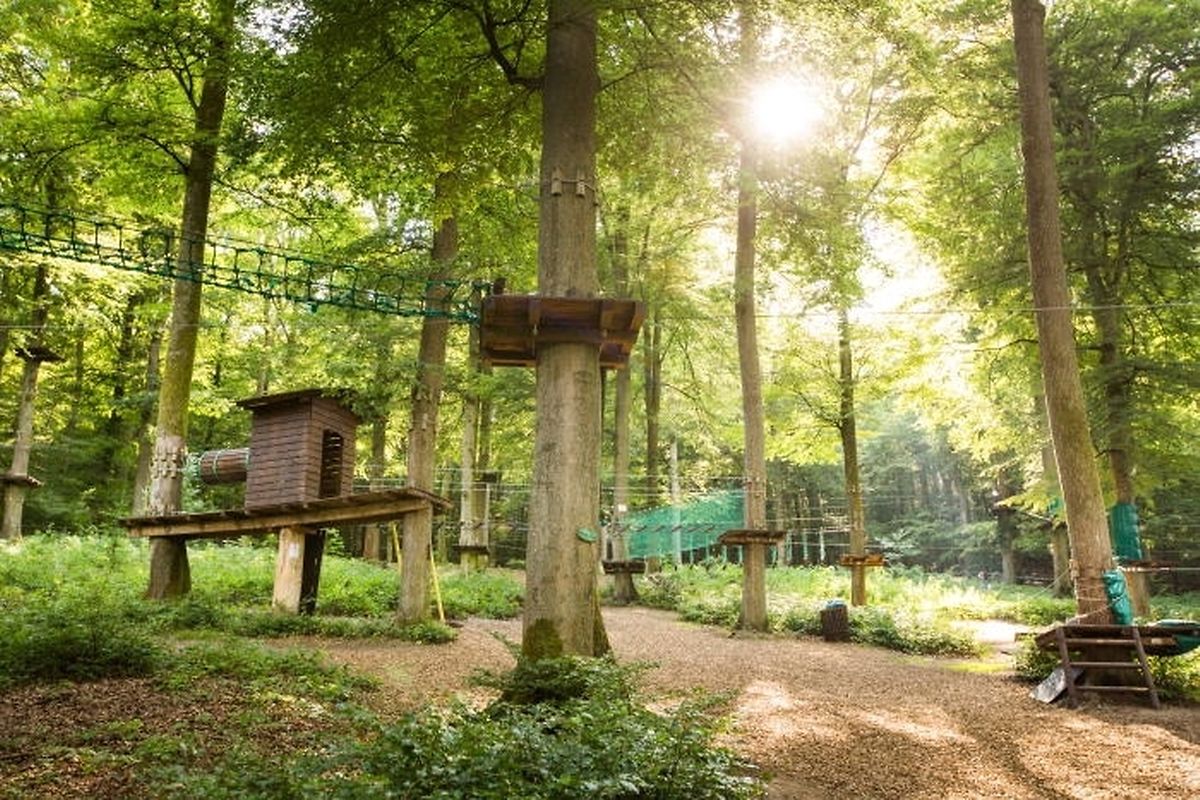 Brave a death ride down a 65m high zip wire just over the border in Belgium Photo: Lex Kleren
If you're an adult thrill-seeker, or have action-mad children, then Luxembourg and the greater region have plenty of outdoor adventure centres where you can swing through the trees on a zip-wire or negotiate an obstacle course set high in the treetops.
Where possible we have indicated any restrictions or if the centre is closed currently due to Covid-19 regulations.
Parc L'eh – Dudelange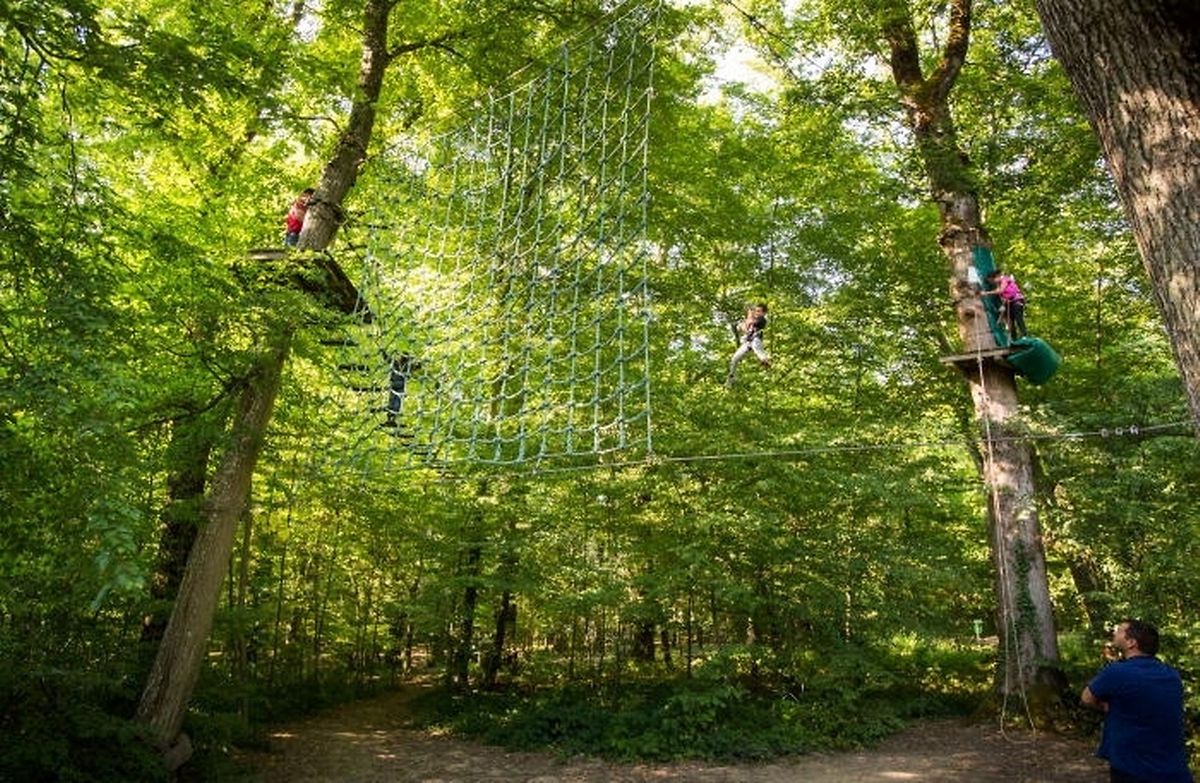 Get ready for the Tarzan swing Photo: Lex Kleren
OPEN. Children from as young as 18 months (there is a special bambini trail) can have a go at climbing and balancing. There are different levels for different ages and older children can move from treetop to treetop, using metal ropes attached with a secure climbing belt. And for the real monkeys – there's a Tarzan swing.
Where: 203 rue de Parc, L-3542 Dudelange
When: Opens 6 April for the school holidays, and is open every day in July, August and early September. Open in October at weekends. For opening times check here. This park has re-opened.
Age: from approximately 2 years
Cost: From €10 to €23 (depending on age and activity)
Indian Forest – Vianden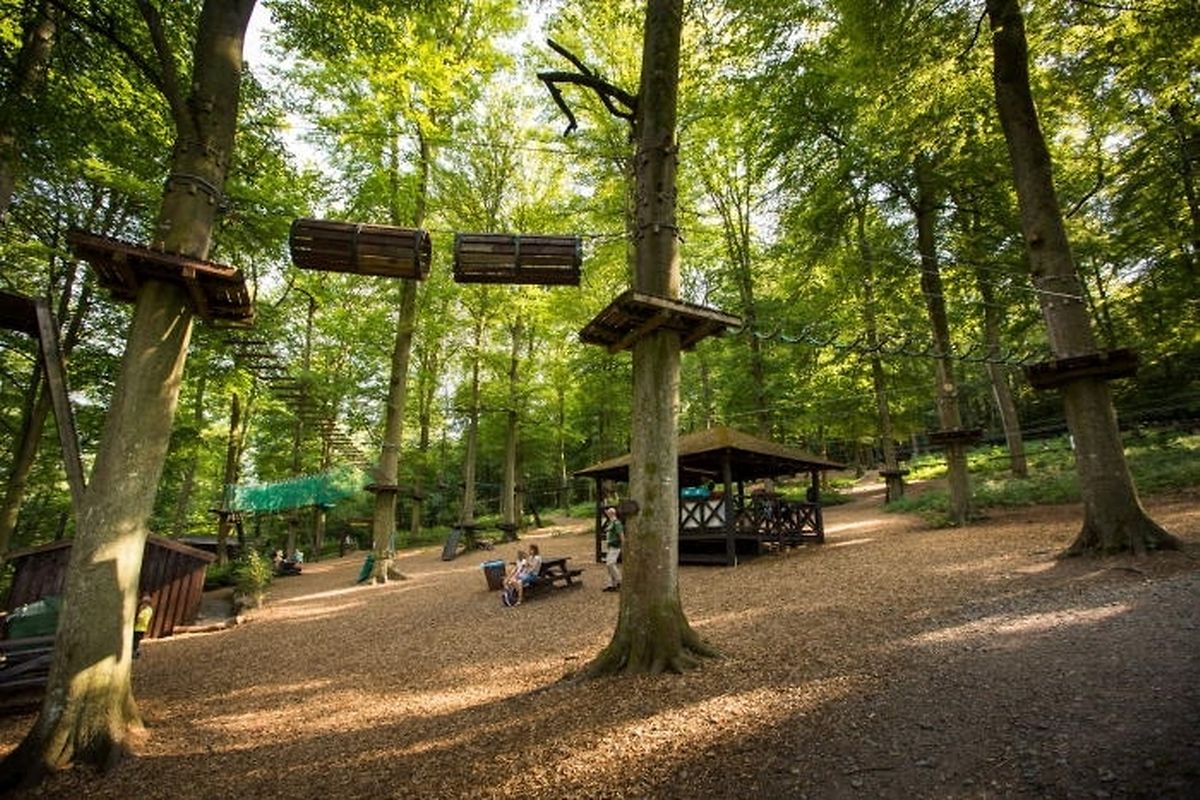 Luxembourg's longest zip line is in Vianden Photo: Lex Kleren
CLOSED until further notice (check website for updates). The "Indian Forest" is set in forests behind the picturesque castle town of Vianden, and you can take the cable car up to its location. It comprises a set of high rope courses in the forest (varying levels of difficulty – the easiest is from age five), the longest zip line in Luxembourg (375 metres) plus pony rides and electric quads.
Where: Park in the castle car park (ticket/maximum of 5 hours) and reach the Indian Forest by foot through the "Bildchensbësch" (approximately 15 minutes)
When: 1 April to 31 October, 10.00 to 18.00 (closed Mondays in low season)
Age: from 5 years (minimum height 1.20m)
Cost: €5 to €20 (depending on age and whether ticket includes zip line)
Acro-Parc – Heiderscheid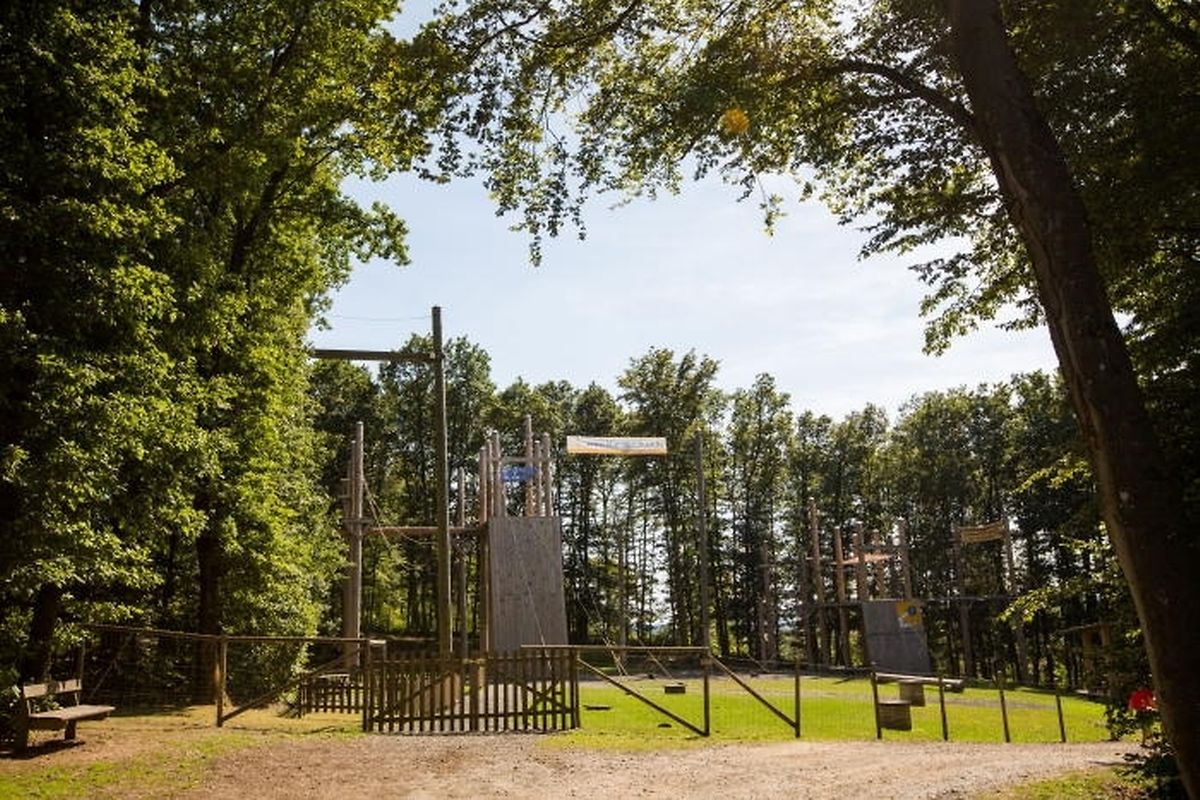 Discover nature in Heiderscheid (Lex Kleren)
Head to Heiderscheid and the Upper Sûre Nature Park, for another adrenaline rush and rope course with a giant swing. Facilities cater to children over six years and their parents, but the park aims to help families discover nature on a personal adventure, and can accommodate younger children on request. Contact them directly to check plans to re-open on 80 48 85 41.
Where: Fuussekaul, Heiderscheid L-9156
When: every day
Age: from 6 years (although ages 3-5 can take part on request)
Cost: €15 to €20 for half day (minimum 8 people)
Steinfort Adventure Park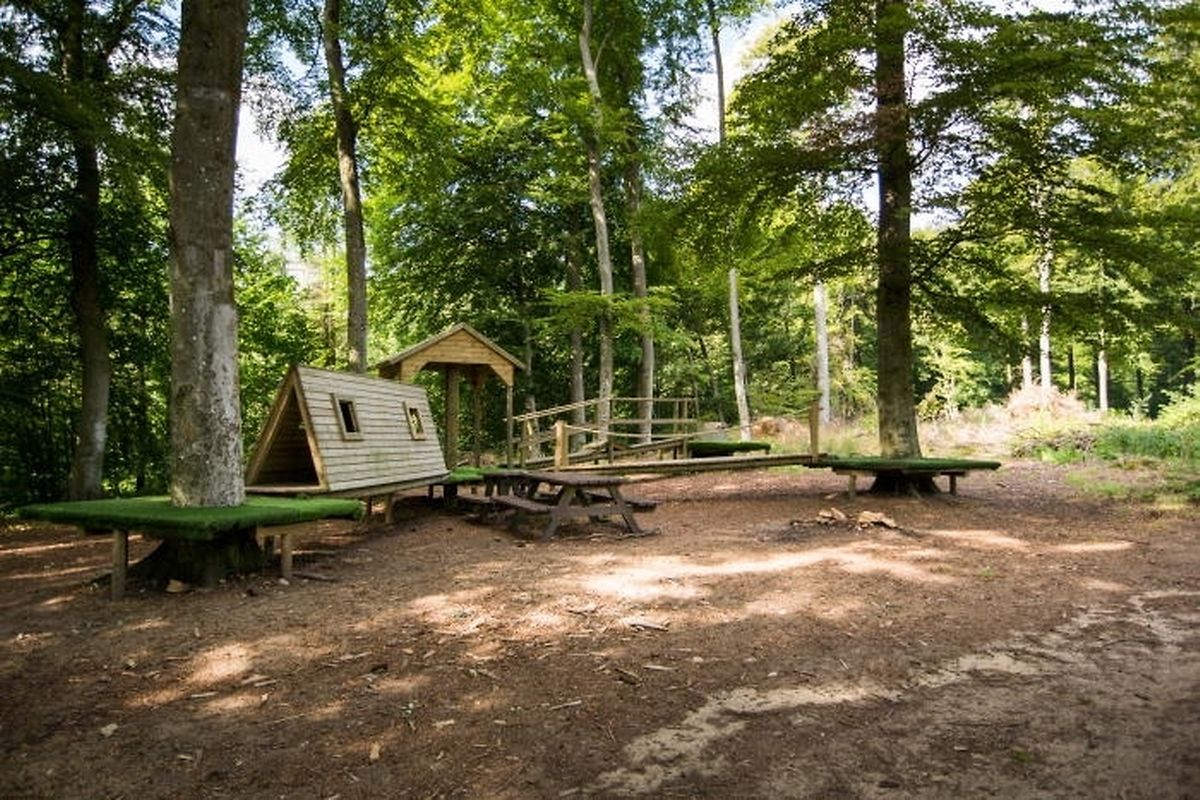 Steinfort has a 112m zip wire (Lex Kleren)
OPEN but you must reserve in advance. This Adventure Park in Steinfort offers the chance to climb trees, ride bicycles and learn about the forest with an emphasis on environment awareness. There are 91 stations spread across 10 courses including a 112m zip wire. You can find out more information on their Facebook page.
Where: Rue de Schwarzenhof, L-8452 Steinfort, parking Centre Culturel Al Schmelz, 1 rue Collart, L-8414 Steinfort
When: April to October Tuesday to Sunday (opening hours listed here) You must reserve by calling +352 27 39 53 00 or emailing
info@steinfort-adventure.lu
Age: from 4 years to adults
Cost: €5 to €19 depending on age
You can find out more about adventure and climbing places in Luxembourg here.
Over the border...
If you're willing to travel across the border, there are more activity centres within easy reach of Luxembourg. Due to the high number of virus cases in Luxembourg as of 18 June, please check quarantine restrictions for your destination country ahead of the trip.

Pio Aventure, Longwy (France)
OPEN. Just literally across the border from Luxembourg, with courses for all ages from "Pitchoune" for 3-5 year olds, to "A la Piste" for adults and older children willing to go to 25m heights.
Where: 12 Rue Ordener, Longwy, France
When: Open Wednesdays and weekends during term time from 13.30 to 17.00 and every day during school holidays.
Age: from three years to adults
Cost: Pitchoune course is €10, all other courses €15
You can find more information on Covid regulations and restrictions and opening times here.
Ardennes Adventures,
La Roche-en-Ardennes (Belgium)
OPEN. Featuring five courses including one for ages 4 to 7 years with 12 stations, one with 16 stations for kids over seven years, and an athletic course of 13 stations (nine years plus), at a height of between five and 13 metres. There are even tougher courses for the more athletic. You can also try out kayaking, rafting, and paintball at the park.
Where: Rue de l'Eglise, La Roche-en-Ardennes
When: Year round from 9.00 to 18.00
Age: from 4 years to adults
Cost: There are price reductions since it re-opened on 4 July. You can find out more here.
Adventure Park Saar, Saarbrücken (Germany)
OPEN but you must reserve in advance. A children's climbing labyrinth for age five years and above with obstacles on two levels reaching a height of eight metres, topped off with a fun spiral slide, or a forest high rope course with 75 challenges including treetop wire ropes, swings and bridges up to a height of 14 metres for ages nine years (or 135cm) and above. There's also a fantastic fly line that runs through the trees and can be ridden from age five and above.
Where: Parkplatz, Fuchstälchen, Saarbrücken
When: Open from March to November on Fridays from 14.30 to 18.30pm and weekends and school holidays from 10.00 to 18.30
Age: Five years to adults
Cost: €7 for young children up to €24 for adults (family of one adult and two children up to 17 years is €45).
You must reserve an appointment online and you can find out what you need to wear (masks, scarves and gloves) here. There is a 15 minute walk from the parking place to the ticket office, so arrive early to be on time for your reserved ticket slot.
---
Get the Luxembourg Times delivered to your inbox twice a day. Sign up for your free newsletters here.