Making a splash: indoor pools
Making a splash: indoor pools
The Grand Duchy boasts a multitude of indoor swimming centres offering much more than just the opportunity to do your laps.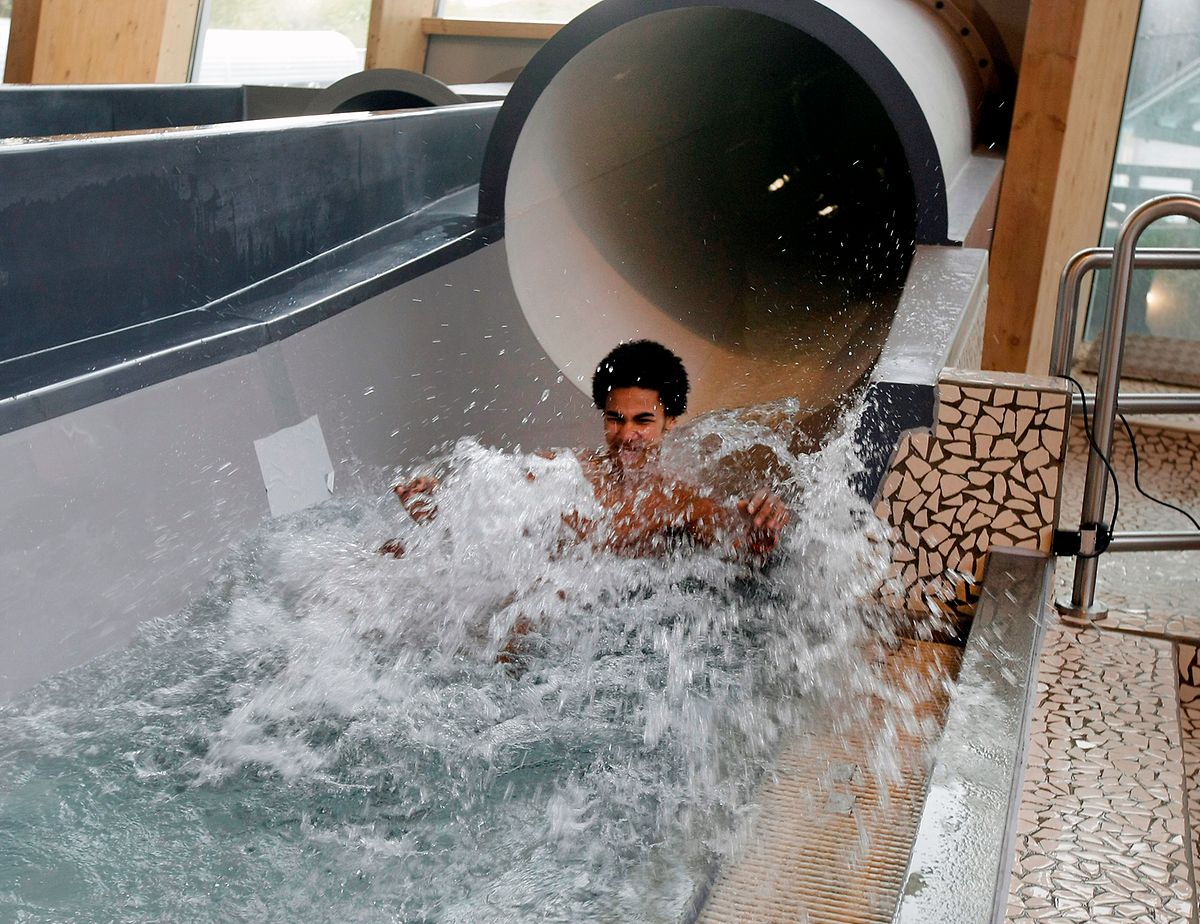 One of the slides at Les Thermes in Strassen (Gerry Huberty)
For keeping fit, exhausting the children, relaxing and steaming off a hard week at work, Luxembourg has a multitude of indoor swimming centres offering more than just the opportunity to do your laps. Most are open daily and offer entry prices to suit everyone's budget and timetable.
An der Schwemm – Bettembourg
A great place for beginners with a swim basin, splash area and smaller 40m slide, older children will enjoy the Black Hole slide with sound and LED flash effects. There's also a double Finnish sauna with light therapy, a Turkish bath and solariums. Hungry swimmers can grab a drink from the juice bar or relax in the bistro. Open every day, prices start with a 1.5-hour splash costing €2,50 for kids and €4,50 for adults.
Badanstalt – Luxembourg City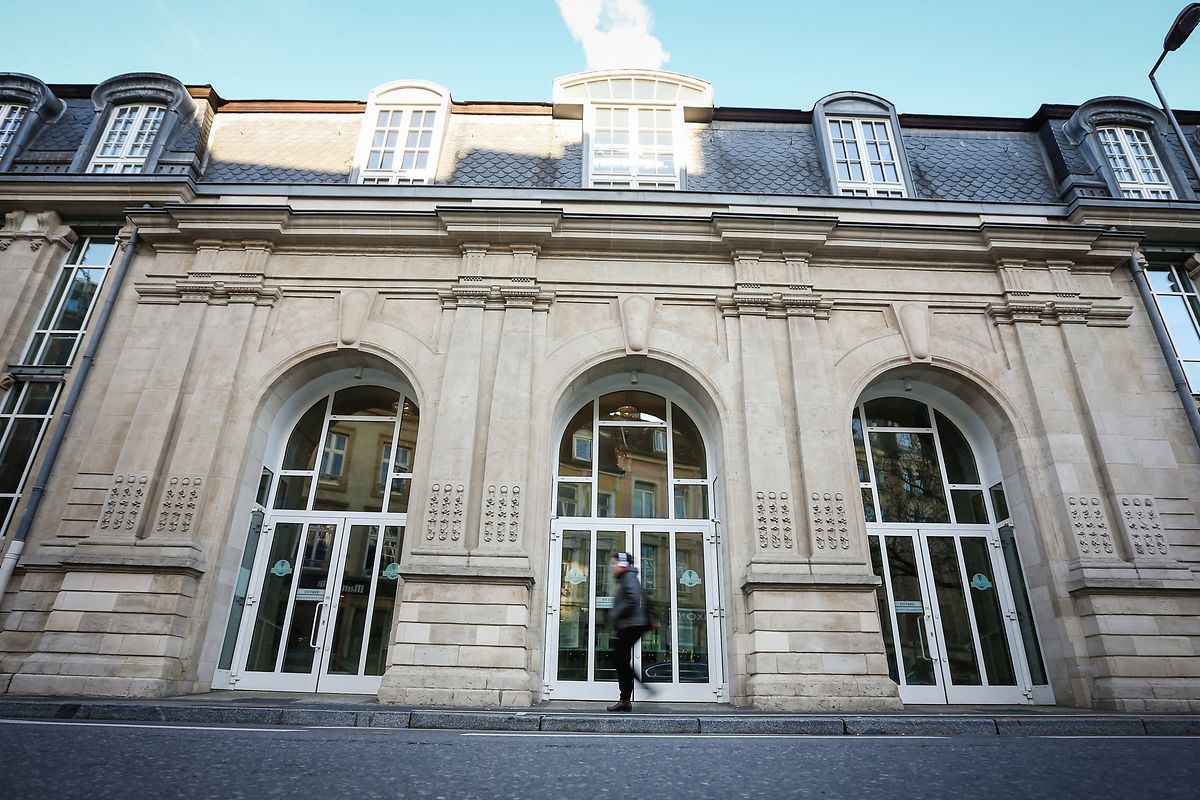 Outside the Badanstalt on rue des Bains Photo: Pierre Matgé
This centre for aquatic relaxation is open every day except Mondays and offers whirlpools and water jets, as well as a luxurious swimming pool. It also has two saunas, a Turkish bath and a solarium, in addition to a fitness room. Children under three go free, and it's €1,70 for children up to 15 years and €3,40 for adults. You can make your swim cheaper by purchasing a book of 10 entry tickets. You will find opening times here.
D'Coque – Kirchberg
Escher Schwemm – Esch-sur-Alzette
The National Sports and Culture Centre has an indoor Olympic pool (50m), children's pool, paddling pool and diving pool with a 10m diving tower. If you're looking more for relaxation, D'Coque is also home to three types of sauna: a Turkish bath, a snow cabin and a whirlpool. The complex also houses a bar and restaurants. Open every day, single entry is €2,30 for kids and €4,50 for adults, or €12,90 for a family card for up to four people.
Equipped with five swimming lanes, each with a one-metre springboard, these swimming baths also offers an outside play pool heated to 30-31⁰ for year-round use, with water jets and a massage bench. Inside, a heated pool offers a small water slide and mushroom cascade for younger swimmers, and 4m-long giant water slide that descends 40m into its own pool. For relaxation, check out the Finnish or bio sauna or Turkish bath followed by a light bite or meal at the onsite bistro. Open every day but with more limited hours during school-term time, entry is free for children under three years, €2 for those aged 4-11 years and €4 for adults. Sauna and solarium have additional charges, and you can buy a monthly pass for further savings.
PiKo – Rodange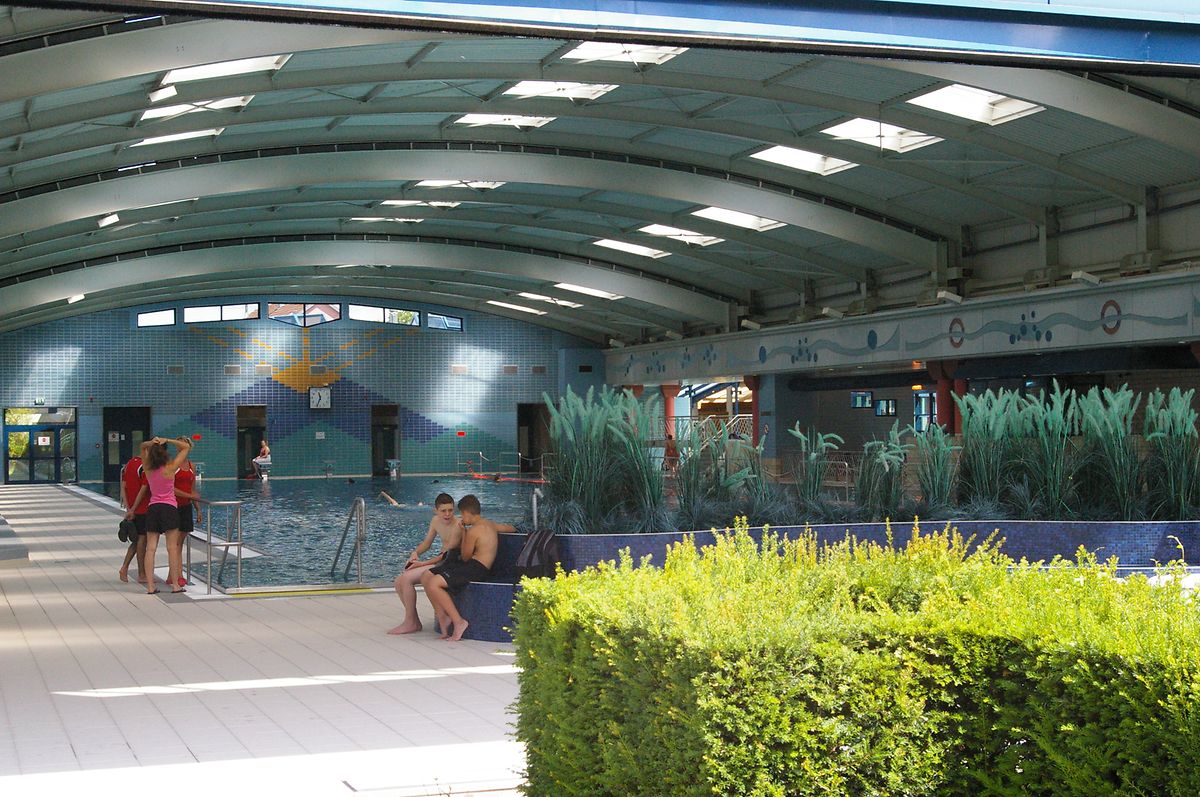 PiKo in Rodange Photo: Nicolas Anen
An open-air pool that can be covered in just seven minutes, the main pool is 100 sqm. Toddlers will benefit from the non-slip floor in the paddling pool, while teens can try out the 80m-long water slide. There's also a jacuzzi, Finnish sauna and Turkish bath. A 1.5-hour session costs €3,50 for adults and €2,50 for kids. You can find a full list of prices here. More information, including opening times, is available here.
Réidener Schwemm – Rédange-sur-Attert
A large swimming pool, children's pool with water attractions, a 45m-long waterslide and a whirlpool provide family fun. There's also a gym and sauna area and brasserie. Open daily. Prices start at one hour for €4 per adult and €4 per child.
Syrdall Schwemm – Niederanven
With a glass facade offering a panoramic view, this state-of-the-art swimming facility offers a 25m pool for swimming lengths, a leisure pool with water jets, a baby pool and a 65m-long water slide with an in-built sound system. The wellness area includes two Finnish saunas, a bio sauna and a steam bath. There is also an onsite bistro. Children under four go free, and prices start at €3 for children and €5 for adults (16 years plus) for a 1.5-hour visit (infants less than 4-years-old are free). Opening hours can be found here.
Aquasud – Oberkorn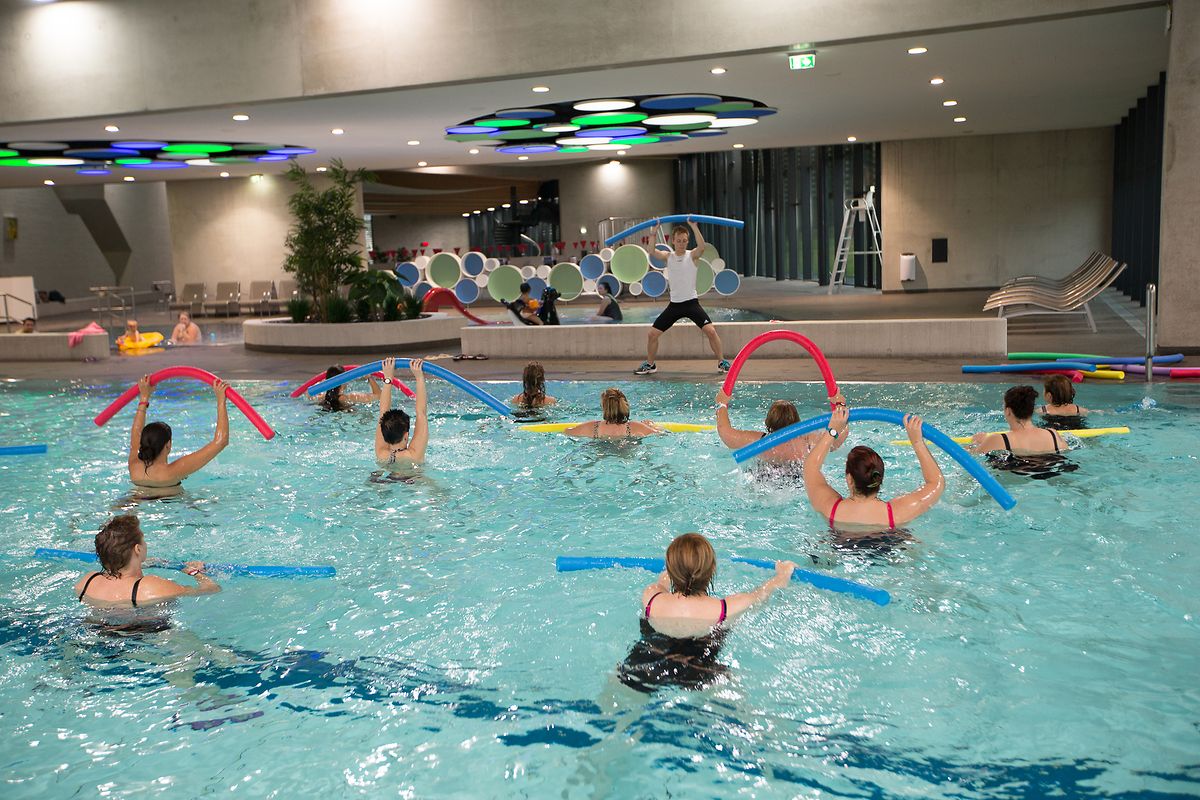 Aquasud in Oberkorn Photo: Claude Piscitelli
Opened in 2014 and covering 10,000 sqm, Aquasud incorporates eight indoor and outdoor pools, a fitness area with sauna, steam room and jacuzzi, a wellness area for massage and beauty treatments, and a lounge bar area.
Open seven days a week, entry to the aquatic area is €5 per adult, €4 for children aged 4-14 years and free for under fours.
Les Thermes – Strassen
A modern swimming centre with a 25m-long pool equipped with diving boards, a learning pool, a baby pool, a whirlpool, an 80m-long slide and a 30m-long turbo-slide. Les Thermes also offers wellness facilities including six saunas, two steam baths and a solarium, plus beauty and massage treatments. There is also a bistro on site in the pool area. Open daily, prices start at €7 per adult and €4 per child for 1.5 hours.
Pidal – Walferdange
Set within a lovely landscaped area, the Pidal pool caters to those who swim for exercise and family fun. Its second floor and above contains a spa offering a sea water pool, various saunas and beauty treatments and a fitness room with gym equipment. An onsite restaurant offers light dishes and fruit juices. Open daily (times vary during school holidays), entry to the swimming pool costs €5.50 per adult and €3 for children up to 12 years. For children under four, it is free.
AquaNat'Our – Hosingen
There is 3,500 sqm dedicated to sports, leisure and recreation for families, sports enthusiasts and professional swimmers. The water park features a lap swimming pool, trampolines, a learning pool, a paddling pool and the Red Slide. The 'sauna world' includes indoor saunas, a hamman, a cold water basin and an outdoor sauna. The pool bistro offers burgers, pastries, soup and salads. Open daily,the swimming area costs €5.50 for adults and €3.30 for children aged six to 16 for a two-hour visit.
Den Nordpool – Colmar-Berg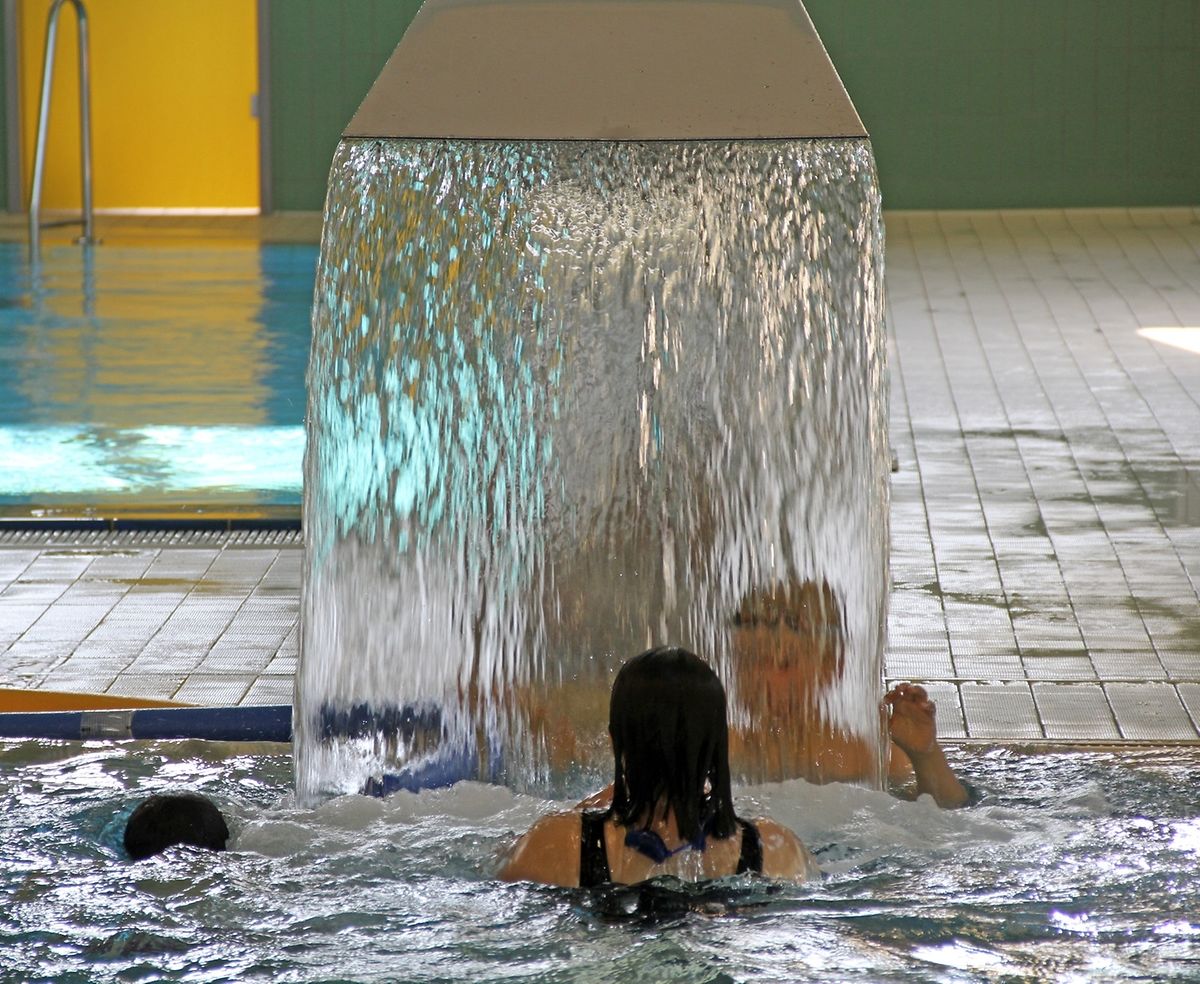 Den Nordpool, Colmar Berg Photo: Charlot Kuhn
Themed family fun with a children's pool featuring a pirate ship, a paddlng pool equipped with a mushroom cascade and the Mamba water slide – 80m long. In addition, there is a whirlpool and giant hamman. Children aged 5-14 pay €1.50 for the first hour. Adolescents aged 15-17 pay €2, and adults €3. Supplementary hours cost €1 for all ages. You'll find opening times and other details here.
There are also indoor swimming pools in Mersch, Bonnevoie, Belair, Schifflange, Steinfort, Wiltz and Wincrange, Echternach and Diekirch.
A comprehensive list of all indoor and outdoor pools is available on the Visit Luxembourg website here.
---
Get the Luxembourg Times delivered to your inbox twice a day. Sign up for your free newsletters here.