Dip in a river or lake
Dip in a river or lake
The lake and riverside spots of Luxembourg are open again for alfresco swimming, but with a few rules in place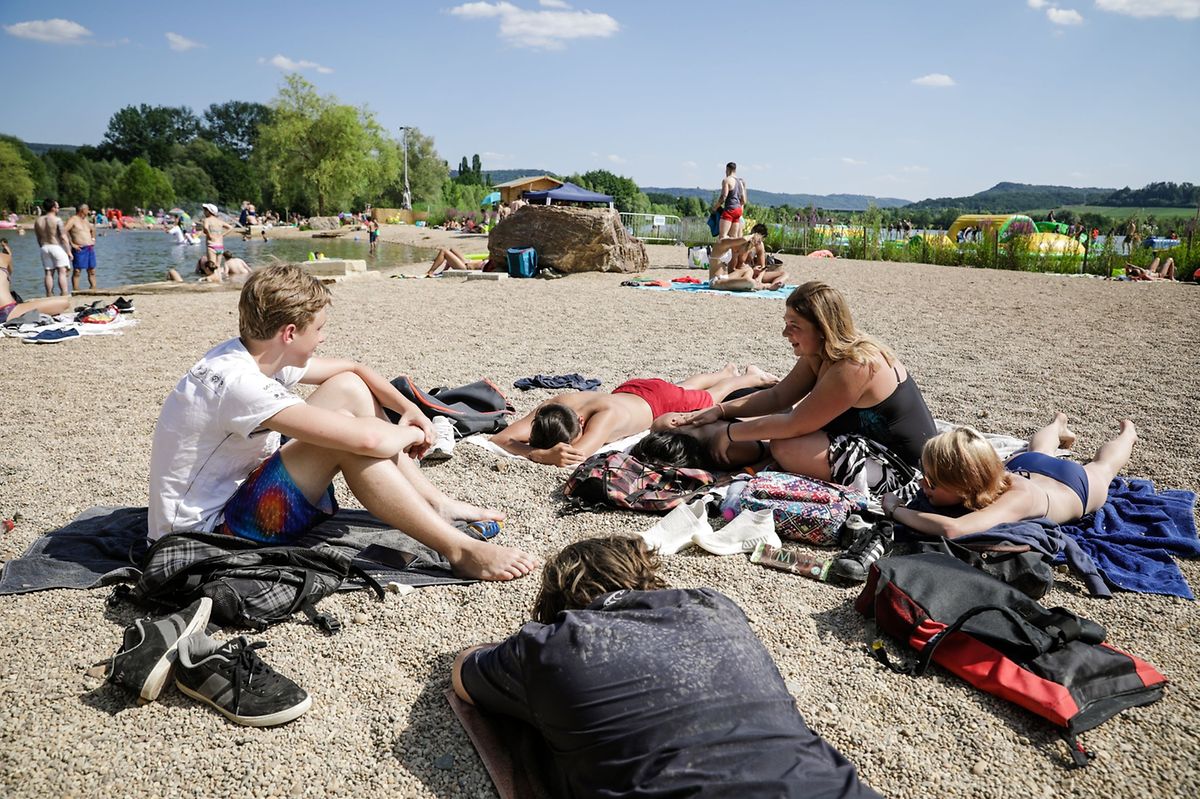 The lakes in Remerschen Photo: Pierre Matgé
An alfresco dip is an ideal way to cool down and make the most of Luxembourg's unspoilt natural beauty during summer.
The country is criss-crossed by rivers and has its fair share of lakes, filled with some of the best quality bathing water in Europe, making them ideal for a spot of sunbathing or swimming.
However, under current circumstances there are some rules you need to follow in terms of social distancing or pre-booking in the case of one popular lake area. Please dispose of your rubbish responsibly and if bins are full, take your waste back home with you.
Remerschen lakes "Baggerweier"
Two lakes for the price of one at Remerschen, where entry to the pebble and sandy beaches costs €7, and is free for children under 11 years (with proof of age ID).
One lake has a depth of less than one metre making it perfect for smaller children, whilst the other, has a depth of six metres, and houses giant water inflatables complete with slides and assault course (if these are not available, new guidelines on playgrounds mean they should be available soon).
Families can take advantage of the playground (which should open soon), whilst teens can try their hand (literally) at beach volleyball (on three courts). The lakes are open from 10.00 until 18.00, seven days a week.
Tickets must be reserved (for a specific date and time) online, and you cannot buy tickets on site. The number of visitors is limited to 1000 people, and no dogs are allowed. Tickets must be reserved for children under 11 years, even if their entry is free. Activities such as BBQs and use of the playground are not allowed. You can get full details of the rules here.
If you fancy lunch, Le Chalet is open for food and drinks, including cocktails, and some rather tasty-looking fried fish. You can opt for a takeaway too.
The Biodiversum re-opened on 9 June with a series of underwater world exhibitions, andt you can also spot frogs and birdlife on the 80-hectare Haff Réimech nature reserve.
Upper Sûre Lake
The Upper Sûre Lake has beaches at Liefrange, Insenborn and Lultzhausen, all great places to set down a blanket for a picnic.
For something more secluded you can stroll through the woody path to the Burfelt viewing platform then head to the shingle beach near the Maison de la Fôret. Check out the unusual wooden sculptures.
The lake beaches are open again, but restrictions apply in terms of social distancing and the wearing of masks.
The Upper Sûre Nature Park has a 42km shoreline. Unfortunately the solar boat at Insenborn is not running at present but you can visit the cloth museum (see rules for visiting here).
If you want to take a hike before you have a dip, the park is surrounded by unspoilt forests and meadows. The region also produces tea, herbs, flour and clothing on sale at the shop in the visitors centre.
If you want to make an aquatic weekend of it, stay overnight at the Lultzhausen Youth Hostel where guests can hire canoes, kayaks and paddle boards, or just relax on the sunny restaurant terrace.
Weiswampach lakes
Head north past Troisvierges to this 65-hectare leisure space, incorporating two artificial six-hectare lakes. The upper lake is reserved for fishing but you can swim and practise water sports in the lower lake, which is surrounded by a well-manicured lawn.
There's a campsite nearby, and you can grab a beer or a bite to eat at the Buvette du Lac (open Fridays, Saturdays and Sundays from 15.00).
There are parking spaces for more than 250 cars and the lake has toilet and tap facilities. The area is also the starting point for a 25km mountain bike tour and a 4km hike around the lake.
The usual social distancing and use of mask rules apply.
Canoeing and kayaking
If you've always wanted to travel downriver, you can canoe from Dillingen to Echternach, kayak 11km downriver from Camping du Rivage at Wallendorf, or try the Mambo wild water training route at Diekirch (opens 1 July). If you have your own equipment, check out the canoe and kayak courses available in Luxembourg.
Always bring your mask and be aware that some downriver routes require you to use public transport to return to the point you started your water journey.
---
Get the Luxembourg Times delivered to your inbox twice a day. Sign up for your free newsletters here.