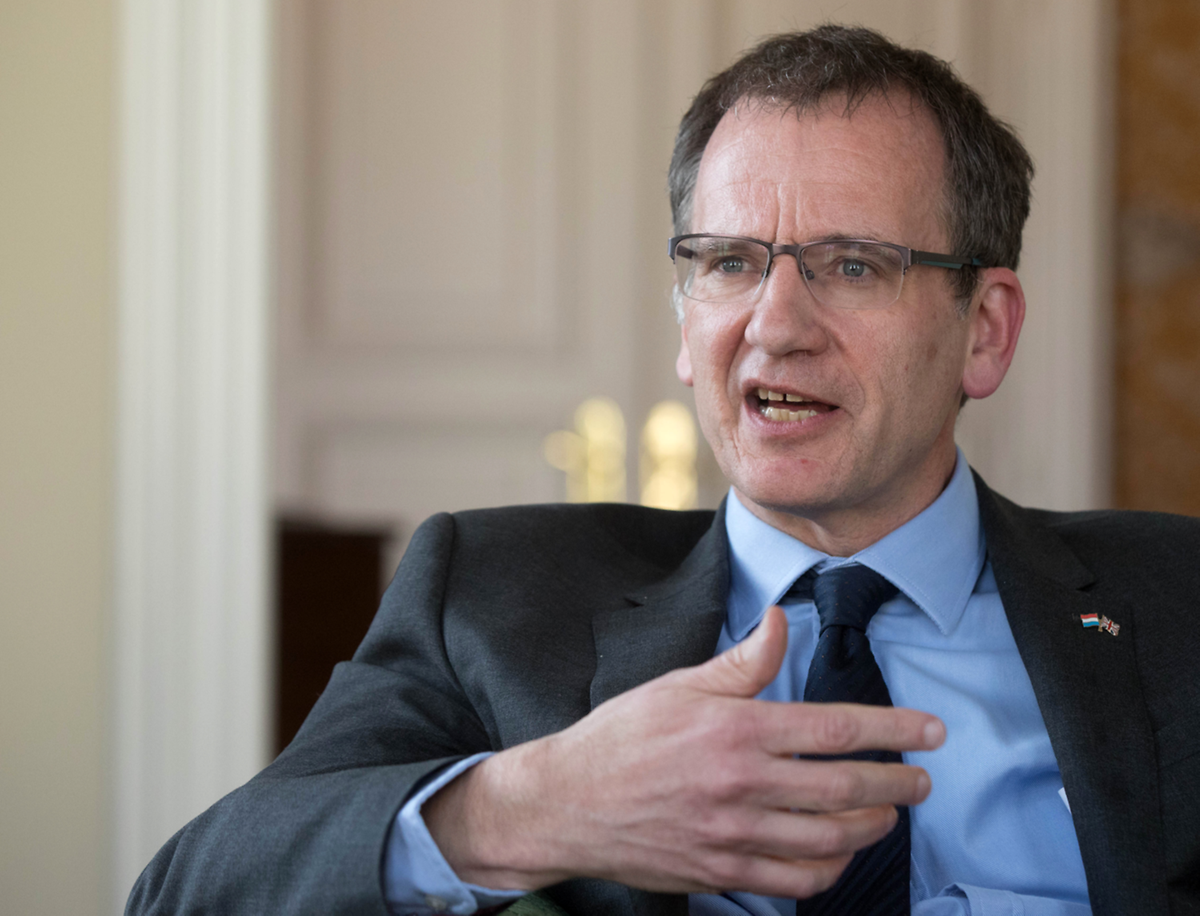 UK Ambassador John Marshall Photo: Chris Karaba
UK Ambassador John Marshall warns people not to wait until the last minute to seek new residency cards for British nationals living in Luxembourg.
Any British national legally residing in Luxembourg before the end of 2020 can apply for a new residency card, and will have until the end June 2021 to do so. Existing residency permits are still valid until that date.
Marshall's main concern is that a last-minute deluge of applications to the Immigration Directorate may mean some UK citizens living in Luxembourg could face difficulties at the borders or at airports if they travel overseas without a valid residency card. The cards are taking approximately three weeks to process, he said.
"My sense is it is going smoothly, and when I've spoken to people, they have been quite complimentary about the process," Marshall said.
British nationals who need to apply for a new residency card should have received a letter outlining the process and where to get more information or download application forms. Dual nationals with EU citizenship from another country - or those working for the European institutions, NATO and other organisations that entitle them to a titre de legitimation - do not need to apply. Dual nationals can apply if they want to.
Rights to work and benefits
The new card will give any UK national residing legally in Luxembourg at the end of 2020 the ability to live, work, study and access benefits on the same basis as they do now. With the new card, those on temporary or fixed work contracts will not be disadvantaged in the labour market which "will be a different situation to someone living in the UK who comes [in 2021] as a third country national and will have to apply for a work permit," Marshall highlights.
It may be possible that the Luxembourg government will allow late applications if people have a genuine reason for missing the 30 June 2021 deadline. For example, residents who were temporarily absent due to an overseas secondment may qualify.
The current EU rules on residence for those who do not have permanent residency allow temporary absences of up to six months each year without affecting a right to residence, and longer for compulsory military service. In certain circumstances such as pregnancy and childbirth, a serious illness, study or vocational training, or a posting abroad one absence of up to 12 consecutive months is allowed.
UK nationals and their family members who held permanent residency in Luxembourg before moving to live in another country remain in scope of the EU-UK Withdrawal Agreement so long as they return to Luxembourg within five years.
Students whose parents reside in Luxembourg should apply by the current deadline. Since applications can be made by post, Marshall suggests that they submit their application and plan their biometric visit to coincide with a holiday period.
Exchange easier than converting licence
On drivers' licences, the rules are less clear.
From January 2021, a UK licence will remain valid in Luxembourg for 12 months for existing residents . New arrivals will start that 12 month period from the date they arrive in Luxembourg. Residents who currently hold a UK licence can opt to exchange it for a Luxembourgish one before the end of December 2020 in a simple process. After that date, it is not clear if residents will need to convert licences as other foreign nationals must do within a year, which involves a more thorough process.
UK citizens must also have six months' validity on their passports, and the passport should not be more than 9.5 years old.
Banking, pensions and double taxation
On financial matters, the ambassador said he is not "aware of any changes to our double taxation agreement that will be required because of Brexit. Anyone who falls within the scope of the Withdrawal Agreement will continue to be covered by the social security coordination mechanism that currently exists. If they are receiving a UK pension, they will continue to do so," Marshall said. Future social security coordination is currently being negotiated.
Recent media stories have highlighted that some UK banks plan to close the accounts of non-resident British nationals.
"Some providers have decided they will not be able to offer accounts. Anyone who is in that situation should by now have been notified of that by their bank," says Marshall. He's also confident that those affected will be able to find alternative provisions from other banks, but is unable to indicate which banks will allow non-resident UK nationals to open a new account.
Tariffs on imports still unclear
The news is uncertain for businesses that rely on importing goods from the UK: "Negotiations are ongoing and that includes whether any tariffs will apply. Obviously, our aim is to have an agreement which is zero tariff and zero quota, but potentially that isn't possible and some goods will be subject to tariffs."
Marshall adds that the ability to import goods will continue, but there is "likely to be additional processes that need to be followed and prices may go up. We'll have to wait and see."
The Luxembourg Chamber of Commerce and the Belgian-Luxembourg Chamber of Commerce in Great Britain this week organised a webinar for Luxembourg companies exporting to and importing from the UK. British officials from the cabinet office, department of trade, DEFRA and HMRC briefed on issues including customs, VAT, data, and traffic management for trade with the UK from 2021 onwards.
"While some things might be dependent on negotiations, what is clear is that we [the UK] are leaving the single market customs union and there will be formalities," explains Marshall.
He says that companies may choose to pass on any additional costs, and importers can manage additional processes themselves or use a third party intermediary.
Higher fees at UK universities
Younger British nationals at school in Luxembourg may find themselves subject to international or foreign student fees if they return to Britain for their university education. EU citizens who started their education this autumn will be entitled to pay home fees for the duration of their course, but EU students entering UK universities in 2021 will be subject to international fees.
UK nationals living in the EU will be able to access home fees for a seven-year transition period. After that, they will also pay international fees "in the way a British national who is growing up in America, India or Australia would have to do," Marshall said.
---
Get the Luxembourg Times delivered to your inbox twice a day. Sign up for your free newsletters here.