Sustainable Luxembourg
Sustainable Luxembourg
From zero waste to second-hand clothes, supermarket recycling and carpooling. Here are several initiatives in the Grand Duchy designed to improve sustainability
Eliminating food waste, checking your food footprint, second-hand clothes, electric car subsidies, and organic local producers - Luxembourg has quite a few sustainable initiatives
Much of Luxembourg's populous has embraced the need to be more sustainable and accountable for its impact on the climate and environment, and to trade fairly with those living in poverty in other parts of the world.
There are several initiatives in Luxembourg, from redistributing food waste and promoting a sustainable diet, to pimping second-hand clothes and furniture, agro-ecology, package-free fruit and vegetables, electric car and bike subsidies, carpooling, and Luxembourg's first eco-village.
If we've missed an important initiative, organisation or event on sustainability that you are involved in, please let us know.
Eliminating food waste and packaging
Luxembourg is amongst the EUs biggest food wasters, according to Eurostat. We throw away on average almost 91kg of food per person, three times more the per capita in France and Belgium.
Non-profit and voluntary organisation Foodsharing Luxembourg, which fights food, waste recently celebrated its 3rd birthday. They point out that food is not just the product itself, but time spent working on it and transporting it.
Part of Foodsharing's aim is to educate people on the best-before date often found on processed food such as biscuits. If stored at the right temperature the product's quality is fine before this date, but even after the date, a consumer can decide to eat it. The expiry date tends to be found on highly perishable food such as meat. After this date, food should not be consumed.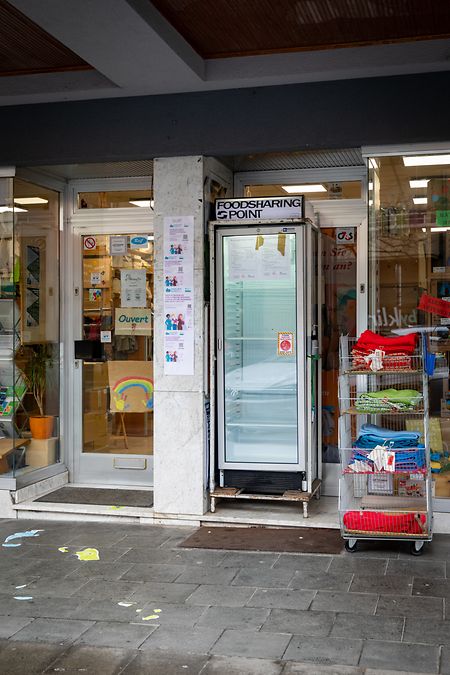 Foodsharing fridges encourage less food waste
Photo: Gerry Huberty
Food donated to the Asbl is distributed via foodsharing points at 52 rue Louis Pasteur in Esch-sur-Alzette, at 7 rue August Charles in Bonnevoie, and at rue de la Bergerie in Lintgen. Each point has a fridge or shelf containing food (and if you have something you won't be able to eat before its expiry or best-before date you are invited to drop it off at one of the points). Products containing raw egg or alcohol are not allowed, and fridges are kept clean by volunteers.
Foodsharing co-operates with 71 stores, and distributes food at certain times and days of the week in Junglinster, Dalhem/Garnich, Dudelange and Beaufort. Anyone can come and take food, and you should bring your own bags. To date more than 168,000kg of rescued food has been redistributed.
You can find a map listing the distribution points and fridges or shelves here.
The commune of Hobscheid in the west of Luxembourg has started an iniative that allows you to buy a excess school meal from a vending machine for €3. You can check the weekly menu here.
Supermarkets, food producers and caterers redistribute food on a voluntary basis to Cent Buttek (in Beggen), the Spëndchen (in Gare), Stëmm vun der Strooss or to biogas plants or Parc Merveilleux to feed the animals.
In addition to buying locally and seasonally, Anti-Gaspi encourages people to shop smart, understand use-by dates, keep fridges tidy and at constant temperatures, and use leftovers creatively. Their website has useful tips on storing and preserving, plus creative leftover recipes.
Initiatives supported by Anti-Gaspi include Foodsharing Luxembourg but also:
This year the EU announced in April that fruit and vegetables weighing less than 1.5kg can no longer wrapped in plastic. Single use plastic wrap would also come at a premium to encourge more use of eco-bags. Cosmetics containing microplastics will be banned, as will single use plastic products such as cotton buds, cutlery and plates.
From 2024 supermarkets more than 400sqm in size must have their own recycling centres and a year later bigger supermarkets (1,500sqm) must have paper, glass, plastic and metal recycling units on their premises.
Sustainable eating initiatives
The Luxembourg food footprint calculator (part of Let's Change the Menu) is a joint venture between the Ministry of Foreign and European affairs and SOS Faim. You can take a questionnaire to find your food footprint and see it against the average in Luxembourg.
It highlights how every resource you consume must be naturally regenerated over a time period, so you can see how fast you might be depleting the world's resources. Generally, the more meat and dairy you consume, the higher your footprint, although packaging and transport costs are also taken into consideration.
The website advises people to eat seasonally and as local as possible and has an interactive map of all the local responsible growers and suppliers (including beekeepers and wine producers). You will also find bio, organic and sustainably produced fruit, vegetables and food products at Luxembourg's many local markets. You can find a list of them here.
You can watch a series of videos made by Let's Change the Menu from local producers.
The government and Restopolis initiative "Food4Future" seeks to reduce the impact of the environment in school canteens. Food will be sourced from local, organic producers, with about half from Luxembourgish producers, and Mondays will be meat-free at canteens. A meal reservation system aims to cut food waste.
Luxembourg City's Cup2Go initiative reduces the number of single-use cups used for coffee, tea and other beverages. You can locate which coffee shops allow you to use the cup, and customers will get a discount or a stamp in their loyalty card for it. You simply bring your own reusable cup with you.
Resilient, regenerative agriculture
Meng Landwirtschaft believes that up to 20% of agricultural land in Luxembourg could be used for organic farming by 2025. The platform is supported by 22 organisations including natur & ëmwelt, Greenpeace Luxembourg, SOS Faim, Fairtrade Luxembourg, Ligue, Slow Food Luxembourg and the Vegan Society.
Resilient and regenerative agriculture is at the heart of Terra, a community supported agro-ecological centre founded in 2014. It uses permaculture to grow natural, regenerative and GMO free food. You can join them to become a co-operator or volunteer, and they have activity and educational programmes.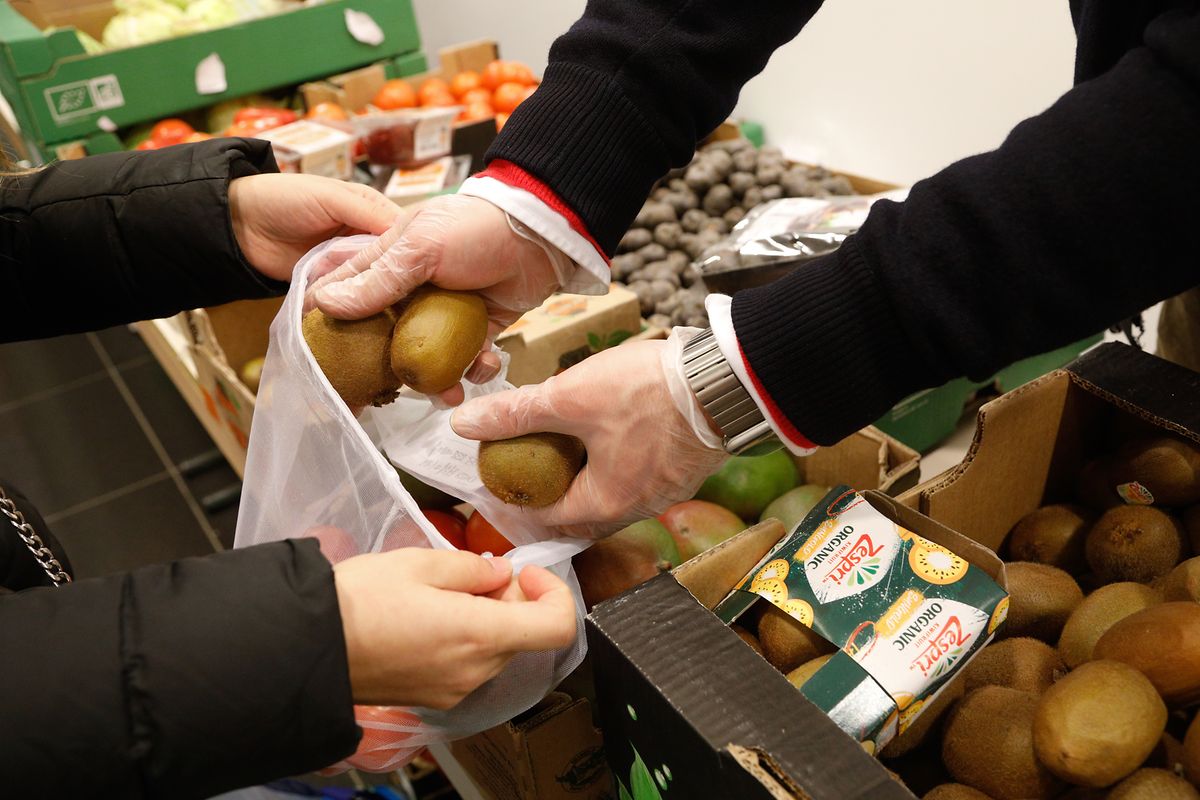 Package free, local, organic and sustainable
Photo: Anouk Antony
You'll find bio and organic shelves at most supermarkets but it's worth checking if the brands are also locally sourced. Naturata is the retail outlet for the cooperative Bio-Bauere-Genossenschaft Lëtzebuerg (founded in 1988 by organic farmers in Luxembourg). In addition to organic foodstuff, each store has a natural cosmetics section. There are 11 organic supermarkets, plus bistros, a butcher, and a deli.
Whilst we waved goodbye to Ouni, a former collaborator launched a Luxembourg portal to sell local organic food online with delivery or collection via their depot in Steinfort or at Subtile gallery in the city. Kilogram started offering 300 products in returnable jars sourced from Cologne and plans to expand its product range to 800 goods.

Second-hand clothes, furniture and upcycling
In Luxembourg, 98% of people think re-use is good, and 63% have bought second-hand clothes.
Rethink your Clothes, a joint initiative from the government, Caritas and Fairtrade Luxembourg, invites you to rethink your wardrobe, what and where you buy, recycling and upcycling and fair prices for manufacture. Part of this, Letz Refashion, looks at ways to rethink and redesign your clothes via workshops. You can find more information and tips on their Facebook page.

There are a plethora of second-hand clothing stores in Luxembourg – you can find a full list here, and there are also regular vintage clothes markets where you can buy by the kilo. SaltyLama sells eco-strips laundry detergent made from natural ingredients encased in a compostable fibre.
Benu Couture, recently launched as part of the Benu ethical and sustainable village in Esch-sur-Alzette (with some items also for sale at Letz Refashion). Taking second-hand items, professional designers have created unique denim jackets, kids clothes, shirts, dresses, and even underwear, in a range of responsible fashion and accessories. You can find items and opening times here.
A number of places sell second-hand home furnishings, including Oddhaus Vintage and Rob Vintage which both have vintage furniture and décor, whilst Okkasiounsbuttik has second-hand furniture and is located in Belval. Vintage Mood by the Red Cross sells second-hand furniture, crockery and lighting at their shop in Livange. The Troc depot, just off the motorway in Esch-sur-Alzette has a variety of second-hand furniture, beds, sofas, mirrors and even some new items such as mattresses, from end of line stocks.
CNDS Nei Aarbecht offers work, meals and accommodation to the long-term unemployed, who collect furniture and other household items including clothing to sell in their shop in Helmsange. They also have a bike shop in in Mersch, and you can take unwanted toys in reasonable condition or browse the shelves at Taba in Walferdange to pick up a bargain for your family.
You can also try the following social media groups: sell, give, exchange, 2nd hand or free your stuff Luxembourg.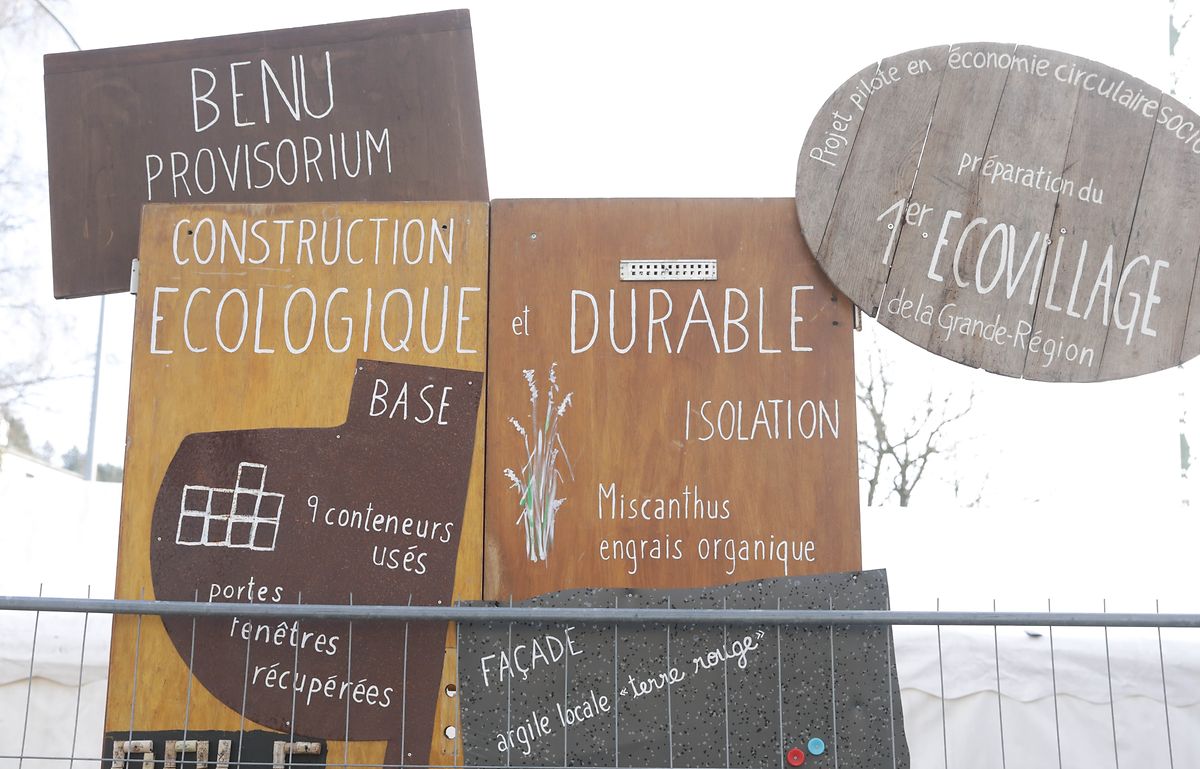 Benu village in Esch promotes a socio-ecological circular economy
Photo: Chris Karaba
The Benu re-use platform (part of the Benu Village project) allows you to donate or search for second-hand items including kitchens, electrical appliances, furniture, multi-media and construction supplies.
Benu village in Esch-sur-Alzette, is the first eco-village in Luxembourg. It promotes a socio-ecological circular economy, and professionals can rent work spaces so long as they meet the local charter values of transparency, social responsibility, local production and ecological excellence.
There is an upcycling trend, with crafts artisans in Luxembourg offering lamps, jewellery, necklaces and keychains – all upcycled. The lamps use empty Crémant and gin bottles, whilst the skateboard necklaces come in a variety of colours. Many of these craftspeople use the new pop-up shops available in the city, but you can also order online.
E-cars, bikes and buses and car pooling
The government provides financial aid or a subsidy of up to €8,000 for 100% electric cars and vans in the mid-size or family seven-seater, dropping to €3,000 for less efficient cars that exceed electricity consumption of 180Wh per kilometre. Hybrid cars no longer receive a subsidy.
You can get a subsidy of up to €600 on a e-motorbike or moped, and pedal assisted cycles or ordinary bicycles, no more than 50% of the purchase price.
All subsidies are given for vehicles or bikes purchased up to end March 2024.
Klaxit, the car pooling app, has proved popular amongst students and staff travelling to the university campus in Belval, whilst the CFL national railway has Flexcars that you can use for short trips at 60 stations. Carloh allows you to rent a car for shopping and errands and now has 1,000 members, and 45 cars at 20 stations.
Next year the CFL will introduce self-driving electric shuttle buses, Ohmio, already widely used in South Korea. Sales Lentz already operate driveless shuttles in Pfaffenthal between the lift and furnicular and at Contern.
More information
Read our article on recycling in Luxembourg to find out what you can recycle, how and where, and Luxembourg's record on recycling.
Repair Cafe Letzberg runs regular sessions in 15 different locations, and the chance for you to take something broken that you would like to fix, including reasonably sized household appliances, clothes, bikes, toys, small pieces of furniture or ornaments. The idea is to opt for repair rather than replacement, and to help teach repair techniques.
The Green Community Luxembourg has a Facebook page encouraging people to reuse, recycle and reduce. It's a great place to find local initiatives such as the small farm honour-stands that sell fruit and vegetables, flowers or offer pick your own. It also lists climate projects, protests and action groups, and has self-help tips such as making your own deodorant.
For an overview of citizen-led eco projects in Luxembourg that you might want to get involved with - from repair cafes to energy cooperatives, or permaculture plots, visit BiBe (an acronym for people participation) run by the Centre for Ecological Learning Luxembourg or CELL.
There are more initiatives and discussions in the spotlight on the website Inspiring More Sustainability Luxembourg, and a bespoke magazine, Neighbour, has articles on sustainable living in the Grand Duchy.
---
The Luxembourg Times has a new mobile app, download here! Get the Luxembourg Times delivered to your inbox twice a day. Sign up for your free newsletters here.
---