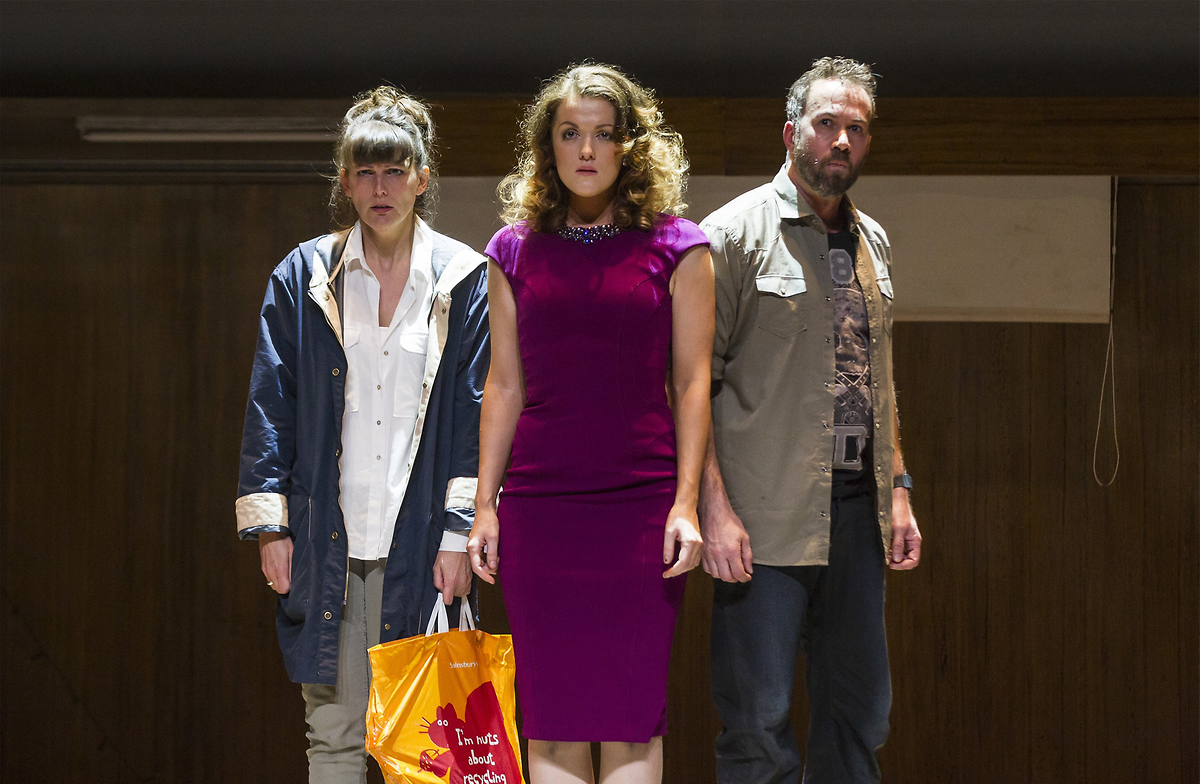 By Sarita Rao
What if your perfect life was not so perfect? Would you choose to end it all in a sleazy hotel room?
That might be the premise for this wonderful piece of operatic theatre from Ireland's Tony Award winning writer and director Enda Walsh, and composer Donnacha Dennehy, but it conceals a wider story.
Set on a tilted stage furnished with nothing but a chair, empty plastic cups strewn at its base, suitcases perched on a platform at the back, and two empty clothing racks complete with metal coat hangers flanking both sides of the stage, the audience is introduced to the seedy "Last Hotel".
This is where the beautiful, but emotionally numb woman, played by Claudia Boyle, has come to end her seemingly perfect life, aided by a couple, played by Robin Adams and Katherine Manley.
A beautiful body, a seemingly brilliant career, and wonderful family are all revealed as an empty illusion. Even with all eyes on her in admiration, the woman finds life unbearable. We hear phone messages from her selfish children, and find out that her husband is unfaithful. She somehow believes that her life will begin again or "renew" and "restart" if she ends it now.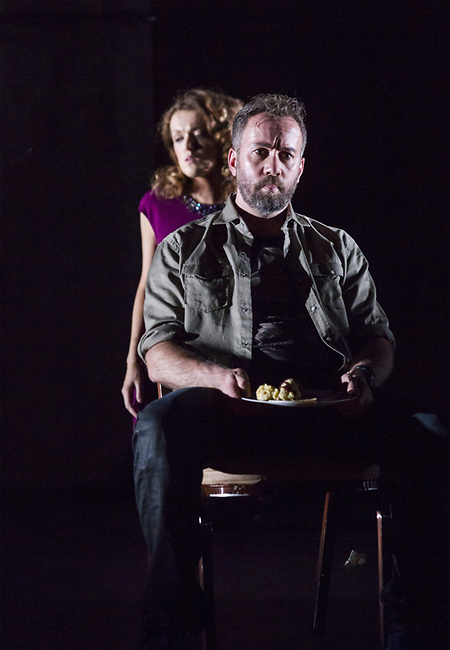 The couple who come to her aid have crossed the Irish Sea with promises of money that the husband hopes to use to build a new extension to their small suburban house. However, his wife is unsure that they should be doing this. Her own sorrow for her loveless marriage is peppered with moments of hope amid the despair.
Wonderfully crafted and very intense, the performance brings together dialogue and opera.
The dialogue is mostly small talk, revealing nothing of the characters. It is through the opera that the characters' true voices and their innermost thoughts emerge.
We learn that the husband once worked on a housing estate fitting gas boilers and met the woman, a PR person, in the middle of a minor breakdown because all the guests at the housing showcase had run out of wine and she had to give them water.
This dark humour is intertwined throughout the opera. The husband sings a soliloquy to the "all you can eat" buffet lunch, as he watches the hotel's guests queuing up to pile their plates with food. In another scene, the woman captures beautifully the faceless identity of a hotel room with its "luxury king sized bed", "small fridge" and "desk with lighting".
Each time, just as the audience is nodding in recognition, the characters thrust a dark shard of reality into the humour. The husband asks if these guests are really just queuing and eating away their lives as they travel towards death. The woman wonders chillingly how many people before her have slept, dreamt and died in her hotel room.
Boyle is passionate as she sings in a pitch that screams out her desperation, while Manley as the long suffering wife, has an almost angelic quality to her hope-tinged despair. At this performance Robin Adams' voice was replaced half way through by that of Brendan Collins, but he continued with perfect sync on stage, while Collins voiced expertly the aggressive, brutish and ambitious voice of the husband.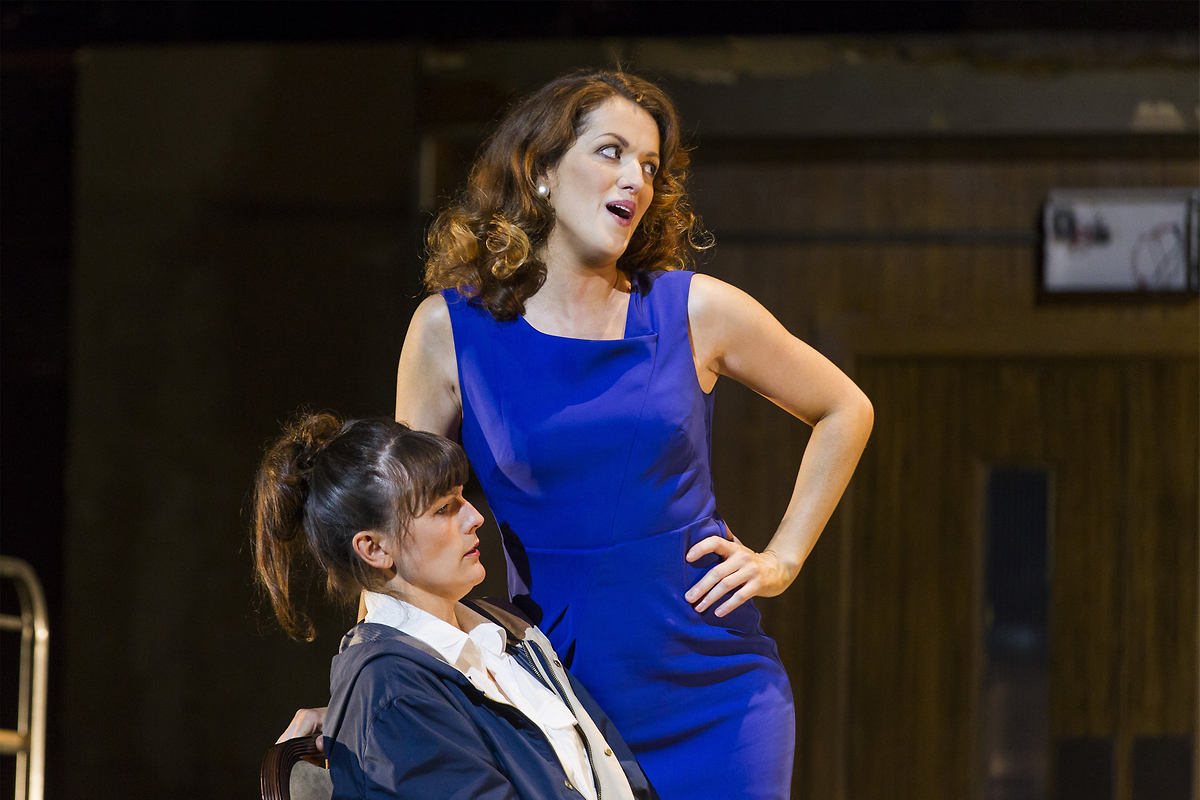 Manning the hotel, Mikel Murfi is the porter, bartender, and waiter. He neither speaks nor sings, but characterises in slapstick and bathos the role of the mistreated hotel staff that see all, feel all, but remain distant.
In addition to sound affects and lighting that skilfully create the effect of a tacky karaoke disco bar or the confinement of an elevator, the performance's intensity is underwritten by the 12-strong Crash Ensemble as they masterfully flit between music that is grating and angst-ridden to a score which feels somehow uplifting.
Does the woman kill herself and find release? Do the couple help her? A dark tale which at its heart questions the dystopian world the Celtic tiger (and its housing boom) has created in Ireland.
"The Last Hotel" will be performed on Wednesday at the Grand Théâtre Luxembourg at 8pm.