Abe may retain supermajority in Japan vote, exit poll says
Abe may retain supermajority in Japan vote, exit poll says
Prime Minister Shinzo Abe's Liberal Democratic Party and coalition partner Komeito are set to win between 281 and 336 seats of the 465 up for grabs, an exit polls suggests.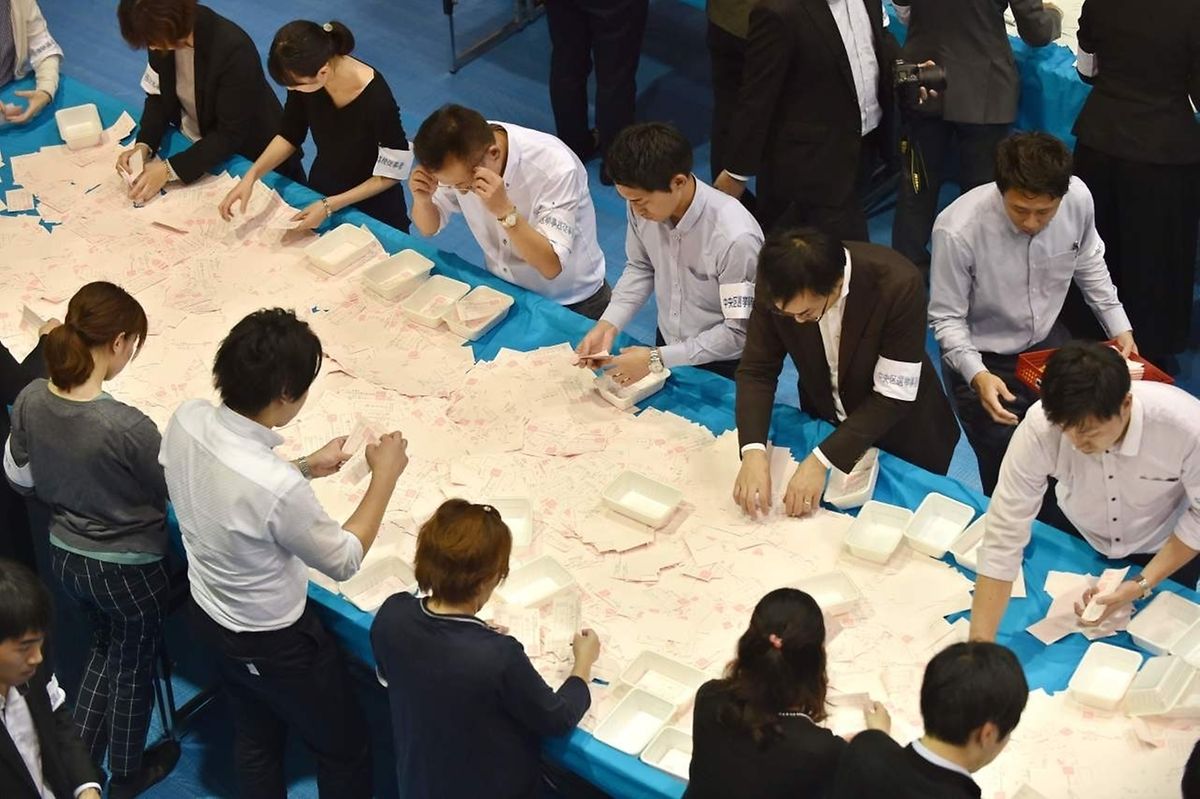 (Bloomberg) Prime Minister Shinzo Abe's ruling coalition may retain its two-thirds parliamentary majority in Sunday's general election, an NHK exit poll showed, bolstering his chances at becoming Japan's longest-serving leader.
Abe's Liberal Democratic Party and coalition partner Komeito are set to win between 281 and 336 seats of the 465 up for grabs, according to the public broadcaster. Opposition parties were set to split the rest, with the left-leaning Constitutional Democratic Party projected to come in second.
Actual vote counts showed the LDP with enough seats for a simple majority. His coalition has to win about half of the seats left to be counted to clear the two-thirds threshold.
"There are many close battles still going on, which means there are still those who take a harsh view of me and of the LDP," Abe told TBS television station on Sunday night. "We want to remain aware of that, and to treat this victory with humility."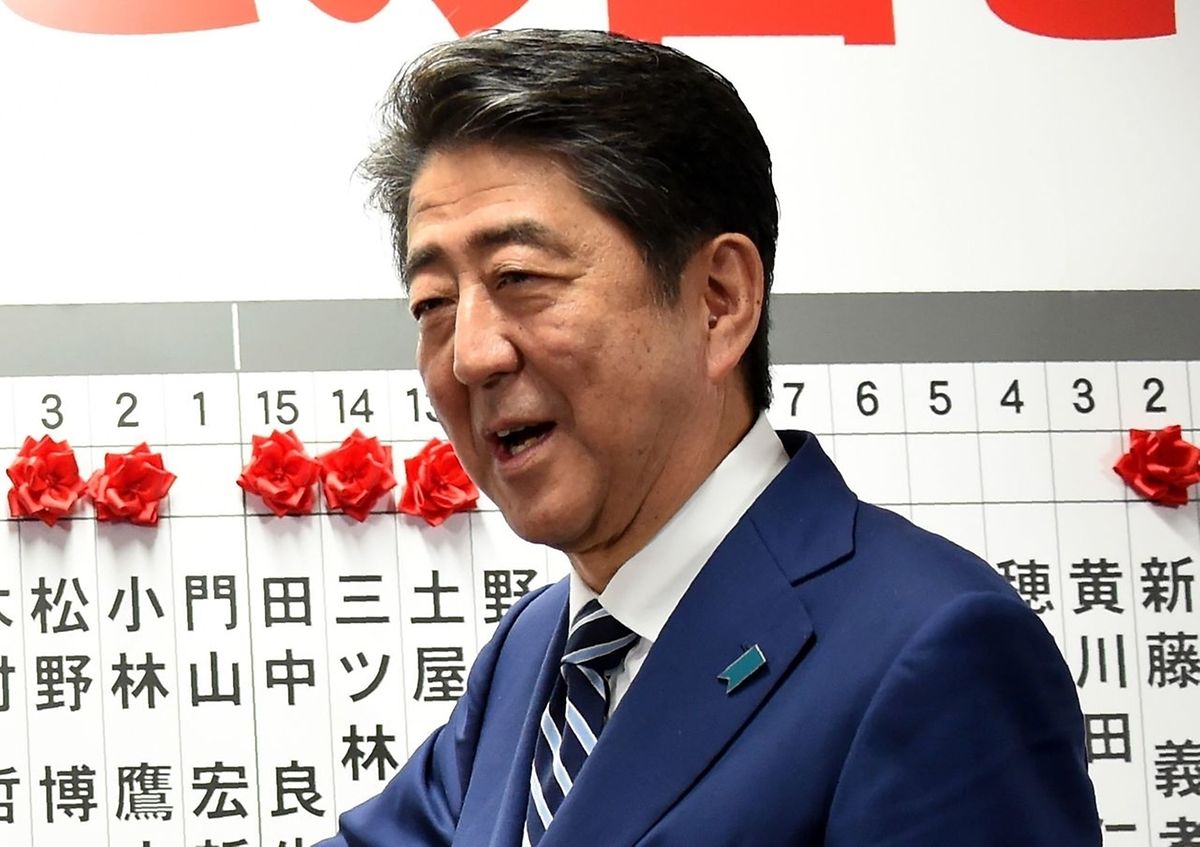 A large win for Abe's coalition would pave the way for more ultra-easy monetary policy and flexible fiscal stimulus that has boosted Japanese stocks and helped Asia's second-biggest economy grow for six straight quarters. It also would give US President Donald Trump a reliable partner in pushing a hardline stance against Kim Jong Un's regime in North Korea.
In power since 2012, Abe touted his economic record on the campaign trail. Unemployment is at less than 3%, while a weakened yen bolstering exports. The benchmark Topix index is at a 10-year peak, while the Nikkei 225 Stock Average has climbed to the highest since 1996 to match a record 14-day winning streak.
Still, several challenges remain, including dealing with a rapidly aging workforce, stubborn deflation and stagnant wages. Abe has flip-flopped numerous times on a pledge to raise the sales tax to help rein in Japan's swollen debt, and caved to vested interests like farmers on reforms that would free up the labor market and boost trade.
Abe, 63, called the election last month more than a year before parliament's term expired, saying he wanted to test public opinion on a proposal to divert some revenue from a planned sales-tax hike to fund education instead of debt payments. The timing was also influenced by an uptick in his approval rating after a series of cronyism scandals hurt his popularity earlier in the year.
Now Abe is in a better position to win an LDP leadership election next September. If he runs and wins again, he could stay on as prime minister until 2021.
In interviews with Japanese television stations as the results became clear, Abe said that nothing had been decided on the LDP race. He said he'd push forward with the sales tax increase and would continue deliberations on changing Japan's pacifist constitution.
'Tough result'
A weakened opposition has also helped. The Constitutional Democratic Party was set up only about two weeks ago by former Chief Cabinet Secretary Yukio Edano after its predecessor split up. Other opposition lawmakers defected to populist Tokyo Governor Yuriko Koike's upstart Party of Hope, which briefly jumped in opinion poll s before fading.
"It's a very tough result," Koike said immediately after the exit poll was released in a televised interview from Paris, where she is attending a conference on climate change. "We have to analyze the reasons properly, but I am sorry that I caused unpleasant feelings through my words and actions."
Abe portrayed his party as best placed to defend Japan against the growing threat from North Korea's missiles and nuclear bombs. It is now considering a proposal to allow Japan to have an offensive capability for the first time since World War II.
Winning a two-thirds majority of 310 seats would make it easier for his coalition to revise Japan's pacifist constitution, a move he sees as necessary to strengthen the military. Any change would also need to pass a public referendum, and recent polls show the public divided over the issue.
Heading into the election, the ruling coalition controlled 68% of seats in the lower house, including 288 for the LDP and 35 for Komeito, according to the parliamentary website. The total number of seats was cut to 465 from 475 as part of a reform aimed at reducing the excessive weight given to rural votes.