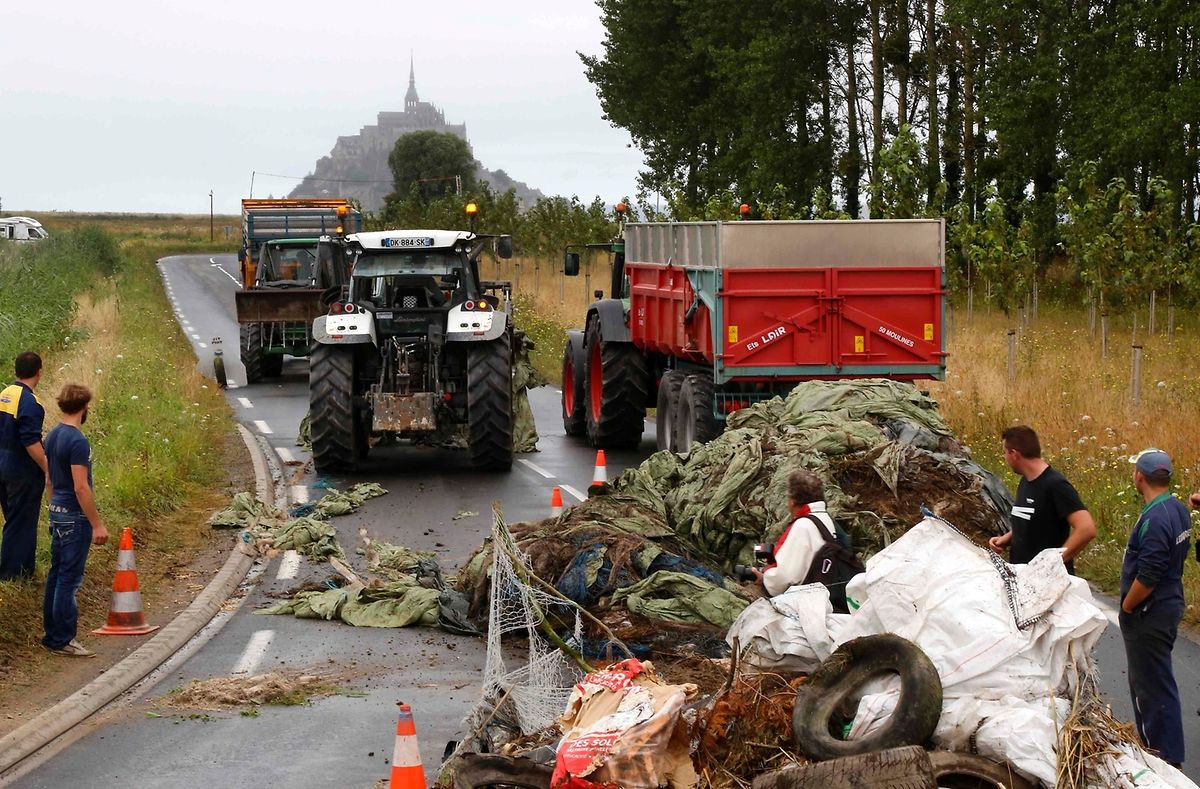 (AFP) Furious over low milk and meat prices, French farmers blockaded access to Mont Saint-Michel, one of the country's top tourist spots, for a second day on Tuesday.
Dairy, beef and pork farmers in Europe's leading agricultural power rolled out dozens of tractors to block roads leading to the Normandy towns of Caen and Evreux, as well as the world heritage site monastery at Mont Saint-Michel on the north coast.
Tourists were forced to get out of buses and roll their suitcases towards the monastery, which sits on an island and attracts some three million visitors a year.
President Francois Hollande said an emergency plan to help the farmers would be presented at his weekly cabinet meeting on Wednesday.
Retailers and food industry heads promised to raise prices on meat and dairy after a meeting with farmers last month.
But farmers say they have yet to benefit from the price hikes in supermarkets and are working at a loss, triggering a wave of strikes across the country that escalated into the protests this week.
"The situation of farmers and milk producers is very difficult. That is why I have called on distributors to take responsibility. They must stick to their commitments," said Hollande.
"Tomorrow (Wednesday) the cabinet will take decisions. I have asked that on top of the distribution issue, prices, there be an emergency plan for French farmers and milk producers."
Pig farmer Jean-Michel Juhel in Pledeliac in northwestern France stated that he loved his job and his animals, but was unable to meet production costs.
"Many farmers are suffering a great deal. We have never known a crisis like this and we don't see a solution."
Juhel works 14 hours a day on his farm, but he loses 30 euros on every pig he sells for meat.
It has been a long time since he paid himself a salary, and he has nearly exhausted his savings to inject 60,000 euros into his farm this year just to stay afloat.
He blames European policies for his woes, saying competition notably with eastern European countries was "crushing" French farmers.
Juhel also blames consumers who demand cheap food, without concern for the effort that goes into keeping up environmental and safety standards.
"Maybe I can last another year," he said. "But my wife asks me: 'What are we going to do if it continues like this?'"
Don't miss the news – sign up to receive the wort.lu newsletter in English delivered to your inbox six days a week.