Annual tomato battle paints streets of Spanish town red
Annual tomato battle paints streets of Spanish town red
Thousands of half-naked revellers pelted each other with tomatoes on Wednesday in the town of Bunol in eastern Spain, bathing the streets with red goo in the annual "Tomatina" battle.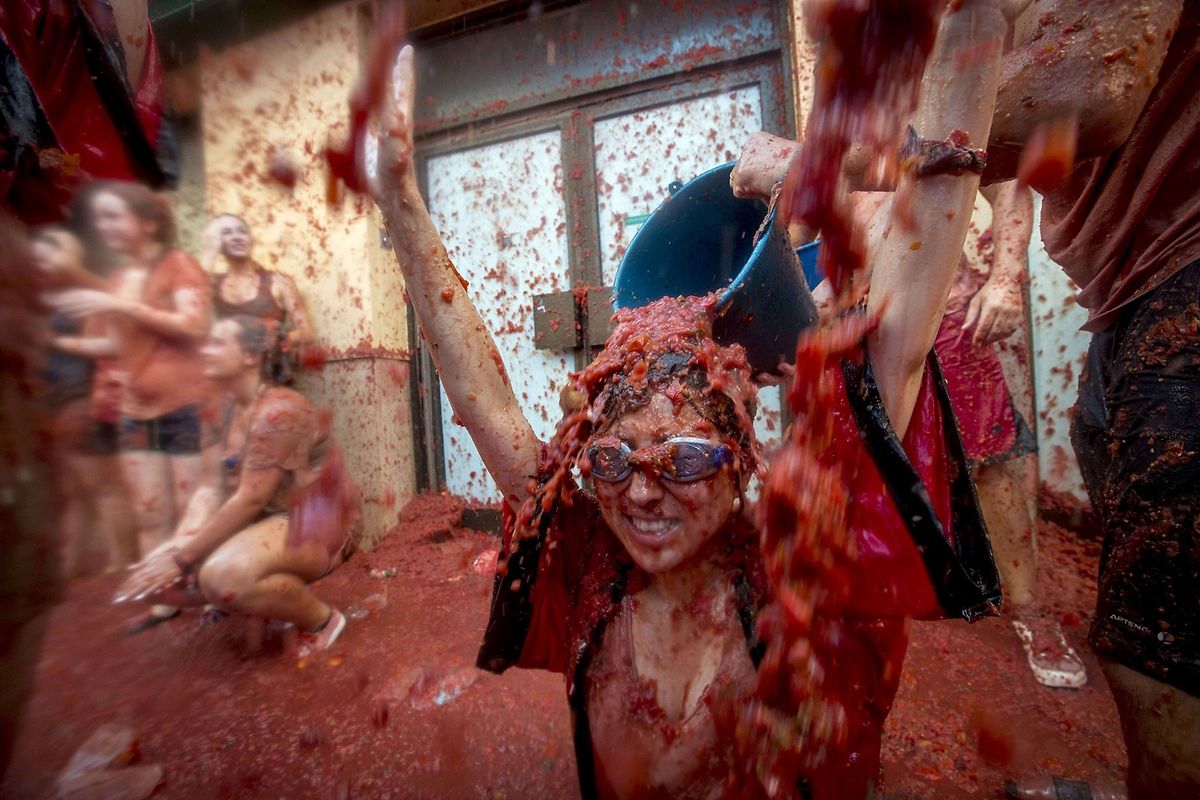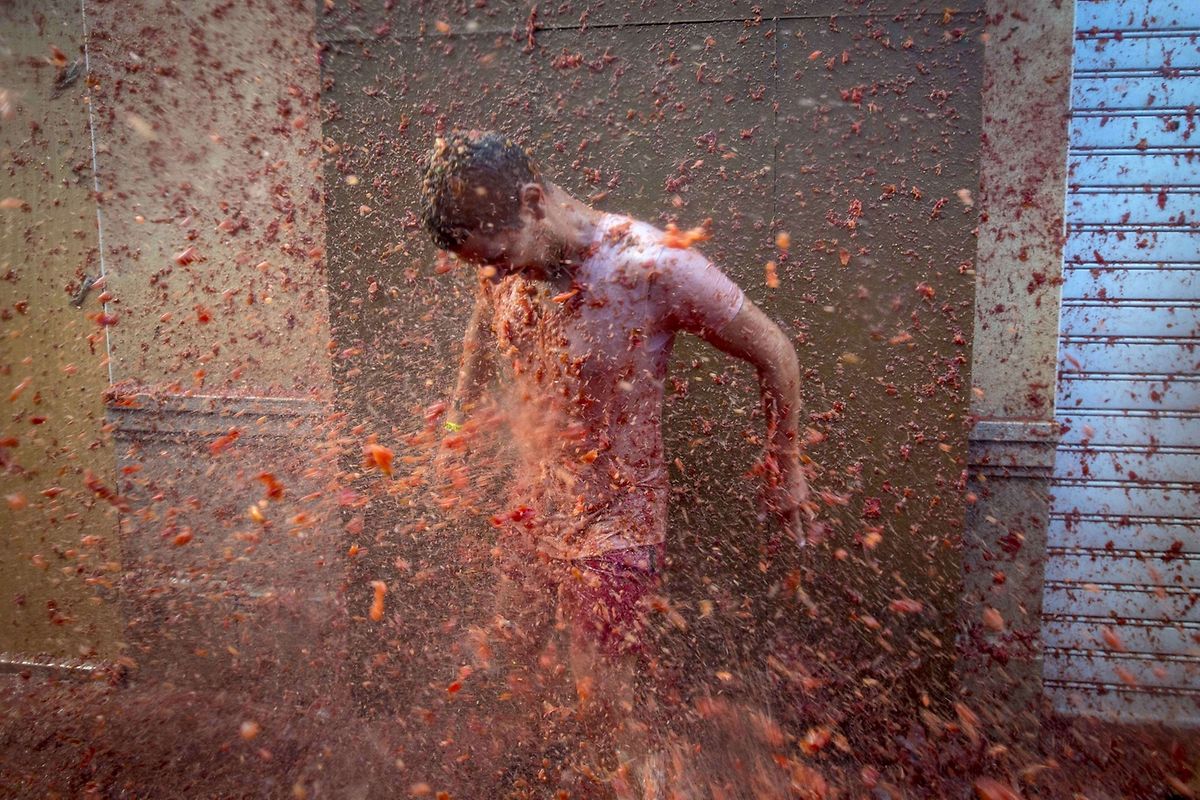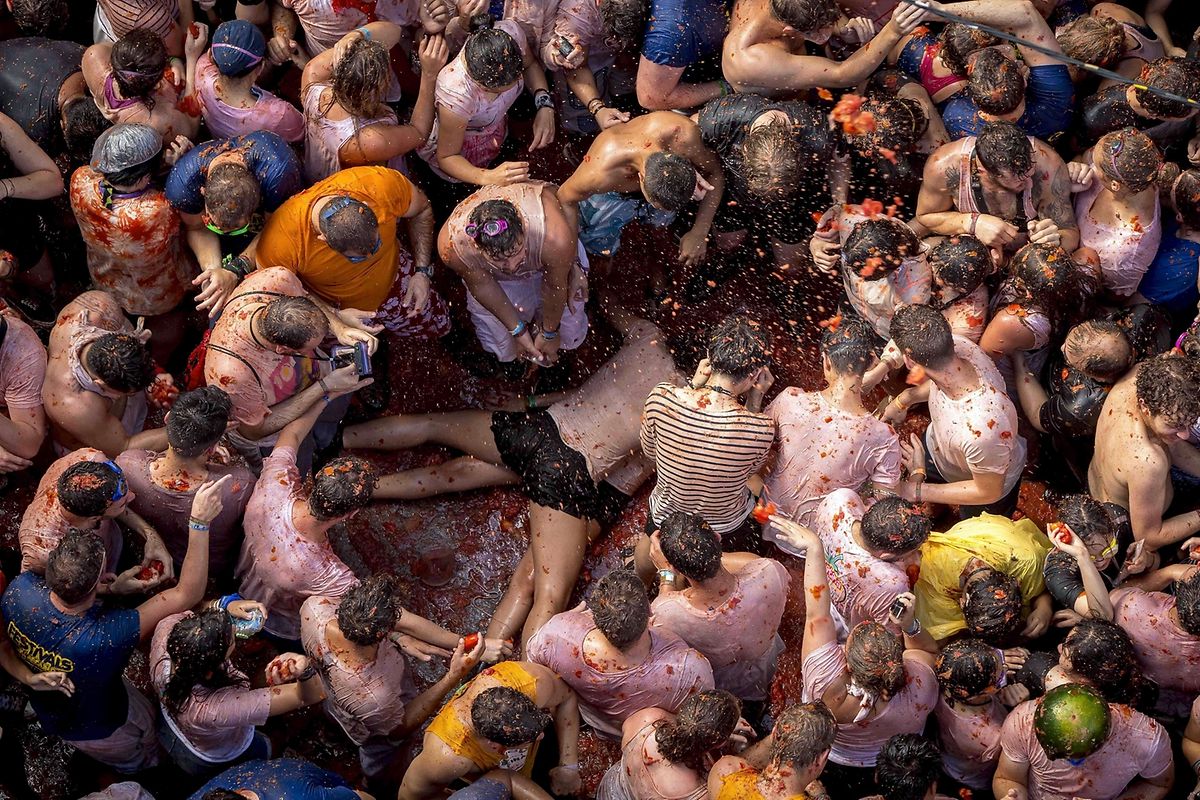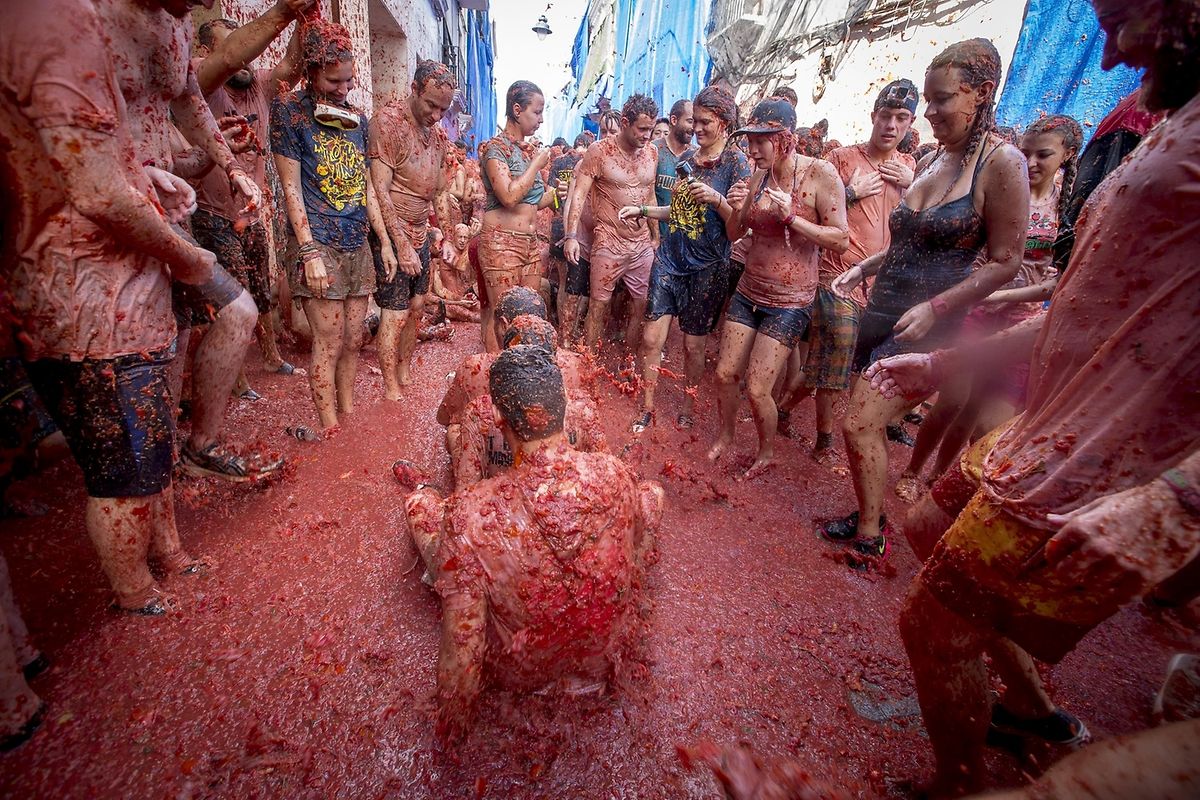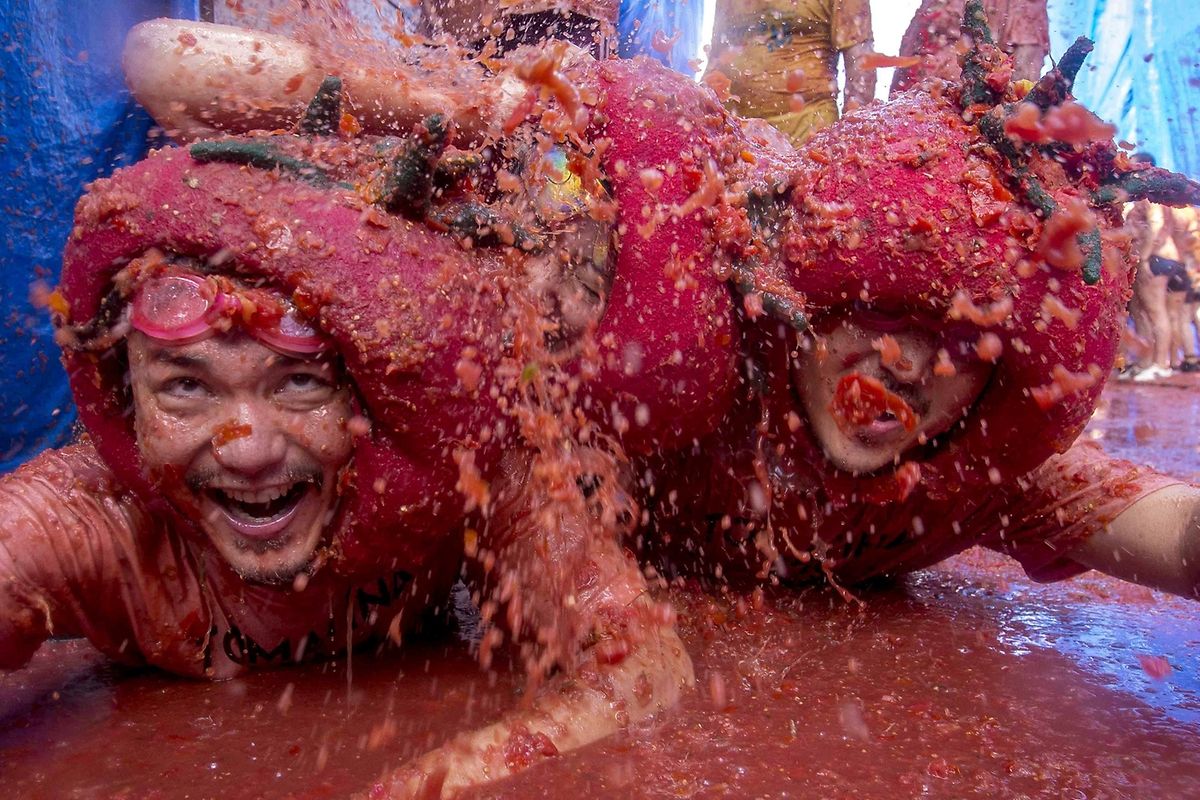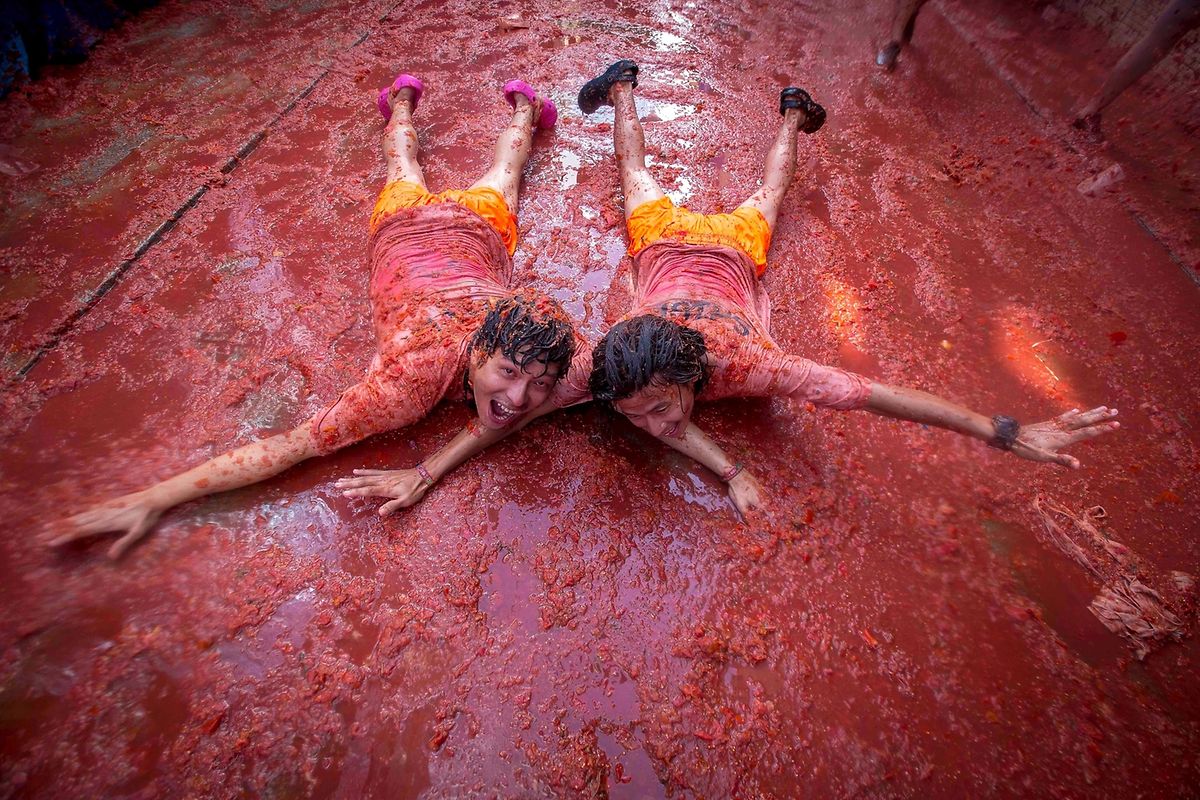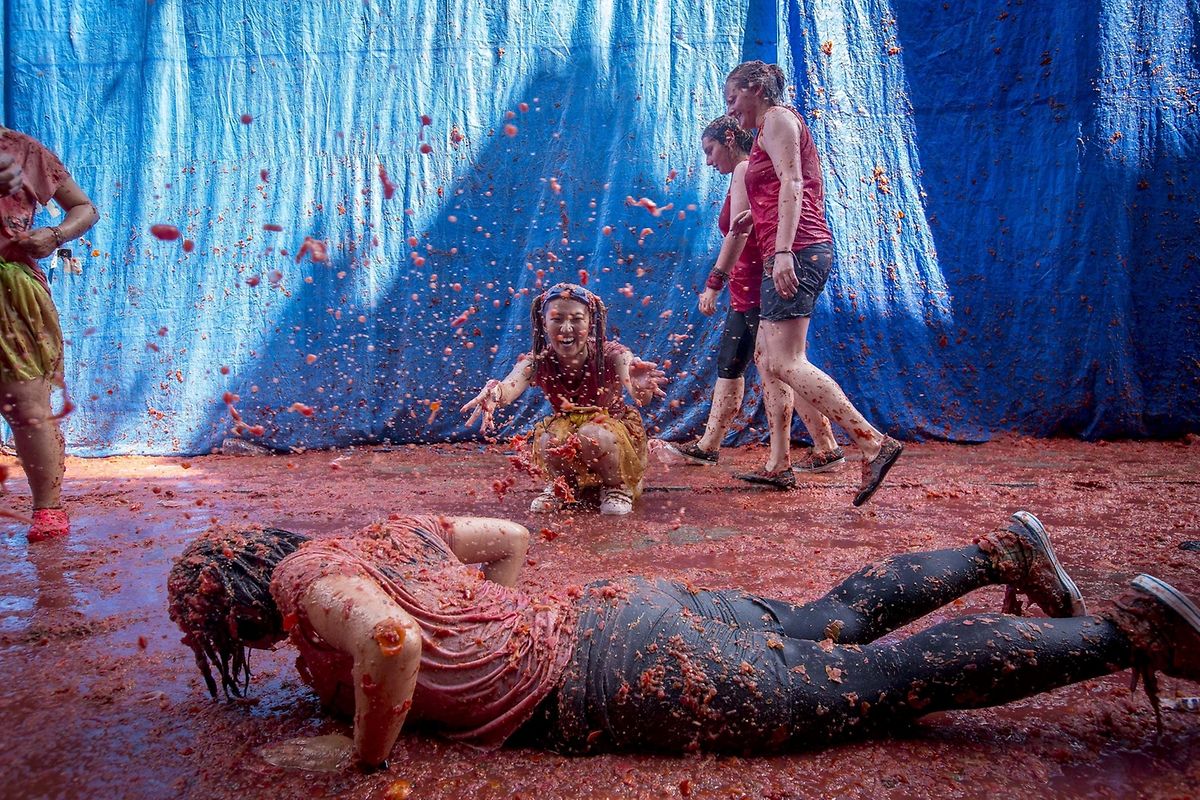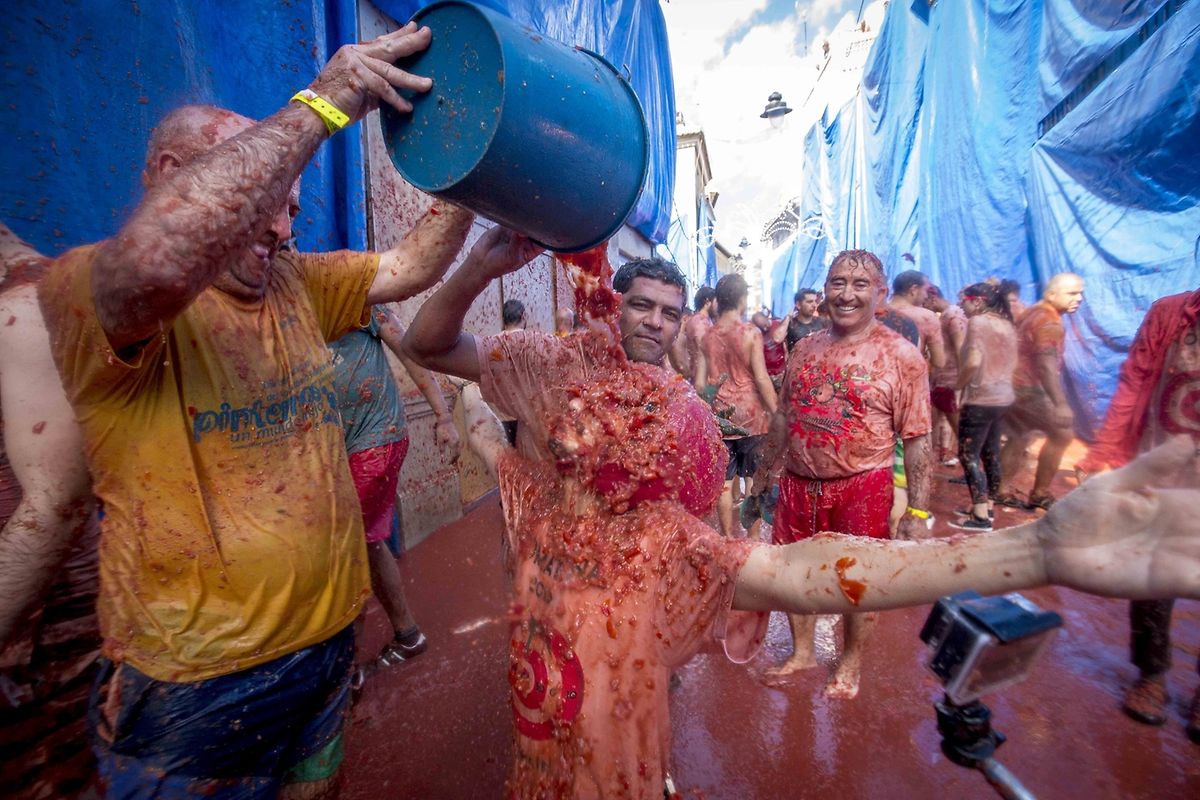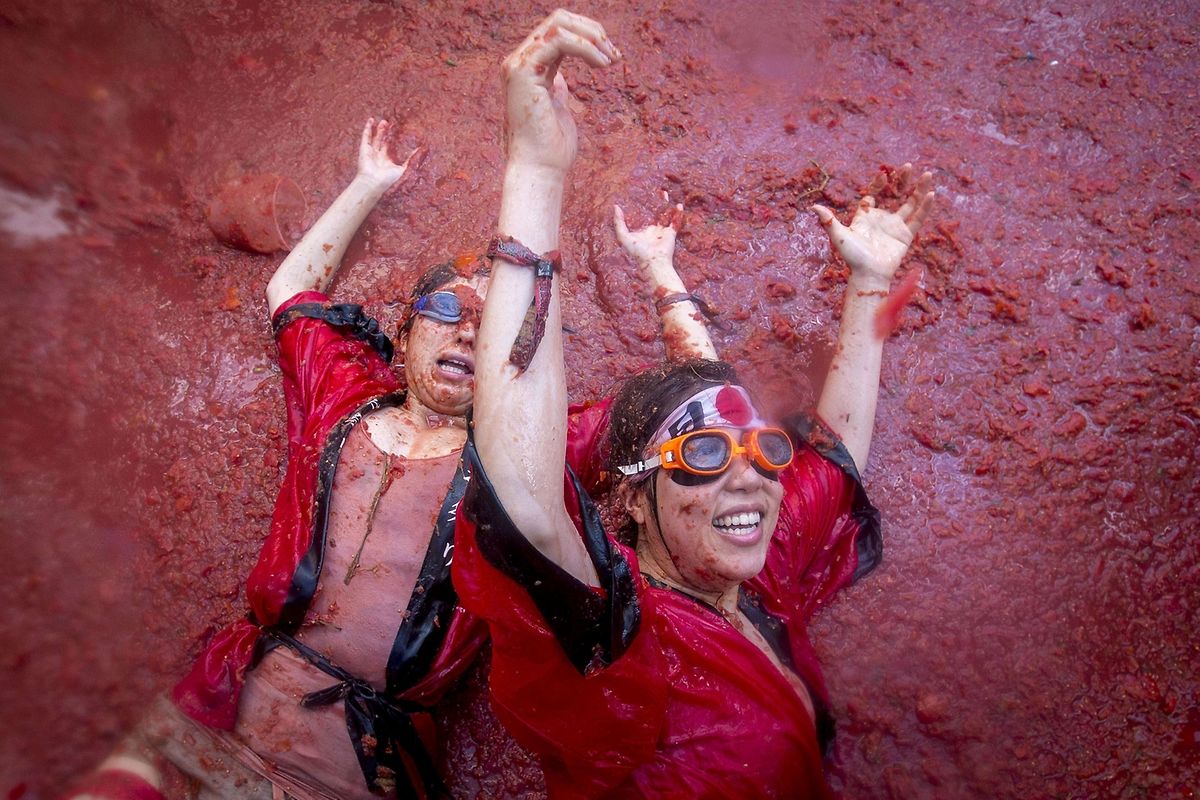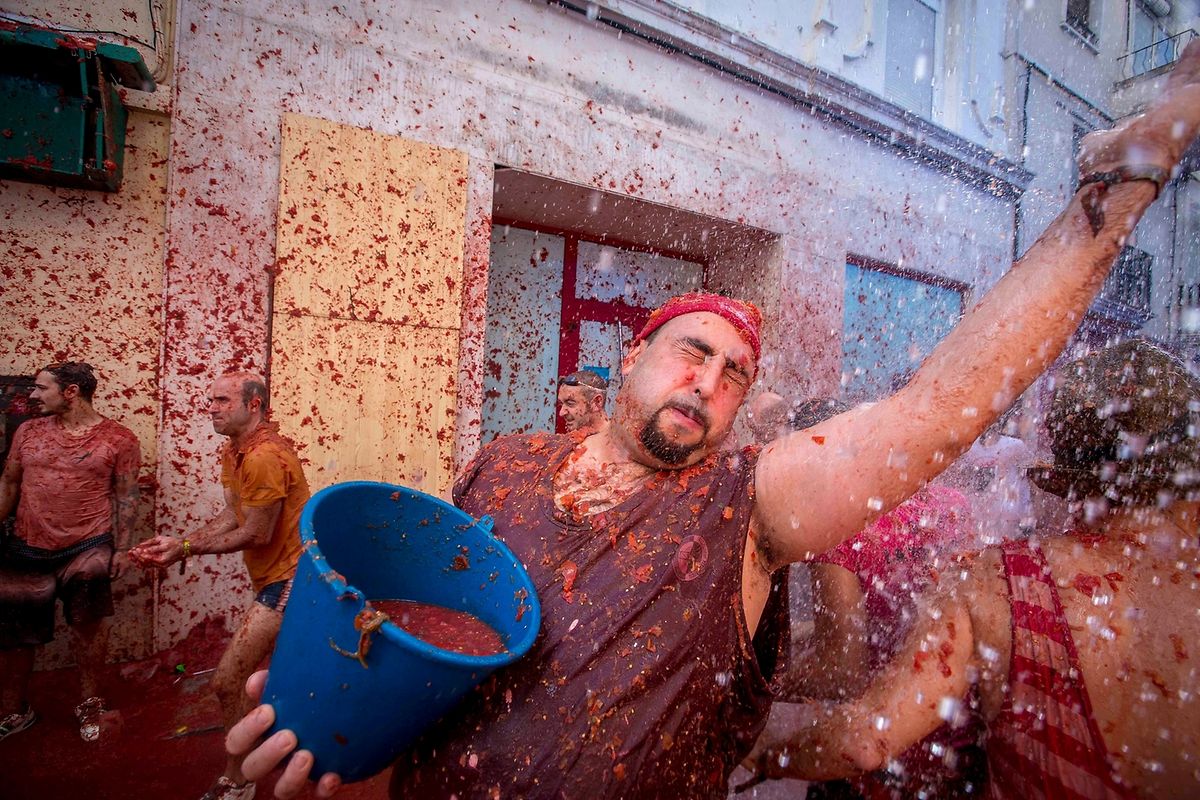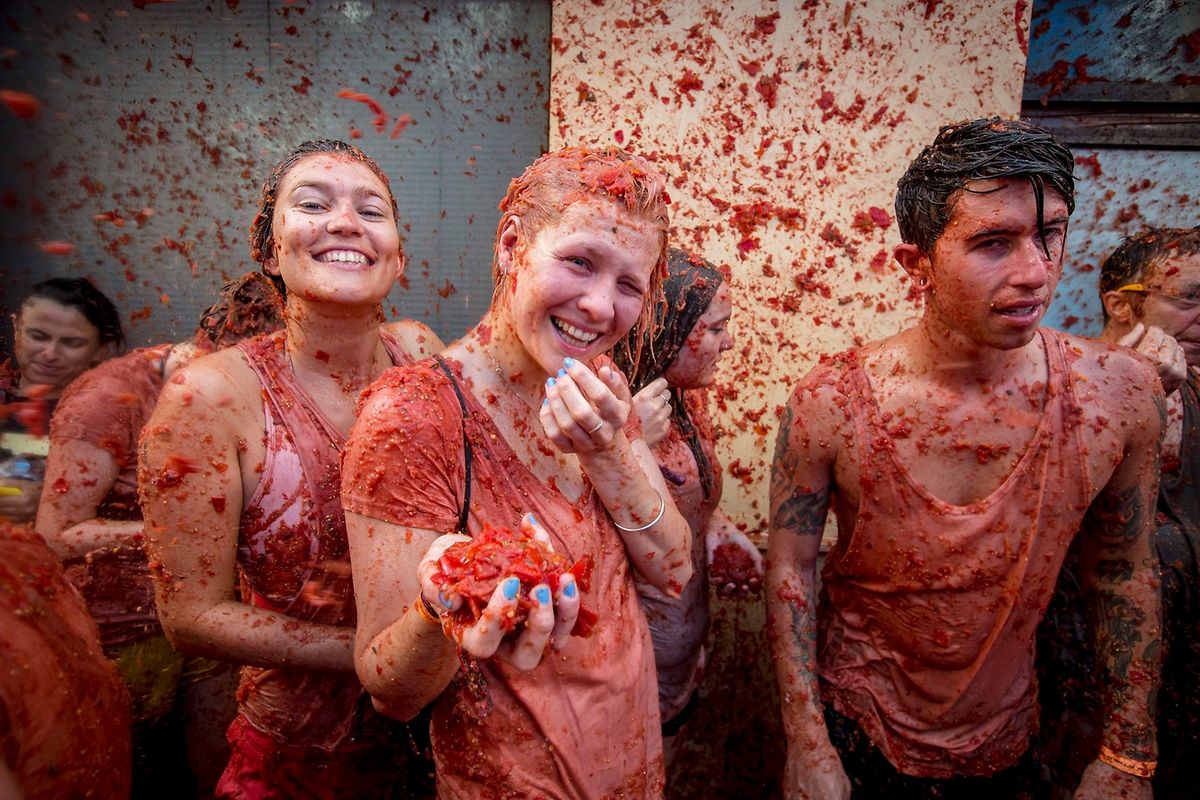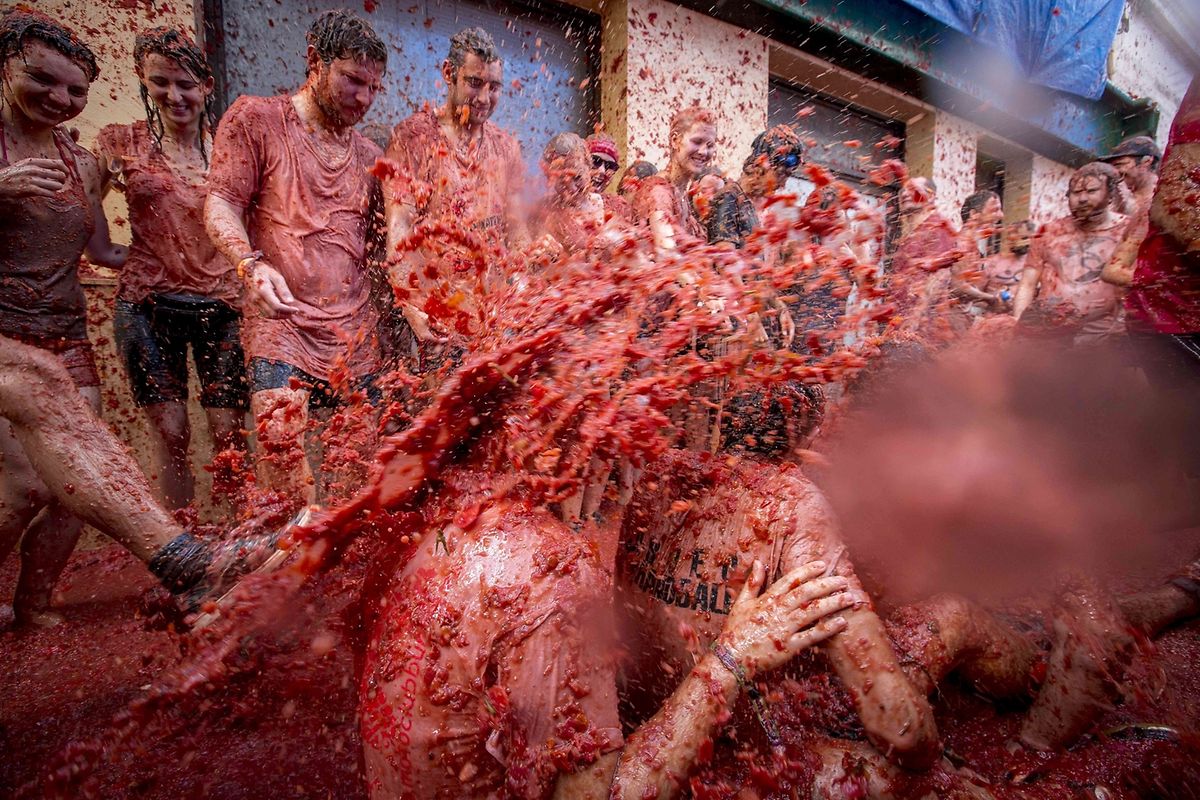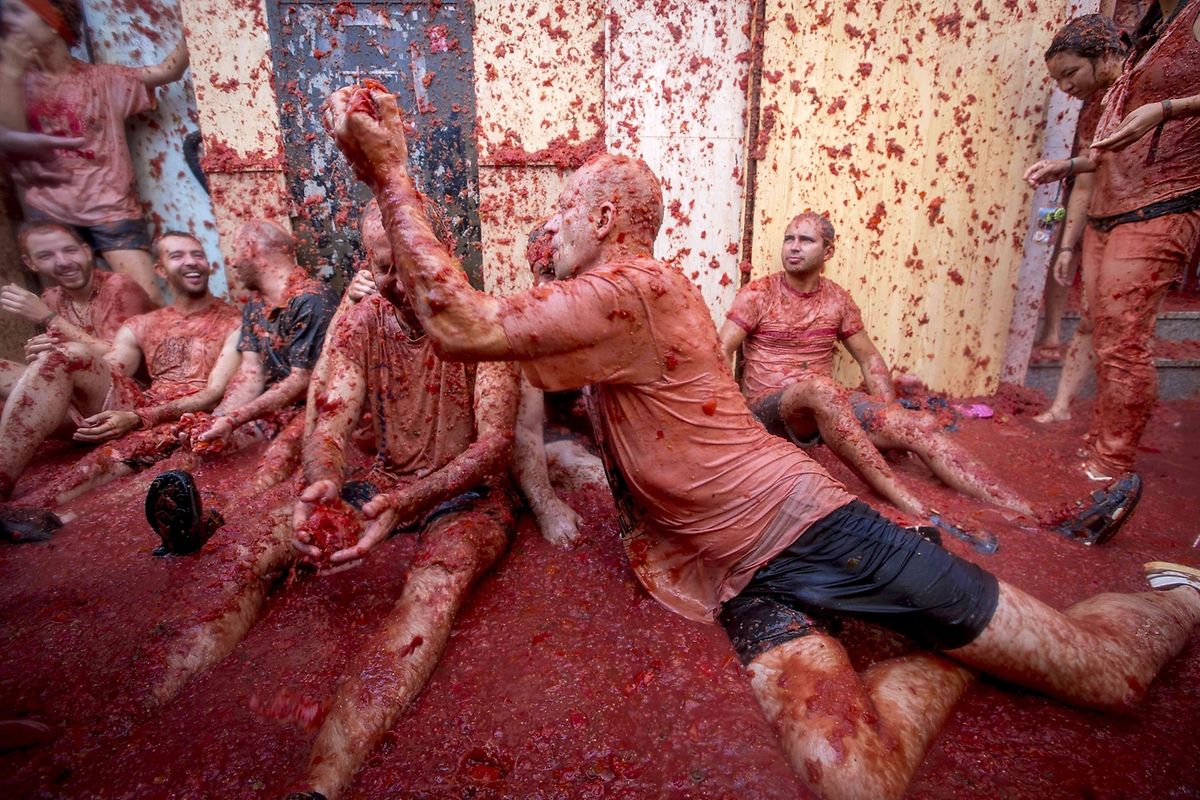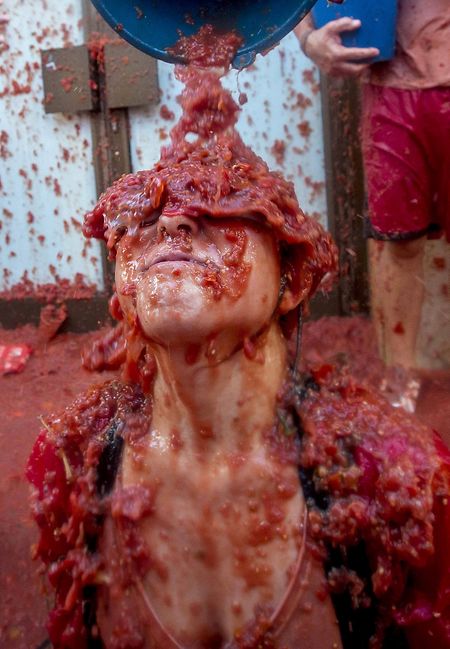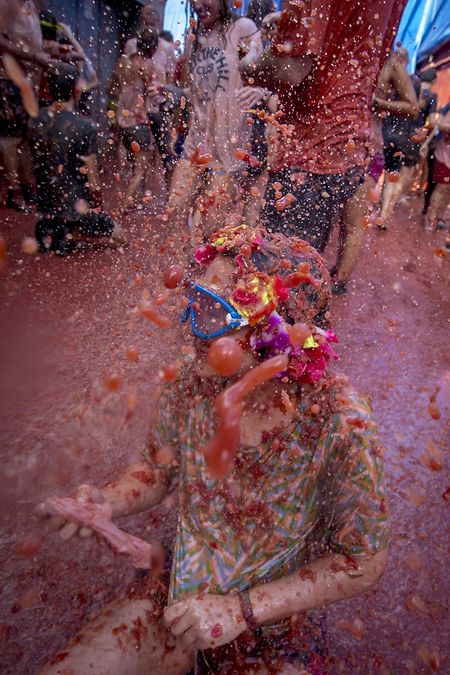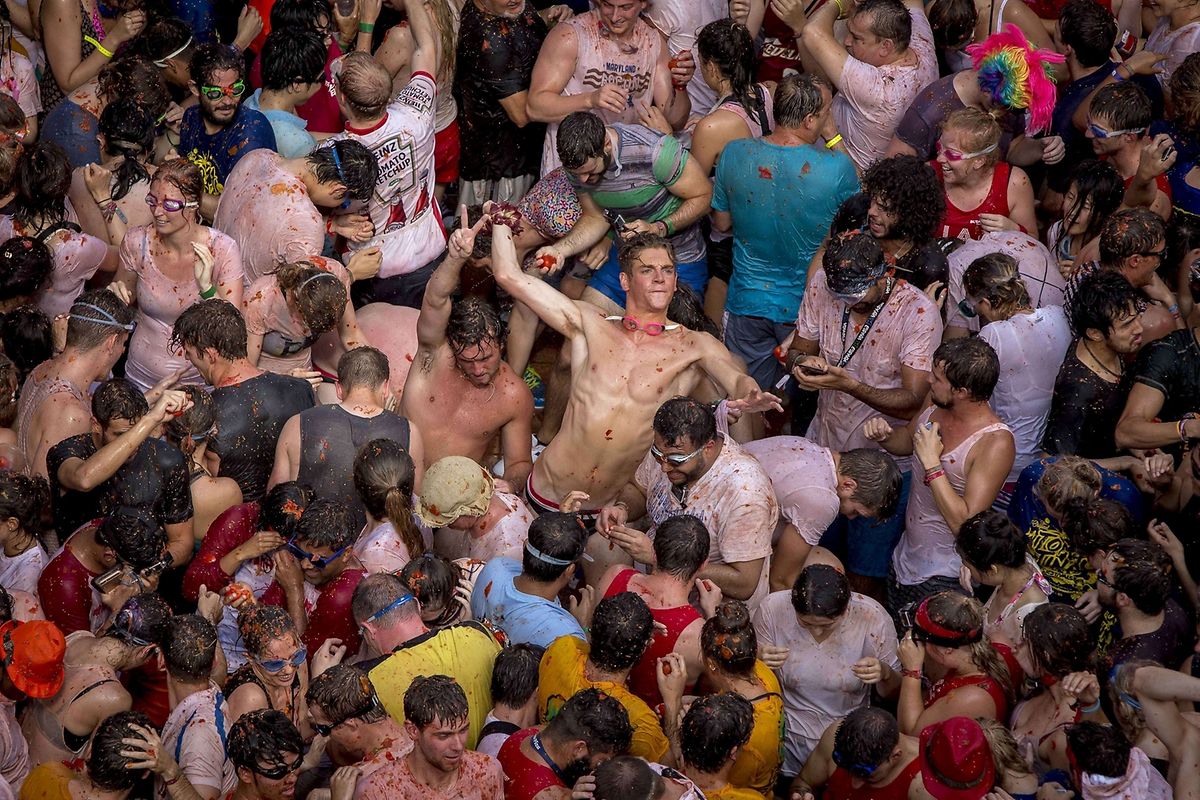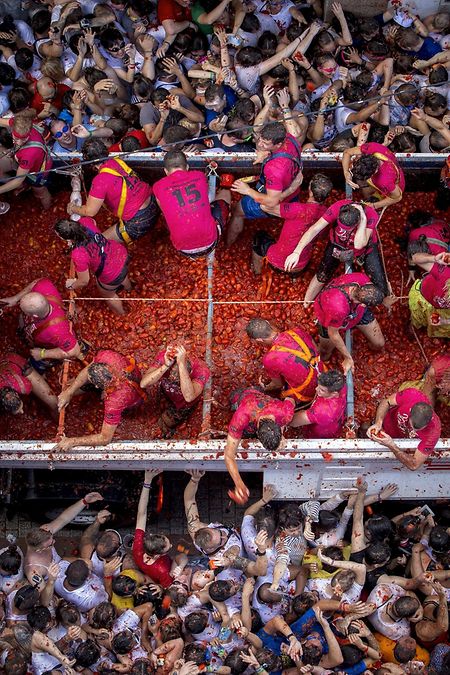 (AFP) Thousands of half-naked revellers pelted each other with tomatoes on Wednesday in the town of Bunol in eastern Spain, bathing the streets with red goo in the annual "Tomatina" battle.
A string of trucks laden with 170 tonnes of tomatoes rolled through the town's narrow streets, as teams on board distributed their load to surrounding crowds for people to throw at each other during the hour-long festivities.
The iconic fiesta, which celebrates its 70th anniversary and is billed at "the world's biggest food fight", has become a major draw for foreigners, in particular from Britain, Japan and the United States.
The bang of fireworks set off the bedlam at 11 am. Revellers jammed shoulder-to-shoulder, many wearing just bathing suits, bent down to pick up tomatoes from the ground to throw while others lay in the pulp.
"I am going to go three months without eating tomatoes, I'm disgusted but it doesn't matter," a Spanish woman in her 20s, who wore a red T-shirt and whose hair was covered in scarlet mush, told reporters.
One young man could be seen using a plastic pail to scoop up red pulp from the streets and pour it over the heads of others.
Bunol city hall estimates that only one-fifth of the roughly 22,000 participants this year are from Spain.
Mayor Rafael Perez said the event had become so succesful by allowing anyone participating to let off steam.
"There are countries where maybe people have a harder time expressing their feelings," he told Spanish radio.
"The Japanese for example are very reserved, solemn, and transform themselves when they come here," he added.
Bunol officials estimate that ten percent of the participants come from Japan.
Organisers recommend revellers squish the tomatoes before throwing them -- "the hit will be less painful" -- wear old clothes and use goggles to protect their eyes from the fruit's acid.
'Wear tight fitting bra'
This was the third year non-resident participants were charged 10 euros ($11.50) to take part.
The town of around 10,000 people hired a private company to sell tickets in 2013 to help pay off debts and control the growing crowds who were flocking to the event.
A total of 17,000 tickets were sold to foreigners with the rest given away free to locals.
Before ticket sales were introduced the food fight drew over 45,000 revellers to the town.
Young tourists flocked to the town for the festival on specially charted buses from Benidorm and other seaside resorts along Spain's coast, as well as from Madrid and Barcelona.
One travel agency that organised a trip to the fiesta, PPtravel, recommended that "girls wear (a) tight fitting sports bra and/or singlet and shorts."
"All passengers take a change of clothes to Bunol and plan on throwing out everything you wear to the tomato fight," it added on its website.
After the tomato throwing ended, fire trucks hosed down the streets while revellers headed to public showers or jump in a local river to get cleaned up.
The Tomatina started in 1945 when locals brawling in the street at a folk festival seized tomatoes from a greengrocer's stall and let loose.
Officials tried to ban the event in the following years during the dictatorship of General Francisco Franco, even going as far as arresting participants, but eventually came to embrace it.
Spain's tourism secretary named the Tomatina a "festivity of international tourist interest" in 2002 because of its popularity.
The Tomatina has inspired similar celebrations in Colombia, Costa Rica, Chile and the United States.
Do not miss the news - sign up to receive the wort.lu newsletter in English delivered to your inbox six days a week.