Art from afar: Eleonora Pasti
Art from afar: Eleonora Pasti
It is refreshing to see that Luxembourg attracts more than just bankers, as this week wort.lu/en caught up with artist Eleonora Pasti, all the way from the Lake Garda area in northern Italy.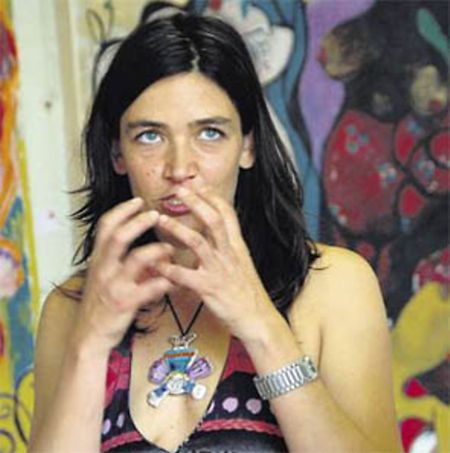 (HRW) It is refreshing to see that Luxembourg attracts more than just bankers as this week we caught up with artist Eleonora Pasti, all the way from the Lake Garda area in northern Italy. We caught up with Eleonora in her studio surrounded by her many creations, to find out about her experiences of the art scene here in Luxembourg. She balances her busy art life with looking after her two kids and playing the accordion for a local orchestra.
Tell us what brought you to Luxembourg?
I came to Luxembourg in 1997 due to my ex-husband's job, but at this time I was not an artist, instead I was looking after my little daughter and running our home.
How did you venture into the world of art?
I have always been a creative person making bits and pieces and studied History of Art at Bologna University but it wasn't until a personal crisis in 2003 that I became a true artist. I fed my emotions into art and used it to help me answer questions about myself. It helped me to gain self-confidence and acted as a kind of therapy. I soon was creating lots of different things.
How would you describe your art today?
I mostly focus on women and my own experiences. I tend to start with a concept, and then from my unconscious I find answers which leads to different colours, forms and materials being brought in. It is a process which can often lead to my work becoming completely different. At the moment I am focusing on portraiture and work using oils. I love working in all kinds of mediums, as you can see from the many different types of art here.
What do you think of the art scene in Luxembourg?
Art thrives here; the city really does live up to its status as the city of culture. There are many exhibitions in place and the government invests in artists in many different ways.
Did you find it hard to start up as an artist in Luxembourg?
I was lucky to gain help from the government, who do a lot to encourage artists. I applied for the scheme that the Ministry of Culture offers to new artists in Luxembourg who hold an art-related degree. For two years I was provided with funding and was able to gain a lot of advice which really helped me to start up my career and create so much. You would never get such help in Italy. It is however difficult to gain access to the main art circle here in Luxembourg which allows you access to the big galleries. I am still trying to find my way in!
Have you been able to get a lot of exposure for your work then?
I have had quite a few exhibitions in Luxembourg, the biggest being at the Bourglinster Castle which has been renovated into a space for artists. I also do private events. I am very excited this weekend to be heading to the Food For Your Senses festival where I will be displaying my work and taking part in their unique art exchange. Instead of selling work, people are invited to leave offers such as 'a weekend in my house in France' on post-its attached to the pieces and then at the end we can choose the best offer. It will be great to meet new artists and expose my work to a younger crowd, which the festival attracts.
Are there any drawbacks to the art-scene in Luxembourg?
Artists are often limited, as although they can be famous in Luxembourg the rest of the world will know nothing about them. The focus is put on artists in Luxembourg and little connection is made with the wider art community. This is changing though, for example the Bourglinster Castle also includes flats for artists from abroad to come and stay while they display their work.
What advice would you give to aspiring artists in Luxembourg?
I would encourage them to seek every kind of help they can that Luxembourg has too offer, for example through applying for all the available funds. Look out for projects and competitions that can gain you exposure, as the Ministry of Culture has invested a lot in art and set many up. Finally, take inspiration from the world around you and your own experiences.
You can catch Eleonora at the Food For Your Senses Festival this weekend. For more details and to see all the artists that will be there head to the "sensibition".
Don't miss the news – sign up to receive the wort.lu newsletter in English delivered to your inbox six days a week.