Berlin activists turn Nazi hate graffiti into art
Berlin activists turn Nazi hate graffiti into art
A ragtag band of Berlin street artists is taking aim at an urban scourge of neo-Nazi graffiti, using "love and humour" to turn swastikas into colourful symbols of inclusiveness.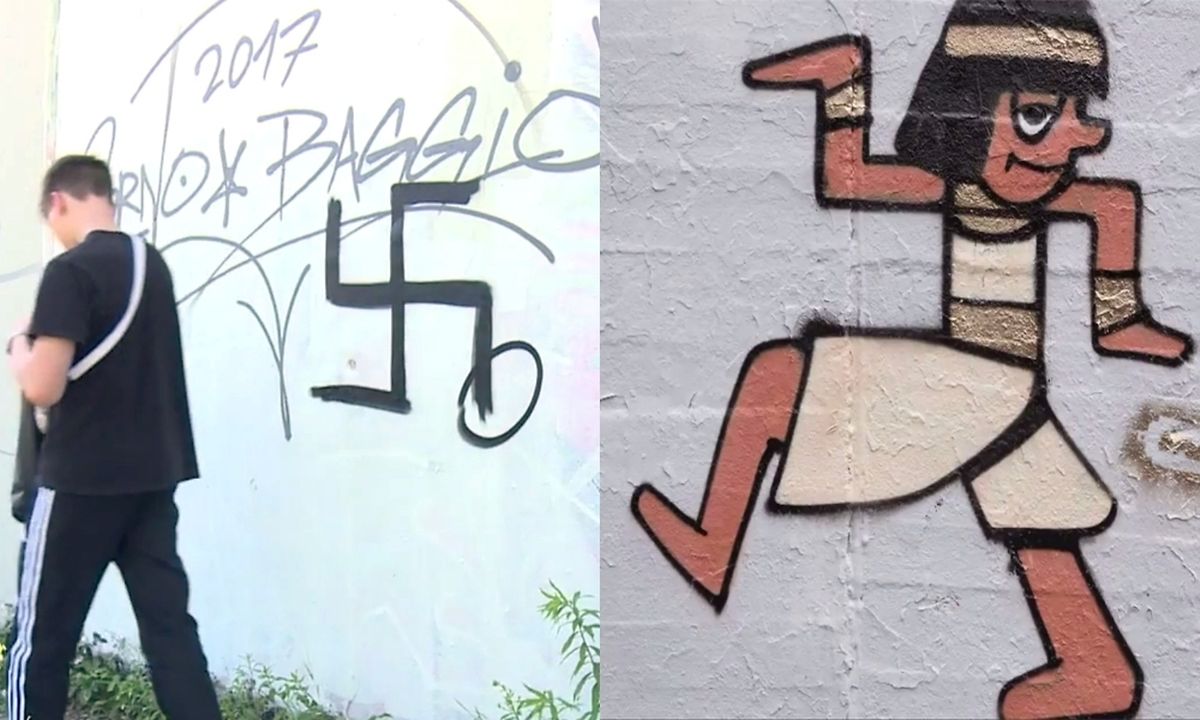 (AFP) A ragtag band of Berlin street artists is taking aim at an urban scourge of neo-Nazi graffiti, using "love and humour" to turn swastikas into colourful symbols of inclusiveness.
As authorities report a sharp rise in far-right activity in Germany, including the rampant spread of anti-migrant propaganda, the #PaintBack initiative in Berlin is fighting back.
"We as street artists wanted to send the message: you're abusing graffiti," said the club's founder Ibo Omari.
"Graffiti's got nothing to do with racism -- it's about bright colours and diverse backgrounds."
Omari, 37, owns a paint shop catering to street artists, and runs "The Cultural Heirs", a organisation bringing together youth from German and immigrant backgrounds for activities from breakdancing and street art to hip-hop DJing and skateboarding.
"It's a culture that shaped us in a positive way and gives young people a chance to express themselves creatively so they don't end up on the street," he said.
If you are unable to view the video, follow this link
'Beautify' the swastika
At the headquarters, in a room plastered with classic rap album covers, the teen members practise turning Nazi swastikas, used by the far right to whip up support and intimidate minorities, into new designs.
An owl, a mosquito, a rabbit with its tongue sticking out, a Rubik's cube, two men kissing, a cat in a window -- the inspiration for transforming the sharp-edged symbol seems endless.
"It's not hard to come up with ideas," 17-year-old Klemens Reichelt said.
"I like it because I think swastikas don't belong in Berlin -- it's a city open to the world and I want to defend that."
Omari and a half dozen adult volunteers use the kids' motifs to "beautify" the swastika tags when they're spotted in the neighbourhood.
The project began when a local resident entered Omari's shop looking for paint cans.
"He didn't look like a graffiti artist, so I asked him why he wanted them and he said he needed them to cover up a swastika that had been sprayed on a children's playground," Omari said.
"We were pretty shocked that someone had done that, especially here in Schoeneberg," a western district of Berlin which is home to middle-class Germans, Turkish and Arab families, and a lively, century-old gay scene.
The appearance of the symbol of hate proved not to be a one-off, however, and swastikas started turning up more and more -- in parks, in apartment buildings -- apparently fuelled by the influx of more than one million asylum seekers after Chancellor Angela Merkel opened the borders in 2015.
The domestic intelligence agency this month reported a seven-percent rise in politically motivated crimes in 2016, one-third of which were classified as "propaganda offences".
'Sweet, cheeky images'
Omari, whose own parents fled Lebanon as refugees when they were expecting him, said he turned those feelings of shock and powerlessness into action with the help of local youth who wanted to leave their own mark on the German capital.
"The last swastikas I had seen were more than 20 years ago so this was a new, unpleasant development," he said.
"Unfortunately the zeitgeist changed in the last few years and we have to explain things to young people that actually weren't that long ago," referring to the facts of the Nazi era and the Holocaust in the 1930s-40s.
"We thought long and hard about how to react to such ugly sentiments and then we said: we'll answer with humour and love," he said.
"We chose sweet, cheeky images, most of them drawn by kids so even beginners who aren't graffiti artists could reproduce them."
Neighbours now report the swastikas they find to the club.
"It doesn't happen that often but once is too many," he said, estimating that the group has transformed about 20 since May 2016.
It is against the law in Germany to display swastikas and other Nazi-era symbols, but those who take matters into their own hands can also run afoul of the authorities.
Germany's most famous crusader against far-right graffiti, 71-year-old Irmela Mensah-Schramm, was convicted by a Berlin court last October for spray-painting over an offensive tag.
It took until this month for the veteran of three decades on the city's streets to get the charges dropped.
Omari expresses admiration for her but said he cannot allow his fellow activists to get into trouble with the police.
"It is important to get the permission of the property owner because two wrongs don't make a right and we didn't want to have anyone do anything illegal," he said.
The collective's work has spread to other cities thanks to a social media campaign.
Images with the hashtag #PaintBack are swapped on Instagram, Facebook and Twitter and a video the group made has been viewed more than 100,000 times on YouTube.