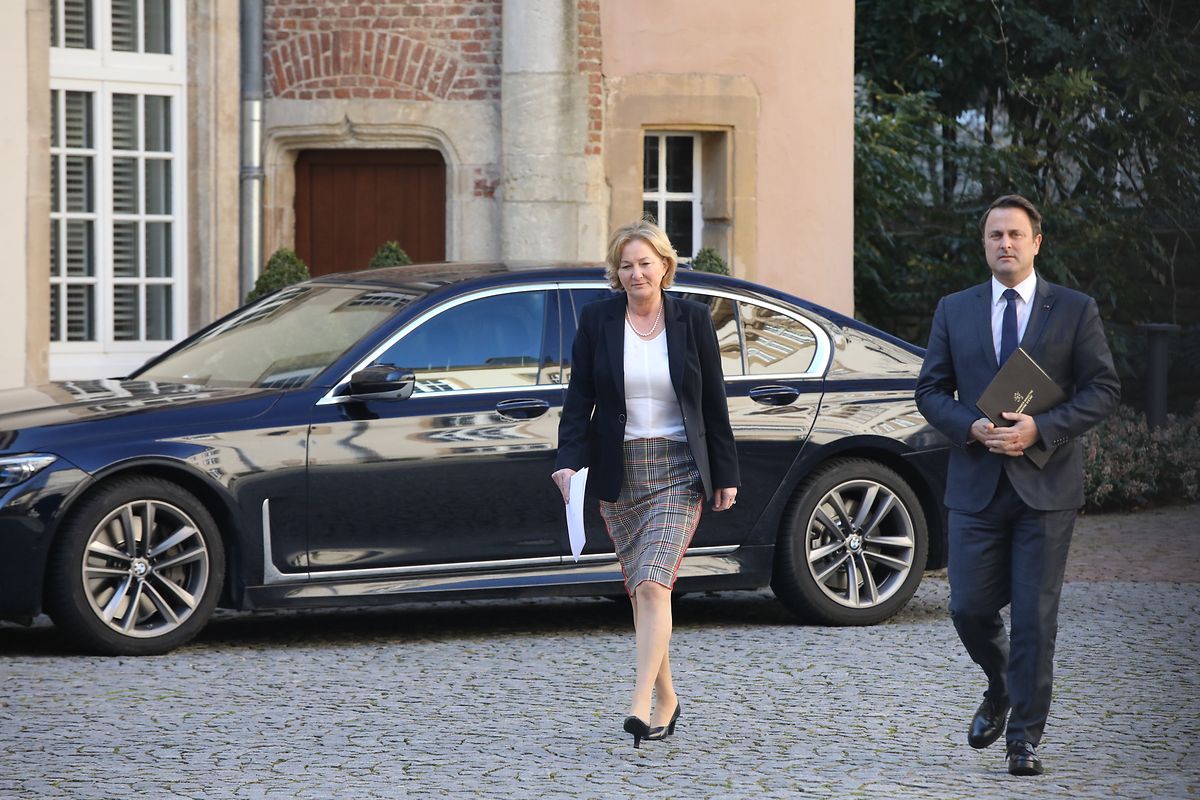 Bettel and Lenert on their way into the press conference, which took place on-line.
Prime Minister Xavier Bettel launched an €8.8 billion rescue plan to shore up the economy, bruised by a national lockdown to hem in the coronavirus which rapidly gained ground this week.
The package consists of an array of support tools such as loans, subsidies, the postponement of tax payments, government-subsidised temporary unemployment and others, some of which had been announced earlier, Bettel said at a press conference, which took place on-line.
"The situation is and remains very serious," Bettel said, after providing the latest numbers about the spread of the COVID-19 disease, which has now killed almost 20,000 in countries across the entire globe, triggering a frantic search for a cure against the respiratory infection.
There were 234 new cases on Wednesday, Bettel said, a 20% increase from the day before. More importantly, the number of hospitalised patients shot up to 143, up from 39 so far. Of the total, 21 were in intensive care, six of those flown in from Mulhouse in France.
As the country is building a range of emergency medical centres, patients can now consult their doctors online, including cardiologists, gynaecologists and psychiatrists, by video. Doctors will email prescriptions to pharmacies, for patients to collect their medicine.
Economic forecaster Statec on Tuesday said it was likely to significantly cut economic growth predictions for 2020 and 2021, adding that the lockdown could empty the government's coffers, trigger bankruptcies, boost unemployment and weaken finance and the industry.
Stock markets, oil prices and other asset prices have been in freefall as global output grinds to a screeching halt – a downturn that is unlikely to be remedied before more clarity emerges about when the pandemic will reach its peak and, more importantly, a vaccine will exist.
Luxembourg's coalition agreement dictates that public debt remains below a ceiling of 30% of GDP, but Bettel – who has already pledged that "it will cost what it costs" – does not rule out breaching that promise. Public debt currently stands at a healthy 20% of GDP.
The government was setting aside €1.75 billion in direct aid in the short-term, Bettel said. Small companies with a maximum of nine employees such as hairdressers or non-food stores that are closed for the duration of the lockdown can apply for direct aid of €5,000. There are 15,000 such companies across the country, with a total of 100,000 employees.
Following the example of Luxembourg City, the government will also allow companies to delay paying rent on state properties, Bettel said, and is setting aside €200 million per month to cover extra parental leave.

Non-food shops have had to close their doors for the past 11 days, putting a huge strain on many small businesses, yet Luxembourg's landlords advocacy group has told its members not to let shops go rent-free.
And Luxembourg companies were putting out a call for workers sidelined by the coronavirus crisis to return to the labour force and fill crucial transportation and grocery jobs that are suddenly vacant.
And the government expects to spend €500 million to allow temporary unemployment for staff in March alone, the labour ministry said on Wednesday, with 6,000 companies applying for the measure.
The government presented the full raft of measures worth €8.8 billion at a press conference late on Wednesday. Economy minister Franz Fayot called the package a "massive and concrete answer" to the economic threat posed by the virus, something he said was unprecedented.

"These are extraordinary measures for extraordinary times," Fayot said.
Six Luxembourg banks – BCEE, BGL BNP Paribas, BIL, Banque de Luxembourg, ING and Raiffeisen – have pledged to grant loan moratoriums, finance minister Pierre Gramegna said.

The government also asked property owners to negotiate rent delays with their tenants when needed, but did not make this a general policy.
Waiting for the peak
The epidemic, which started in the Chinese city of Wuhan, has quickly spread around the world, forcing countries to shut down public life almost completely as they try to slow down the disease and prevent hospitals from overflowing with patients needing urgent care.
Luxembourg has been on lockdown as of last week, with shops, restaurants and public services closed. People have been told to stay at home unless they are on urgent business, and if they do go out, they must keep a distance of at least two metres between each other.
The country has rapidly been ramping up its healthcare capacity, setting up four new medical centres across the country to treat people with milder symptoms, in addition to a field hospital flown in by NATO from Italy near the capital's Centre Hospitalier.

With one in every 500 inhabitants affected by the virus, Luxembourg has a far higher infection ratio than its neighbouring countries, but the government insists that this is because it is also doing more tests. Health Minister Paulette Lenert said that 10,000 people had been tested so far.
In some cases, where people showed clear symptoms, hospitals no longer performed the traditional test, but made a scan of the lungs instead, which can also clearly show the disease. These numbers were included in the known cases, said Lenert, something not all other countries did.
It was too early to tell if the containment was starting to have an effect, Lenert said, as this was something that would only become clear in the next 10 days to two weeks. China will lift some of its drastic isolation measures on 8 April, after bringing the epidemic under control.
Italy, which has had almost as many cases as in China, has shown a slowdown in daily new infections to a growth rate of around 8%. In Luxembourg, the lockdown would remain in place until the situation stabilises and it is safe to slowly reopen the country, and avoid a "boomerang" second wave of infections, Bettel said.
One sign that Covid-19 is becoming part of everyday life is that social-media mentions of the disease around the world have dropped by 13% in the past week, according to a Luxembourg-based company that analyses social media conversations in more than 180 languages.
---
Get the Luxembourg Times delivered to your inbox twice a day. Sign up for your free newsletters here.