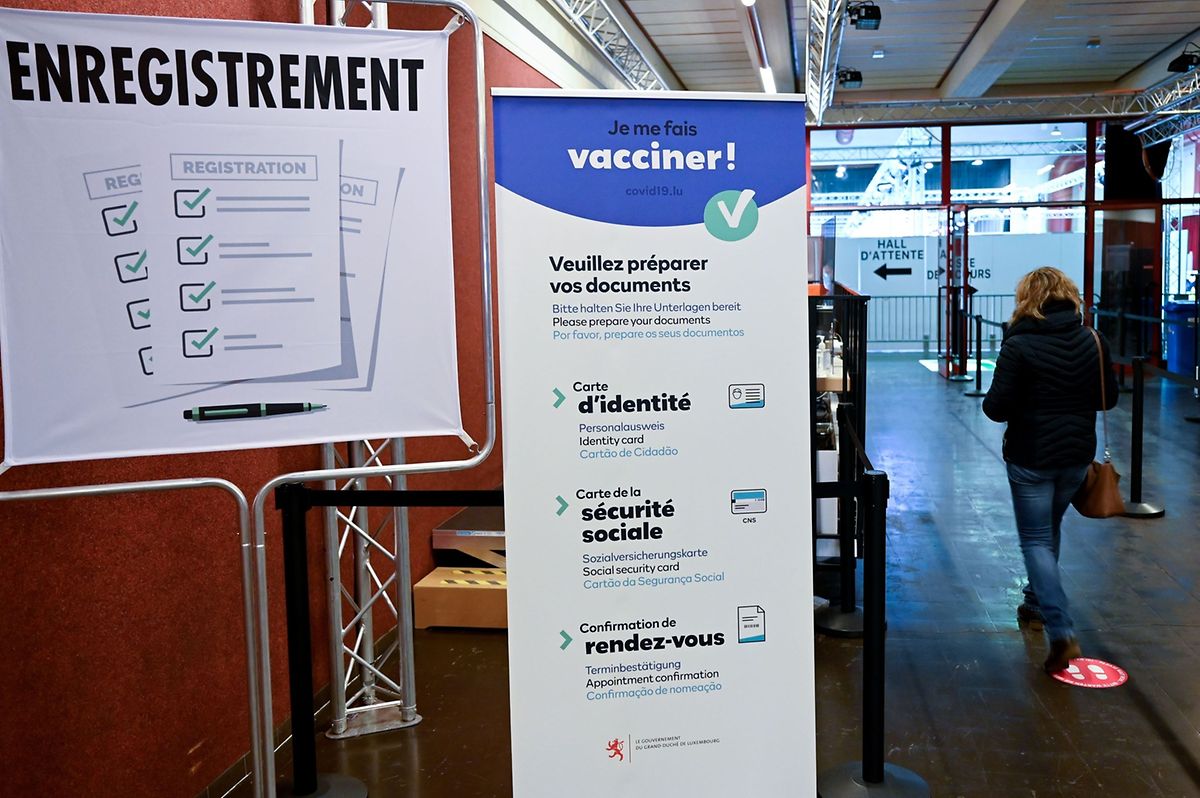 Luxembourg's only vaccination centre in the Limpertsberg district of the capital city Photo: AFP
Prime Minister Xavier Bettel and Health Minister Paulette Lenert will address journalists on Friday in an afternoon press briefing, a week before Luxembourg's partial lockdown is set to end.
The spread of Covid-19 seems appears to be slowing down, with 115 new Covid-19 cases reported on Thursday and no new deaths. The number of people in hospital has also gradually been coming down.
Yet it is unclear if authorities will lift the current restrictions and open bars and restaurants again.
The number of daily new infections has not exceeded 500 for more than a month, hovering around the level of 150 below which academics have previously said it might be safe to start lifting the measures.
For a brief period during the Christmas holiday, Luxembourg closed all non-essential shops, cinemas and fitness centres to stem the spread of the deadly coronavirus, in line with neighbouring countries.
But 10 days ago, Luxembourg reopened shops, cinemas and fitness centres despite both France and Germany extending lockdown measures as cases were rising, prompted by the new UK strain of the virus.
That decision came despite official health ministry analysis urging a continued holiday-period lockdown for weeks.
Luxembourg's vaccination programme, which could be the key to getting the virus under control, has got off to a rocky start since it began in late December. Health Minister Paulette Lenert revealed on Wednesday that just one in three Luxembourg residents invited to receive a coronavirus shot has shown up for the vaccination so far.
The country has a vaccination rate that is lower than many other European countries at just 0.85 per 100 residents. The European Union average stands at 1.54, according to the Our World in Data website.
The health ministry as of Wednesday said it had sent out 5,226 invitations for people to come to the vaccination centre in Limpertsberg, but only 1,637 - or 31.3% - had shown up. In total, Luxembourg has now given out the vaccine to 5,294 residents.
The Luxembourg Times revealed in December that Luxembourg would have enough of the Pfizer/BioNTech vaccine to inoculate just 6% of residents by the end of March, though that number has since gone up slightly as Moderna also delivered its vaccine to the country.
---
The Luxembourg Times has a new LinkedIn page, follow us here! Get the Luxembourg Times delivered to your inbox twice a day. Sign up for your free newsletters here.