Boys of Girl Band to rock the Rotondes
Boys of Girl Band to rock the Rotondes
Girl Band an Irish noise-rock band from Dublin are set to play at the Rotondes on Thursday as part of this year's Congés Annulés festival. The goup's guitarist Alan Duggan took some time to chat to Sam Steen.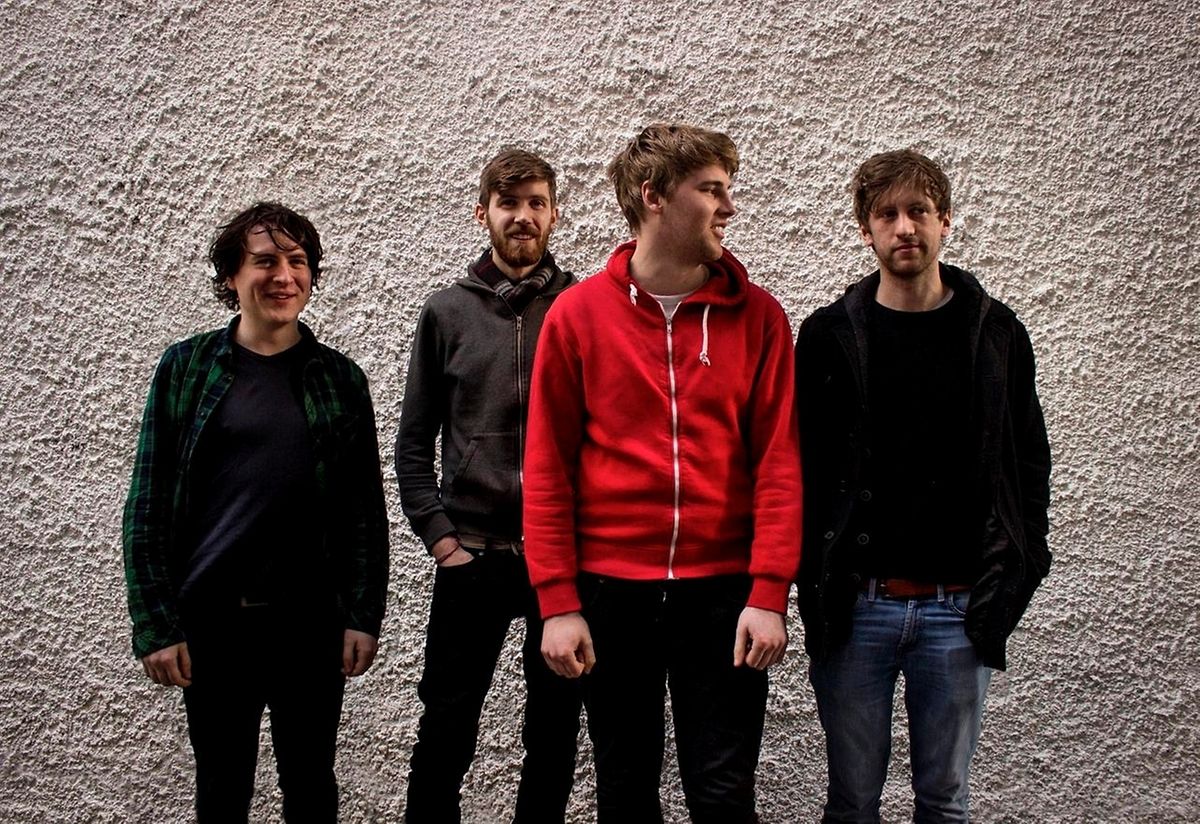 Girl Band an Irish noise-rock band from Dublin are set to play at the Rotondes on Thursday as part of this year's Congés Annulés festival.
The four piece are set to release their debut album Holding Hands With Jamie in September and guitarist Alan Duggan took some time to chat to Sam Steen all about the album and their plans for the future.
Girl Band have been getting a lot of positive press and praise since their formation in 2011. The Guardian said of them that, "This boyish quartet from Dublin deliver visceral, invigorating music with nods to Daft Punk and Nick Cave". They remind me more of a band like Does It Offend You Yeah? though.
Any idea the band's name might have given you about their sound is wrong, this is a band whose sound is full of anger and angst, spat and shouted out by lead singer Dara Kiely over a soundscape that will leave you breathless.
It will make you uneasy at times and have you dancing at others but make no mistake, you won't forget them in a hurry. With a number of EP's and sold out shows on both sides of the Atlantic already under their belts they will soon release their first full length LP and guitarist Alan Duggan says that fans of their shouldn't worry about them going off in a new direction just yet. "It's just a progression, there's not much that has changed, we wrote it in the same way that we wrote all of the earlier songs. The songs we've been writing, we've been working on them for a long time but it is ultimately just a progression from what we did before." He said.
The band write collectively and often tour the songs for a long time before putting them down on record, by the time they get to the studio things are generally ready. This allowed them to produce to record themselves which in turn seems to have taken the pressure of somewhat.
"We've recorded all the stuff before ourselves so when we were going in to do the album we didn't want to be like "Ok here's our big shot!" y'know?", said Alan,"We wanted it to be business as usual, just go in, record it, put it down. We knew what we wanted to do. We recorded it in the same studio we recorded all our other stuff as well so it was all very familiar territory. It just didn't seem necessary to get a producer."
Dara Kiely's lyrics are often as funny as they are personal and his delivery of them is almost as noisy as his bandmates playing, as though he is experimenting with a new way to get them across. The band are keen to push the limits to what they can do with their sound and I had heard that that the band used Gaviscon (heartburn medicine) bottles as plectrums and hubcaps as drums while recording and wanted to know if this was true. Alan put me right and
"The Gaviscon bottle was used by the bass player, not as a plectrum but as a slide He needs it for two tracks because if he doesn't use it he'll get big blisters on his hand really quick. He doesn't have the Gaviscon bottle anymore which is a shame so he just uses a beer bottle if he can get his hands on one." Alan explained, "and then the hubcap thing, we wanted a kind of harsher texture and there were bats that we were hitting it with and there was a snare drum that had a microphone in it that was hooked up to an overdrive peddle and we rerouted that through an amp and then when you hit that it sounded pretty harsh And then there was a spoon as well, we just threw that across the room."
With the debut album, Holding Hands With Jamie, set to be released on September 25th the band are looking forward to a lot of touring but they wouldn't have it any other way, "We're in Europe until November and then we have the North American dates on the way in so we're hoping to confirm them and get them out as soon as possible and then in the new year we're hoping to get to Japan and Australia and after that to South America if that's possible", he said, "They're all just aims, we always see the record as something that supports the tour and this (the album) just allows us to tour more heavily."
Things are progressing nicely for Girl Band and if reviews of their past shows are to be believed then tonight's show should be one to remember. It will be loud, sweaty and full of attitude and Luxembourg gig goers should take the chance to go see them now, in this intimate venue before they move on to the next level. The buzz around them is growing and once the album is released you won't get near them.
For more information on the band go to www.girlband.ie
To hear the interview in full with Sam Steen, take a listen below.
Get tickets at: www.rotondes.lu or at the door. Doors open 8pm, tickets 13 euros.
Sam's Scene!
Read Sam's other articles in his very own dossier on wort.lu : Sam's Scene!
_________________________________________________________
Sam Steen on ARA City Radio
You can catch Sam in his "Freshly Squeezed Breakfast Show" on ARA City Radio every weekday morning from 6-9:30am. For more info visit the website: www.aracityradio.com
_________________________________________________________
Don't miss the news – sign up to receive the wort.lu newsletter in English delivered to your inbox six days a week.