Colombia's Santos receives Nobel Peace Prize
Colombia's Santos receives Nobel Peace Prize
Colombian President Juan Manuel Santos accepted the Nobel Peace Prize during the official ceremony in Oslo's City Hall and reminded of the challenges to come.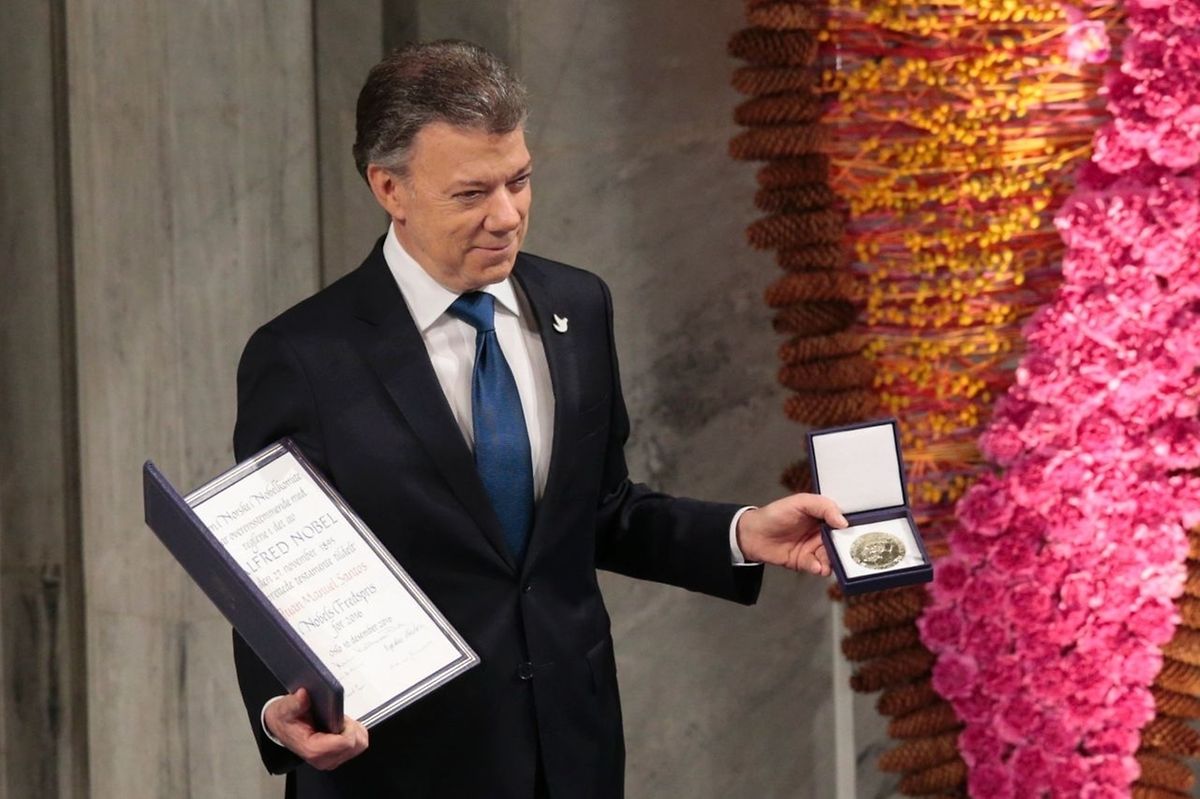 (AFP) - Colombia's peace deal between the government and the Marxist FARC rebels is a model for war-torn countries like Syria, Colombian President Juan Manuel Santos said Saturday as he accepted the Nobel Peace Prize.
The peace accord, signed on November 24 to end five decades of conflict, is a "model for the resolution of armed conflicts that have yet to be resolved around the world."
"It proves that what, at first, seems impossible, through perseverance may become possible even in Syria or Yemen or South Sudan," Santos said during a lavish ceremony at Oslo's City Hall, decked out in red, orange and white roses and carnations imported from Colombia for the occasion.
After a first peace deal was rejected in a popular vote on October 2, the rebels and government negotiated a new accord to end the conflict, which has killed more than 260,000 people, left 45,000 missing and forced nearly seven million to flee their homes.
Hardest part of peace process yet to come
"The Colombian peace agreement is a ray of hope in a world troubled by so many conflicts and so much intolerance," he said.
Yet in an interview with AFP just hours before Saturday's prize ceremony, Santos acknowledged that the hardest part of the country's peace process was yet to come.
The period ahead "is a more difficult phase than the (negotiation) process itself, and will require a lot of effort, perseverance and humility," he said.
"A lot of coordination efforts will also be needed... to bring the benefits of peace to the regions that have suffered the most in the conflict," he added.
He also said he could offer no guarantees there would be a peace deal in place with Colombia's second-largest rebel group, the National Liberation Army (ELN), before the end of his mandate in 2018.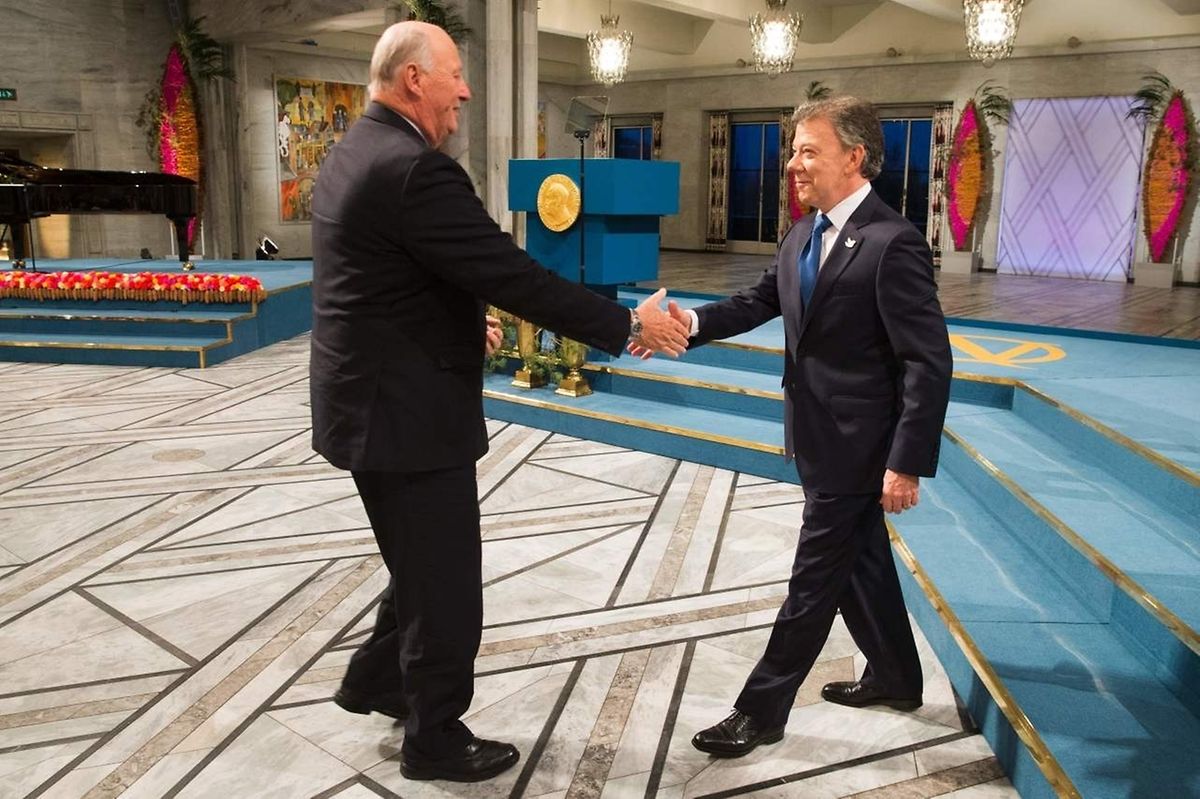 "I will do my best but to establish a time frame is always counter-productive in negotiations of this sort," he said.
In a speech at the ceremony, Berit Reiss-Andersen, deputy chairwoman of the Nobel committee, urged "all sides in Colombia to carry on the national dialogue and continue on the road to reconciliation.
"Hopefully, a similar negotiated disarmament agreement with the ELN guerrilla will soon be in place as well."
The Nobel prize consists of a gold medal, a diploma and a cheque for eight million Swedish kronor (824,000 euros), a sum Santos promised to donate to the victims of the war.
Ceremony in Stockholm
Later on Saturday, another ceremony will be held in Stockholm where the Nobel laureates in the sciences, economics and literature will be honoured -- a ceremony marked by the notable absence of this year's literature laureate, Bob Dylan.
The first songwriter to win the prestigious award, he has declined to attend the glittering ceremony due to "pre-existing commitments".
The no-show has created a stir in Sweden, where it has been perceived as a slight towards the Swedish Academy that awards the literature prize and the Nobel Foundation.
Announced as the winner on October 14, Dylan waited almost two weeks to publicly acknowledge the accolade, a silence one Academy member termed "impolite and arrogant".
Dylan did ultimately say he was honoured to win, but then informed the Academy in mid-November that he would not be travelling to Stockholm to accept his prize.
"A slap in the face," remarked editorialist Lena Mellin at one of Sweden's biggest dailies, Aftonbladet.
"Anyone who has ever received a prize, even if it's just for being the best neighbour in the apartment building, knows that the least one can do is go and accept it," she wrote.
The singer-songwriter has sent a thank-you speech to be read at the gala banquet at Stockholm's City Hall, attended by around 1,300 guests and the Swedish royal family.
And just before that, American rock star Patti Smith will sing Dylan's "A Hard Rain's A-Gonna Fall" during the formal prize ceremony at Stockholm's Concert Hall.
According to the Nobel Foundation, his prize should be presented to him in person sometime in 2017, either in Sweden or abroad.