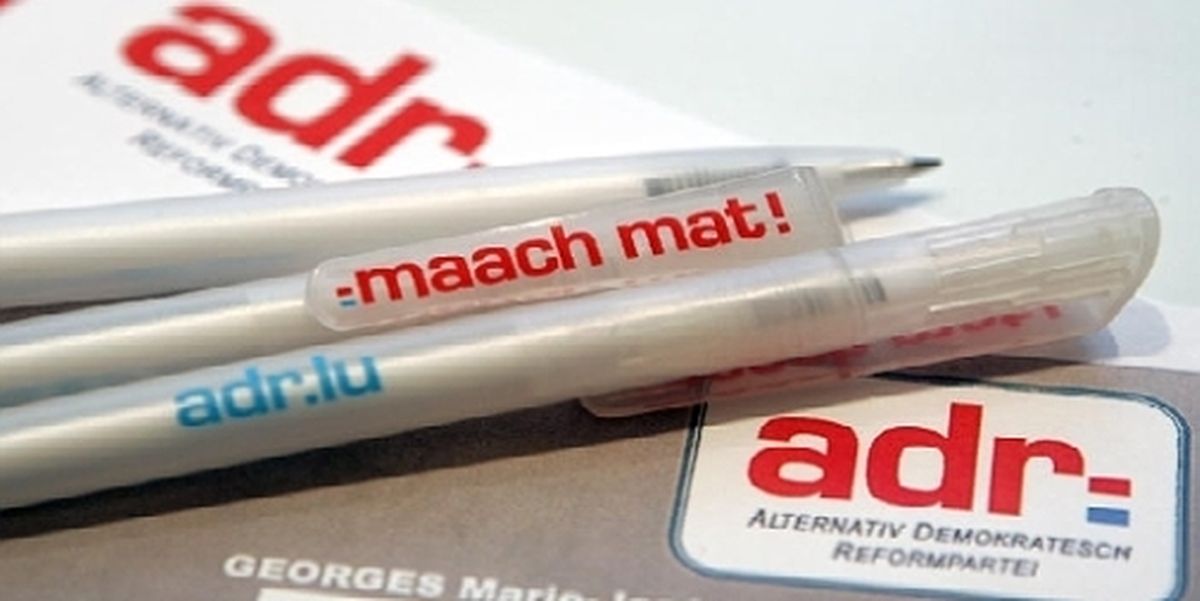 ADR's Brief History
ADR (Alternativ Demokratësch Reformpartei) is one of the youngest political party in Luxembourg. It arose out of a coordinated protest action in March 1987 criticising the lack of a harmonised pension system.
Led by the "Neutral Gewerkschaft Lëtzebuerg" (neutral union of Luxembourgish workers, NGL), "Lëtzebuerger Rentner- an Invaliden Verband" (Luxembourg union of pensioners and handicapped people, LRIV) and the "Union des Journalistes Luxembourg" (Luxembourg's union of journalists) an action committee was formed in May 1987 under the slogan "5/6 fir jiddferen"(5/6th for everyone).
As the group's members increased, the committee was transformed into a party, which then participated in its first parliamentary election in 1989 winning 7.13 percent of the overall national vote, leading to four seats in the Chambre des Députés.
The following autumn the party became "Aktiounskomitee 5/6" and held its first national assembly a year later. In November 1992 Aktiounskomitee 5/6 became ADR (Aktiounskomitee fir Demokratie a Rentegerechtegkeet).
In October 1993, following local elections, ADR was represented in seven commune councils. In 1994, partaking in its second parliamentary election, ADR won a fifth seat in the Chambre des Députés. Their presence increased by two more mandates after the national elections in 1999.
The local elections in the same year enabled ADR to place candidates on 10 commune councils. In April 2006 ADR became Alternativ Demokratësch Reformpartei (ADR) and published its first political programme.
Ideology
As a conservative party, born out of a dispute on pension benefits, ADR's political conviction is guided by four values or principles: fairness, freedom, solidarity and sustainability. Fairness is seen as the foundation on which any society should work allowing for social equality, prosperity, economic growth and peaceful co-existence.
ADR strongly believes that state intervention should be practised as much as required, but as little as possible, thereby focusing on the individual's freedom to exercise his economic vision, political conviction and religious beliefs whilst ensuring solidarity with, and support of, the weaker members in society.
ADR believes that the state's primary responsibilities lie within 10 overarching areas as stipulated in the party's statutes. The following areas, as taken from their manifesto, will be the main campaign issues used during the local elections.
"Eng kloer Sprooch an denger Gemeng"
ADR argues that, one of the state's primary responsibilities is to ensure the safety of its citizens and the protection of their property.
ADR believes in a state that vigorously engages in measures to fight violence, crime, corruption and gang brutality, and advocates for more police presence (commissariat de proximité).
ADR believe that solidarity is one of the pillars for a healthy, well-functioning and stable state. They state that "fairness should not only provide for the just compensation and acknowledgement of the individual's life accomplishments, but should also be applied in ensuring social balance: i.e. helping those that are less fortunate".
ADR wants to make all public building easily accessible for handicapped individuals and encourages the state as well as the individual communes to develop stronger social plans and aid programmes for families. Because strong families are the foundation of a healthy, prospering society, resources need to be invested in ensuring that neither man nor woman will suffer from taking on family obligations.
Although, the party's stance on supporting a "stay-at-home-parents" ideology and benefit from a pension system has brought about much criticism of ADR's family values, the party programme insists on the equal treatment of genders.
The education system is not only responsible for conveying knowledge but should also be an institution fostering the development of "positive values in line with societal welfare" and encourage discipline as well as hard work.
An individual's right for employment is a basic human entitlement and the state needs to guarantee this right through the "proper use of political initiatives". Research and development needs to be compatible with the wellbeing and dignity of humanity and "life should not be patentable" (a prevailing principle when dealing with any area of genetic research). Alongside ensuring that citizens can benefit form state-of-the-art medical care, ADR wants to promote society's health-consciousness and endorses alternative treatment options. ADR opposes euthanasia and abortion.
ADR wants to ensure the promotion and preservation of Luxembourg's historical and cultural inheritance. The Luxembourgish language is thought of as more than a symbol of cultural and linguistic identity, and should be nurtured as the glue that binds the citizens together.
Luxembourg should accommodate political and religious refugees, whilst ensuring that the rate of immigration doesn't exceed Luxembourg's ability to successfully integrate these individuals into society. Consequently, ADR wants the Luxembourgish language to be the main instrument in any integration policy. Luxembourgish should be the official language used in commune council meetings as well as delegated commissions. Furthermore, all street names in Luxembourg should have a Luxembourgish name, and the town hall should no longer be referred to as the "Mairie or the "Hotel de Ville" but always as the "Gemeng".
In pursuing viable options for the development of renewable energy sources, any political decision needs to consider future generations and should be measured according to the principle of sustainability. ADR does not back the much-debated Luxembourg tram system but believes in a city tunnel, enabling trains to travel under the capital and thereby, according to the party, dramatically reduce commuter traffic.