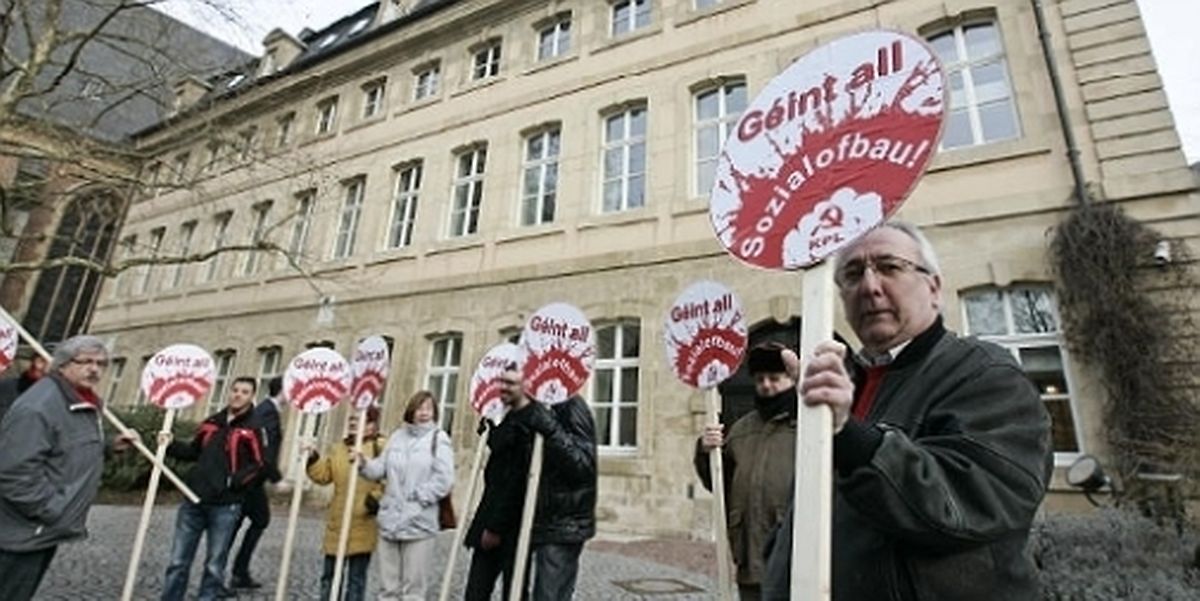 History
Luxembourg's Communist Party, KPL, was founded in 1921. It emerged out of the LSAP (Luxembourg's Socialist Workers' Party) as a separate party and participated that year's national elections.
However, the KPL lost the elections resulting in no mandates in the Chambre des Députés. It wasn't until 12 years later, at the parliamentary elections in 1934, that KPL was able to send a representative to the Luxembourg parliament, which they kept until 1940 when the party was banned during the county's World War II occupation.
The first national elections after WWII took place in November 1945, in which all running parties won at least five seats. Based on this rather peculiar outcome, the Grand Duchess Charlotte intervened and demanded the creation of a "national union government" allowing for the representation of all parties.
From 1945 to 1946, Charles Marx from "Kommunistesch Partei Lëtzebuerg" held the ministries of social assistance and public health, which, after his death, were taken over by Dominique Urbany.
In 1947, LSAP's leader Antoine Krier passed away and under his successor Jules Krier the national union coalition collapsed and KPL was excluded from the government. The party has not held another ministerial post since then.
Following the national elections in 1948 KPL won five mandates and soon became an integral part of the Luxembourg parliament, achieving their best result in 1968 with almost 16% of the national vote.
In the 1994 elections, KPL lost their last mandate and have then not been represented in the Chambre des Députés since. On the local level KPL have not had any representatives on Proporz Commune councils after the last two elections.
Ideology
As a communist party, KPL argues for the abolition of capitalism. Specifically, the party believes Luxembourg is in need of socially-just, democratic and socialist society that cannot be achieved without the abolition of banks' and firms' private property. The individual needs to be placed above any financial (i.e. capitalist) agenda, in order to allow for peaceful co-existence.
KPL argues that the government is composed of capitalist agents, and their main agenda is to cancel all social achievements to date, such as the indexed salary as well as a minimum social salary. According to KPL the only way to combat this is for all individuals, (Luxembourgers and foreigners, public - and private employees, men and women, intellectuals as well as workers, etc.) join together in solidarity in order to stop the ongoing attacks on the social state.
KPL demand the immediate separation of Church and State and argue that religious institutions and personnel should not be publicly financed. Furthermore, schools needs to be secular and should abandon religious education.