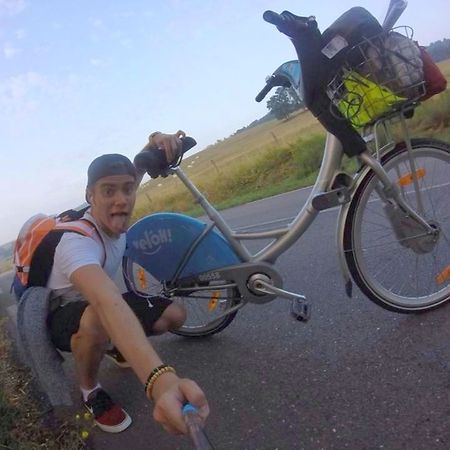 A young man from Luxembourg is pedalling to Paris to raise funds for charity, using only a city "VelóH!" bike and following cycle paths.
Sébastien Cayotte set out on his epic journey on Monday and by Tuesday had already made it 150 kilometres.
"I swim a lot, I have stamina but I'm no bike expert. I hope to get to Paris by Friday," the young man told wort.lu/fr over the phone.
The 20-year-old has pledged to ride on cycle paths only. While, this may make the ride safer, it extends the total distance from a 330 kilometres (by road) to 500 kilometres.
To make matters more complicated the rental city bike has just three gears and he may struggle if he gets a flat as the wheels are equipped with anti-theft devices.
"The first 100 kilometres were fine but the next 40 were hard, both physically and mentally. I was pretty tired after all the hills," he said.
The youngster, who sleeps in a tent at night, has set up a Facebook page where he records his journey. He is encouraging supporters to donate to children's cancer charity Kriibskrank Kanner Foundation.
Cayotte reportedly chose the charity because he works with children during the holidays and hopes to become a teacher.
"If I were to do this challenge for the sport only, I would probably give up. But I will keep at it because I want to keep my promise," he said.
Reporting by Anne Fourney
Do not miss the news - sign up to receive the wort.lu newsletter in English delivered to your inbox six days a week.