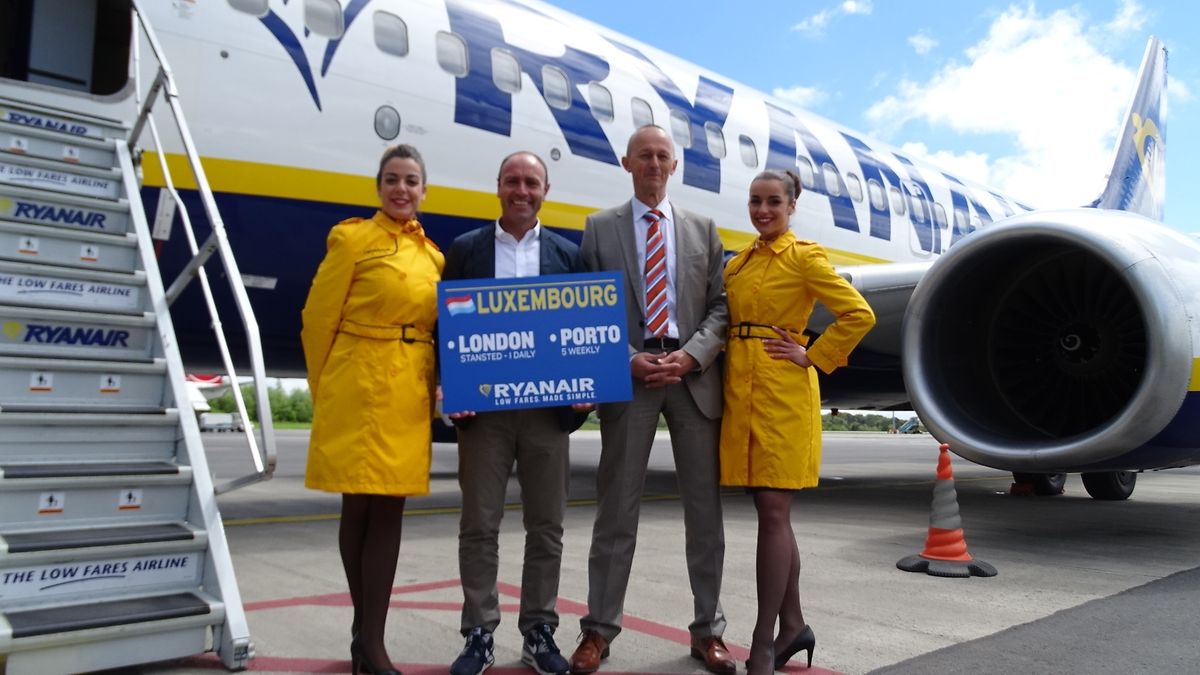 (NG/ADW) After a month of rumours it has finally been confirmed: Ryanair is definitely arriving in Luxembourg with flights to London and Porto planned to start on September 1, with the possibility of more destinations to follow.
London
One flight per day is planned to London Stansted Airport starting on September 1 this year.
Porto
Five flights per week are also planned from Luxembourg to Porto, starting September 1.
The tickets go on sale for both flights from Thursday, with fares starting from 19.99 euros to London and 24.99 euros to Porto.
Bookings can already be made on www.ryanair.com
Luxembourg is Ryanair's 33rd market and, as Kenny Jacobs, Ryanair's Chief Marketing Officer stated during Thursday's press conference, Ryanair is aiming high to be the second largest airline in the Grand Duchy. The low-cost carrier is the fifth new airline added to the portfolio this year of carriers flying from Luxembourg Airport.
Future flights
So what about future flights? Jacobs stated that if the the two routes prove successful, other flights are possible in the future from Luxembourg, such as Dublin, Barcelona (and other destinations in Spain), Manchester and additional flights to Portugal, such as Faro and Lisbon.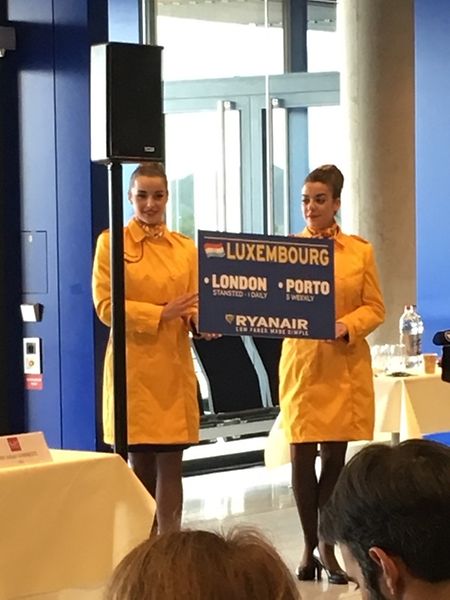 Jacobs added he was aware of past complaints regarding Ryanair's service, but that over the last few years many improvements have been made. That's why passengers will be able to, among other things, choose seats and take two bags on board.
Further improvements are to be made as well, including the introduction of automatic check-ins, destination guides and improved seating on the planes.
Rumours had been circulating about the low-cost carrier coming to Luxembourg since April 11, when information published by German newspaper "Trierischer Volksfreund" created quite a stir based on information apparently heard from Markus Bun, the manager of Frankfurt-Hahn Airport.
But the news had been quickly stifled by the Luxembourg Ministry of Transport, which had said that no request had been received to date from the low-cost carrier to settle in the Grand Duchy.
Intensified strategy
Ryanair, Europe's biggest discount carrier, has been especially active in recent months. Both Jacobs and Ryanair CEO Michael O'Leary have been vocal about the looming Brexit vote, encouraging the 'Remain' vote.
On Wednesday, Ryanair even announced a 'Fly Home to Vote Remain' special sale encouraging British citizens living abroad to return home to vote, offering seats for as low as 19.99 euros on June 22-23.
And in recent months, Ryanair seems to have intensified its strategy. Discussing plans in Germany to lure travelers away from local competitors, Jacobs told Bloomberg in February of this year, "If the price war becomes more aggressive, we're happy with that," adding: "We have deeper pockets and more staying power."