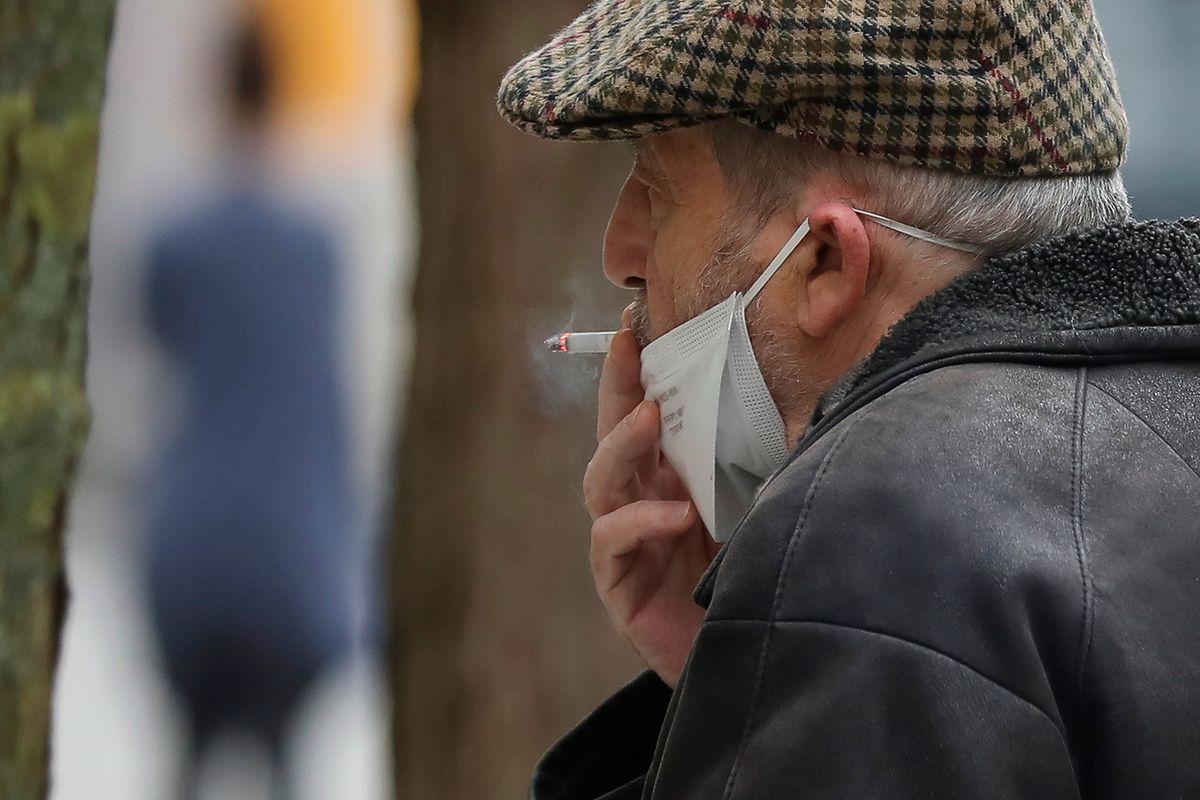 A man smokes a cigarette in Esch-sur-Alzette on Wednesday Photo: Guy Wolff
The coronavirus accelerated its advance in Luxembourg on Thursday, claiming two more lives, forcing the country to close its airport for passengers and triggering a pledge from the government to sustain the economy with more cash.
The number of infections with the COVID-19 virus shot up to 335 on Thursday, a more than 50% increase from the day before. At 5.3 cases per 10,000 inhabitants, Luxembourg's rate of infections is now nearly as high as that in Italy, the hardest-hit country in Europe.
"The situation is very serious," Philippe Schrantz, director general of Luxembourg's police force, said at a press conference. Police will start asking drivers and pedestrians where they are heading, to check if their business was urgent enough to be allowed to leave their homes.
The high number of cases in Luxembourg may be explained because the Grand Duchy is performing more tests than its neighbours, Health Minister Paulette Lenert has said. On Wednesday alone, 800 people were tested at three new drive-through test centres that opened this week.
The country will close Findel airport for passengers as of Monday, though much-needed cargo flights would continue to function, said Interior Security Minister François Bausch, also at the press conference. Trains and other public transport would be cut down to a minimum.
Groups of homeless people outdoors would be dispersed, Schrantz said, though it was not clear where these people would then go.
Police will fine people €145 on the spot if they break any of the rules, and can shut down shops. There had been a rise in crime, Prosecutor General Martine Solovieff said at the press conference, and the country has not ruled out deploying the army if things get worse.
The COVID-19 virus has struck nearly 208,000 people around the world, with 8,500 dead, and has shifted to Europe from China, where it originated. Italy is the hardest hit, with hospitals running out of capacity to treat predominantly elderly patients. The country reported more than 4,000 new cases on Wednesday, with the total now above 30,000.
Luxembourg went into a virtually complete lockdown this week, with people allowed to leave the house only for urgent business, such as buying food or medicine. Shops and restaurants are closed, and office buildings are deserted as most workers have been told to work remotely.
The shutdown of the country will have an inevitable impact on the economy, and Prime Minister Xavier Bettel at a press conference on Wednesday pledged to open the budget taps to support the economy as well as to battle the spread of the epidemic.
"We will use as much money as needed," to fight the impact of the crisis, Bettel said. "Money and finances are not worth more than human lives. Human lives come first and it will cost what it costs," he said.
The government has also announced a state of emergency, so that it can bypass parliament and push through new measures more rapidly.
Separately, the EU's chief Brexit negotiator, Michel Barnier, said via Twitter he has tested positive for the virus, adding he is "doing well and in good spirits". German finance minister Olaf Scholz also had a scare on Wednesday when he came down with a bad cold, but he tested negative.
Online shop opens, plant closes
Signs that public life was coming to an almost complete standstill multiplied throughout the week.
Luxembourg residents at higher risk from the coronavirus no longer need to leave home for household necessities, after the government on Thursday extended an online website and telephone hotline to take orders and have items delivered to their home.
A basic offering of dozens of products from fresh milk to packaged vegetables, chocolate, coffee and toilet paper are for sale to vulnerable people only at the corona.letzshop.lu platform, with delivery free.
Luxembourg's largest telecommunications company Post said official government announcements caused traffic on fixed and mobile networks to jump by up to 70% each time, but this was still within capacity.
The company has seen an average of around 30% greater Internet traffic due to a flood of people teleworking from home and the increased use of social media and streaming services. Telephone calls increased by more than 80%, SMS traffic by 20%, and cable TV by almost 30%.
And a coronavirus hotline for people worried they might be displaying symptoms of the virus - launched at the start of March - is receiving 2,000 calls a day, according the country's emergency services.
The brewery behind Bofferding and Battin beers decided that it has enough bottled for now to see Luxembourg through the current crisis and is concentrating on producing more bottled water, Brasserie Nationale CEO Frédéric de Radiguès told the Luxembourg Times on Thursday.
To date, we have enough beer stock ... consumers should not be stressed

Brasserie Nationale CEO Frédéric de Radiguès
"To date, we have enough beer stock, but the demand for water is much higher than expected," he said in an email. The company will keep an eye on its beer storehouse and can shift back to the alcoholic brew when necessary," de Radiguès said. "Consumers should not be stressed."
And on Wednesday, Goodyear said it would close its tyre plants in Luxembourg, France, Germany, and three other European countries. The company employs 3,450 at its plant, offices and innovation centre in Colmar-Berg, about 30km north of the capital.
Crank up business
Luxembourg has taken a host of measures to support companies hit by the sudden halt of the economy. On Wednesday, it announced that business owners have been exempt for paying their taxes upfront for the for the first half of the year, while late payments will not incur interest.
Luxembourg's Chamber of Commerce is offering small businesses guarantees for emergency loans of up to €250,000 while the government raised the maximum they are prepared to lend to companies struggling because of the crisis to €500,000 from an earlier cap of €200,000.
However, the country is in a bind over the 250,000 workers who commute to the country from neighbouring Germany, France and Belgium each day. Closing the borders would help stop the spread of the virus, but it is not an option for Luxembourg given that two-thirds of workers in the healthcare industry are coming in from abroad.
Germany has started controlling its borders, and workers on their way from Luxembourg have now been handed out a pass showing that they are on their way to work from any of these three countries. There are also hotel rooms available for doctors and nurses, and their families.
The country is deploying the army to guard medical supplies, keeping equipment in a secret location following earlier thefts. Health Minister Paulette Lenert earlier this week said there were enough hospital beds, with 169 space available across the country's four hospitals.
More medical material is on the way in a Cargolux flight of materials the government has ordered, she said. But by Thursday, it was not clear if the flight had arrived. Cargolux declined to comment on the matter.
A group of private laboratories has opened drive-through testing in Junglinster, Bascharage and Marnach. The sites - which Germany and Italy have also introduced - help keep patients isolated.
A return to normalcy may mean a long and difficult fight, new research suggests. The pneumonia-like disease spread quickly in the weeks before China imposed a strict travel ban on the hardest-hit region because more than eight out of 10 people who carried the responsible virus did so without noticing it, a team of US and Chinese researchers reported this week in the online version of the journal Science.
The COVID-19 virus is a type of coronavirus. Other known strands include SARS (Severe Acute Respiratory Syndrome) and MERS (Middle East Respiratory Syndrome), both of which are more lethal.
All national measures, information on health and safety precautions and what to do if you show symptoms are available on the government's COVID-19 website.
---
Get the Luxembourg Times delivered to your inbox twice a day. Sign up for your free newsletters here.