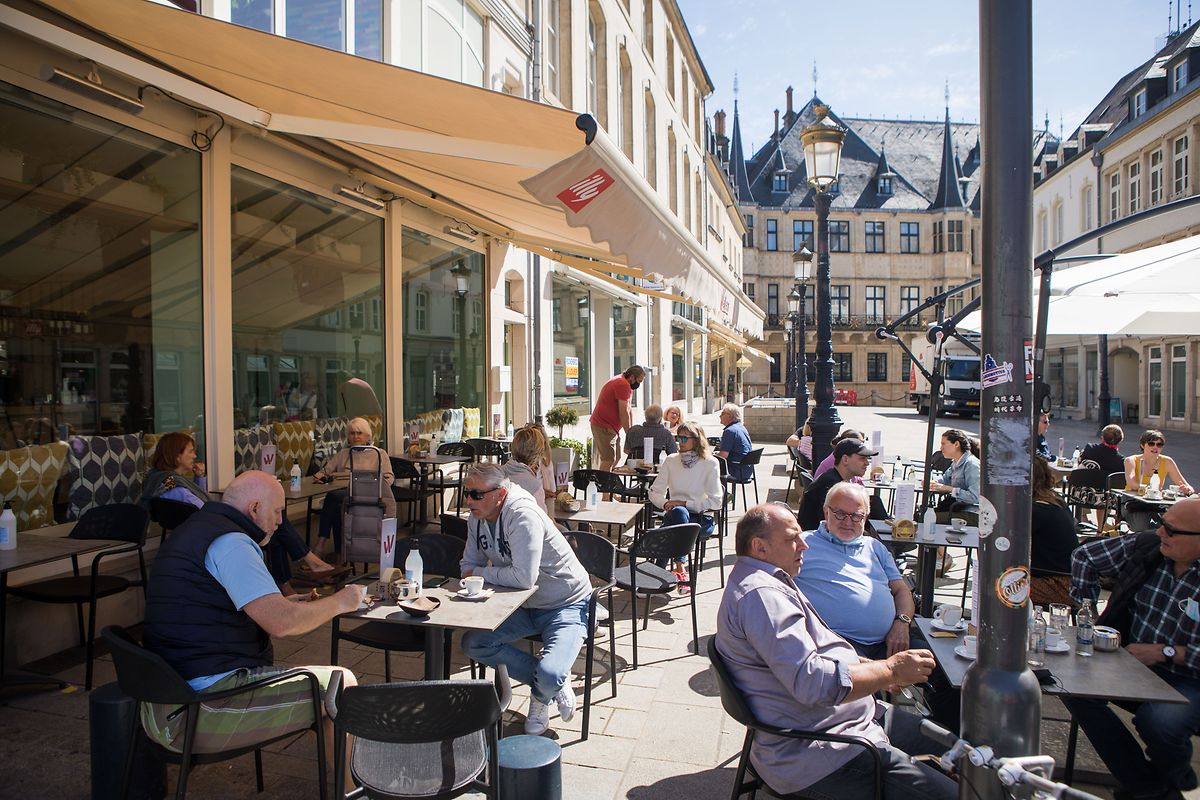 Restaurants and bars reopened fully on 29 May Photo: Lex Kleren
New cases of coronavirus infections remained low in Luxembourg ten days after the country launched the third phase of lifting its lockdown when it allowed restaurants and bars to reopen for customers.
The total tally of infections - including patients that have long since recovered - stood at 4,039 on Sunday, up just four from the previous day. Over the entire week, there were 19 new infections, compared to more than 200 a day at the height of the health crisis.

Only 30 cases are still considered active. The number of people hospitalised for treatment has also steadily declined, with X23 people now still in hospital, including one in intensive care.
The number of deaths has remained stable at 110 since 26 May.

The last of four treatment centres – set up across Luxembourg to avoid corona patients from mixing with others at their doctor's surgery or in emergency wards – will close on Monday for lack of footfall.
Luxembourg plans to test the entirety of its population, as well as cross-border workers, for the virus, and has upgraded capacity 20,000 tests per day. But the initiative has been slow to take off as numbers released by the government show 9,144 got tested in total this week.
Under the strategy, people have to wait to receive a letter from the government before they can sign up for the free test. Construction workers, teachers, healthcare workers, shop assistants and restaurant staff will be among the first to receive the invite.
Even though the lockdown measures are gradually being lifted, companies should continue to allow employees to continue working from home where possible, the government has said.
The lifting of lockdown restrictions began on 20 April with the reopening of building sites. Schools gradually followed in May, while shops and businesses such as hairdressers and beauticians emerged from lockdown on 11 May. In the third phase of the lifting of the lockdown, churches, cinemas and fitness studios could reopen, as long as they stick to safety measures such as physical distancing and wearing of masks.
Playgrounds remain closed though, outdoor gatherings are limited to 20 people and households can invite only six people over at a time for a visit.
The government has said it would allow at least two weeks to pass between each phase of the lockdown being lifted as it can take days for those infected to show symptoms and get tested.
So far, the number of new cases has not accelerated since the government started lifting lockdown the R number – a measure to predict the spread of the virus – remains below the crucial value of 1.
---
Get the Luxembourg Times delivered to your inbox twice a day. Sign up for your free newsletters here.