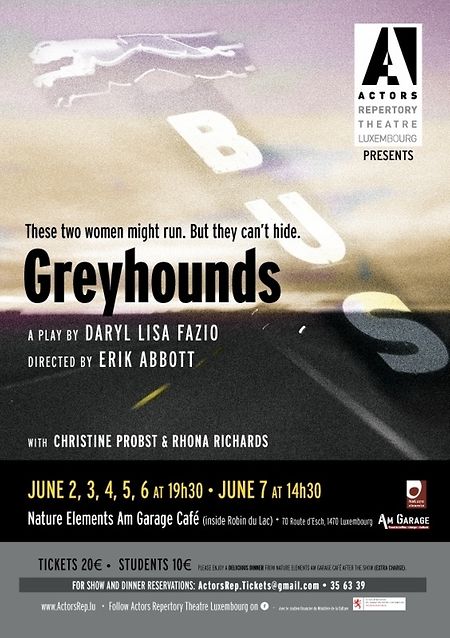 (CS) English-language theatre company Actors Repertory Theatre will bring the European premiere of US play Greyhounds to Luxembourg in June.
Written by Daryl Lisa Fazio, the play tells the story of two women who meet by chance at an isolated bus stop in Oklahoma in the middle of the night. As they wait for the next bus, they discover things about each other and themselves, forging an unexpected bond between these strangers.
Greyhounds, named after the famous US buses, was first performed in 2005 at Truman State University and has since been performed by the American Theatre of Actors and Theatre Row in New York City.
In Luxembourg, the play will star Christine Probst and Rhona Richards. Actors Repertory Theatre artistic director Erik Abbott directs.
Performances are scheduled June 2 to 6 at 7.30pm and June 7 and 2.30pm at Nature Elements Am Garage, at Robin du Lac on Route d'Esch. A post-show dinner is available, with reservations recommended.
Tickets for the play are 20 euros for adults and 10 euros for children. Additional costs apply for dinner.
To book, email actorsrep.tickets@gmail.com or call +352 35 63 39
For more information visit actorsrep.lu
Actors Repertory Theatre have also already announced the second play in their café theatre season – Donna Hoke's Flower in the Desert, to be performed in October this year.