Deutsche Bank's co-chiefs resign
Deutsche Bank's co-chiefs resign
European financial giant Deutsche Bank announced Sunday its co-chief executives are stepping down as the banking group faces a wave of scandals and has failed to meet profit targets this year.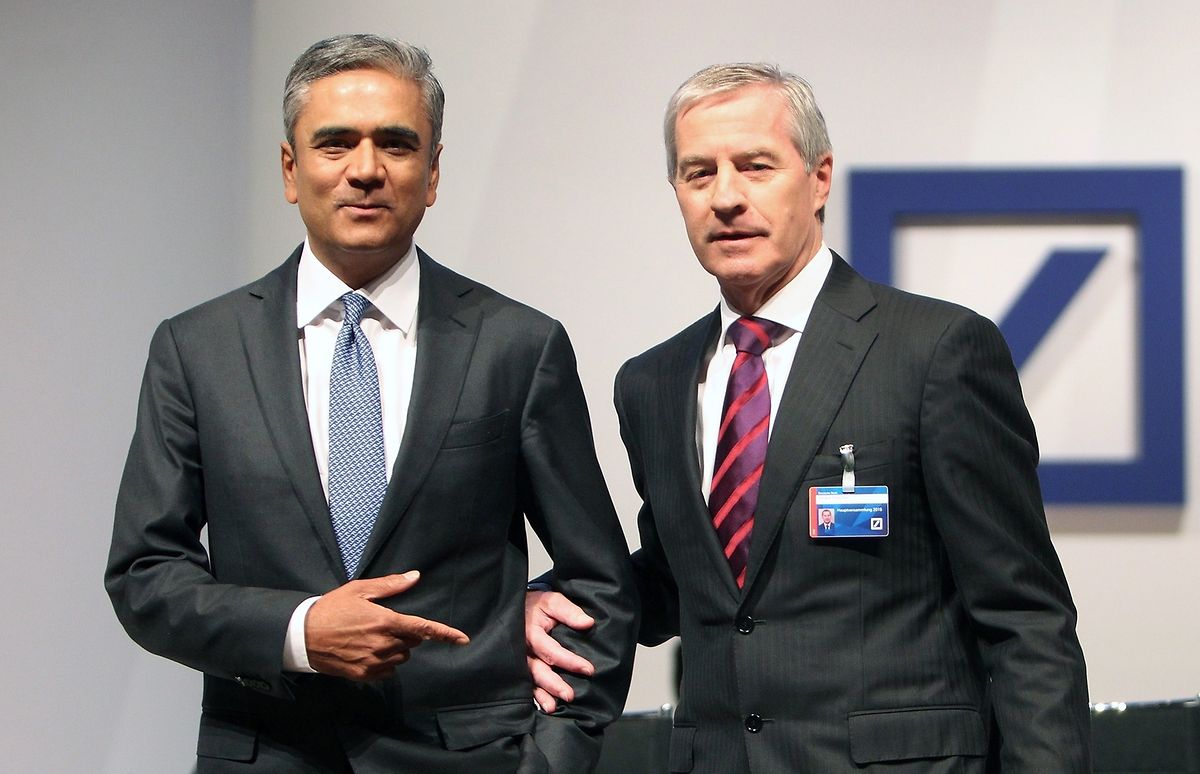 (AFP) European financial giant Deutsche Bank announced Sunday its co-chief executives are stepping down as the banking group faces a wave of scandals and has failed to meet profit targets this year.
Anshu Jain will resign at the end of June, while Jürgen Fitschen plans to stay on in the job until after Deutsche Bank's annual shareholder meeting in May 2016.
Deutsche Bank said it has appointed supervisory board member John Cryan, 54, to take over in July as co-CEO and he will become sole chief executive after Fitschen steps down.
Germany's largest lender is mired in around 6,000 different litigation cases and was last month fined a record 2.2 billion euros for its involvement in an interest rate-rigging scandal.
In mid-May, the bank confirmed it had opened an internal probe into its investment division in Russia, with the German press speaking of possible money laundering.
Bloomberg reported the case involved some $6 billion in transactions over four years.
The resignations were welcomed by stockholders in Germany, who had blasted the leaders for their performance.
"The investors had lost their trust in Anshu Jain and Juergen Fitschen," said Klaus Nieding, vice president of the shareholders' association DSW.
The duo had taken the reins of the bank with the promise of ending a string of scandals, improving its image and making the institution more profitable.
But three years later the results are still not where shareholders want them to be and the bank's legal troubles have not gone away.
Fitschen is on trial in Germany on allegations he gave misleading testimony in 2002 and faces prison.
"The promised change of culture never arrived," Nieding said.
Arrogance and brilliance
Deutsche Bank's statement did not say why Jain, 52, and Fitschen, 66, had resigned, but commended the men for their choice.
"Their decision to step down early demonstrates impressively their attitude of putting the bank's interests ahead of their own," the statement said.
The two CEOs have been in their current positions since 2012 and their contracts were due to run through March 2017, Deutsche Bank said in a statement.
Cryan previously served as chief financial officer for Swiss bank UBS from 2008-2011 and has been on Deutsche Bank's advisory board since 2013.
At Deutsche Bank's annual meeting last month the two men faced shareholder wrath over the string of scandals and poor profitability. The bank has so far failed to meet its profit targets for this year.
Deutsche Bank, which employs a workforce of more than 98,000 and has annual revenues of some 32 billion euros, is torn between its ambitions in investment banking and its historic domestic retail banking network.
Despite substantial efforts to cut costs and diversify, the bank continues to lag behind its Anglo-Saxon rivals.
Net profit slumped to 559 million euros in the first quarter to end-March from from 1.1 billion euros in the same period of 2014 because of litigation costs.
Jain was once a star at Deutsche Bank, having helped it nearly triple taxable profits from 2003-2007. He took over as the co-chief of the investment banking division in 2004 and became its sole chief in 2010.
The financial crisis plunged the bank into the red in 2008, but a year later Jain managed to return his division to powerhouse status.
Though he was welcomed when he took the top job, his reputation quickly lost its lustre.
He was tarnished by a string of scandals and fraud that occurred at the investment division while he ran it and which continue to cost the group money.
Jain was also known for his brilliant analysis, conceiving of financial products and his negotiating prowess.
However, his detractors saw him as being possessed of an arrogance that helped drive a wedge between the investment banking operations in London and Deutsche Bank's more traditional activities in Germany.