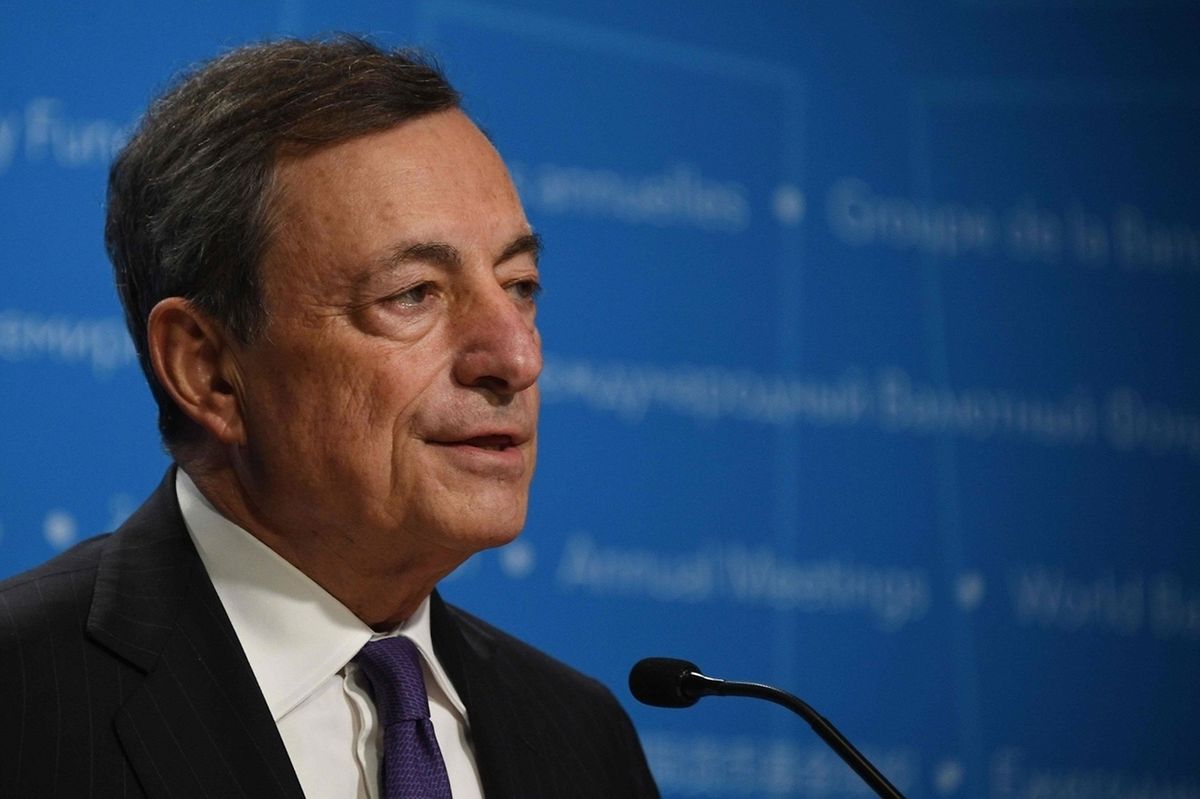 (Bloomberg) The European Central Bank will halve monthly bond purchases to €30 billion next year, stretching out the program's remaining capacity as it waits for inflation to pick up, a Bloomberg survey of economists shows.
Policy makers will keep buying for about nine months to take the program to just over €2.5 trillion, respondents said before the ECB's October 26 decision. That's consistent with what some officials see as the limit in the market under current rules. President Mario Draghi is predicted to announce his first interest-rate increase in early 2019.
Such an outcome for quantitative easing (QE) would soothe the concerns of policy makers who want a definite signal that the program will end, while giving succor to those who want to keep stimulus flowing as long as the inflation outlook remains lackluster. It doesn't resolve the question of what happens in a year if consumer-price growth still isn't on track to the ECB's goal.
The ECB's target is an inflation rate of below but close to 2%.
"Considering the limits that govern the ECB's government bond purchases, the central bank is quickly using most of its easing potential already now," said Jan von Gerich, chief strategist at Nordea in Helsinki. "There will be little left for the next recession, or crisis, which is problematic."
Sketching out the details of unwinding QE would allow economists and investors to better gauge when interest rates may start to rise. Based on a pledge that borrowing costs will remain unchanged well past the end of asset purchases, the survey sees the first increase in the deposit rate in the first quarter of 2019 and a hike in the benchmark rate in the following three months.
Bloomberg reported this month that some policy makers saw room for little more than €200 billion of purchases under the bond-buying program. Governing Council members are considering cutting the monthly pace -- currently running at €60 billion -- by at least half starting in January and extending buying for nine months with a proviso to do more if needed.
"The Governing Council seems concerned that a more aggressive tapering plan could harm financial conditions, especially by letting the euro appreciate even more," said Kristian Toedtmann, an economist at DekaBank in Frankfurt. The single currency has gained more than 12% against the dollar this year.
Economists at Bloomberg predict the ECB will reduce monthly bond buying to €40 billion in January and commit to purchasing at that pace for at least six months.
"There has been no dissenting voice at the ECB ahead of the meeting on the need to scale down net purchases," said Maxime Sbaihi, an economist at Bloomberg in London. "So the question is less 'if' they will taper than the details of 'how' they will do it."
Some ECB officials have pointed to the reinvestment of money from maturing bonds as an important means of stimulus even after net purchases stop. Even though chief economist Peter Praet has argued in favour of providing more details about the central bank's strategy to manage its QE stock, economists are split over whether an announcement will be made this year, according to the survey.
The major sticking point among governors is whether to commit to an end-date for QE. While urging caution, Draghi has expressed confidence that the region's economic recovery will eventually help him and his peers to deliver on their mandate. Yet inflation was 1.5% in September and ECB's own forecast doesn't see it returning to the ECB's goal before the end of 2019.
"It seems that the hawks want a definitive end-date while the doves want it open-ended," Alan McQuaid, an economist at an economist at Merrion Capital in Dublin. "I think we will get a compromise, with the ECB saying that it intends to end its QE scheme in September 2018, but if things take a dramatic turn for the worse on the economic or inflation front in the meantime, it will extend its scheme further until things have stabilised."