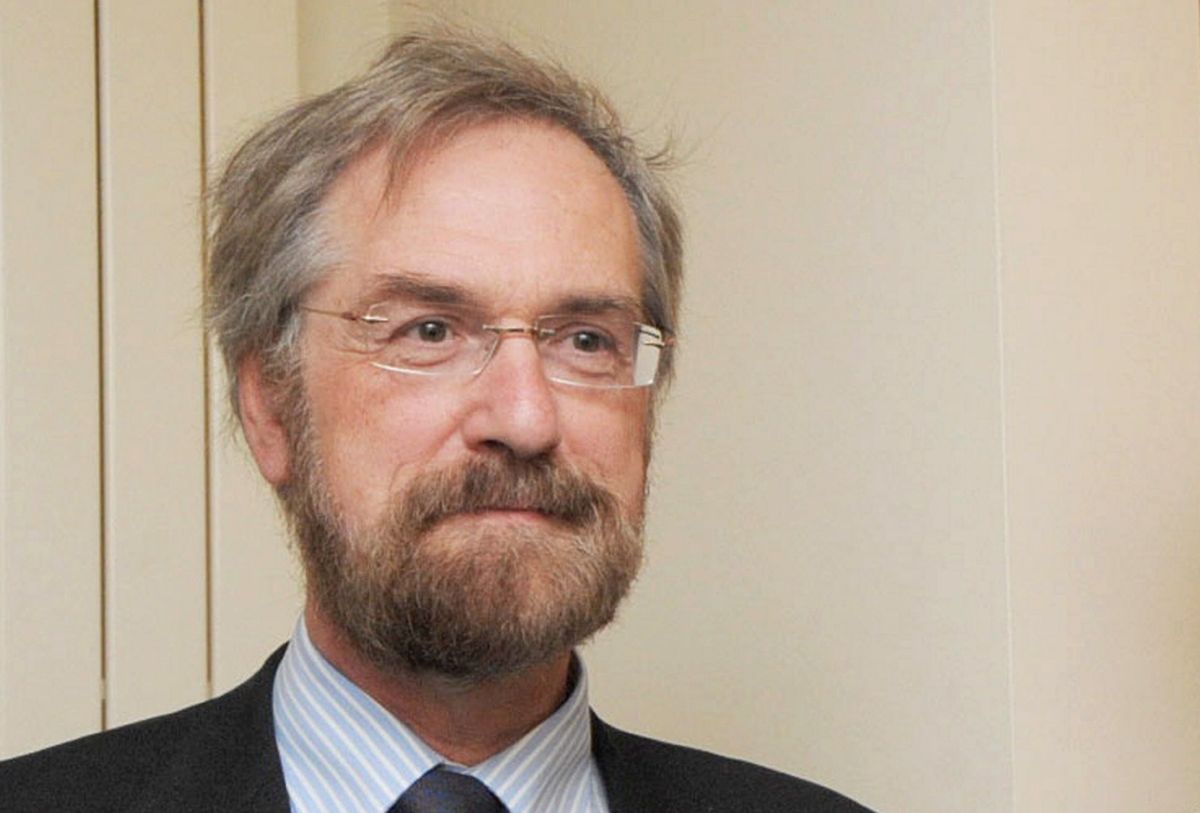 Photo dated on March 23, 2009 shows Peter Praet (L) of the Belgian national bank (NBB - BNB) posing during a hearing session of the chamber commission for Finance and Budget, at the federal parliament, in Brussels. The European Central Bank (ECB) on January 3, 2012 named executive board member Peter Praet of Belgium as its new chief economist, taking over from Juergen Stark of Germany, who stepped down at the end of 2011. AFP PHOTO / BELGA / HERWIG VERGULT
The European Central Bank must continue with its asset-purchase programme -- so-called quantitative easing -- because inflation remains too far from the bank's target, Executive Board Member Peter Praet said.
The ECB is using QE to bring eurozone inflation to below, but close to 2%. Its rate-setting Governing Council decided on September 7 that the asset purchases, now running at €60 billion a month, will continue until the end of December, "or beyond, if necessary" and in any case until there is a "sustained adjustment" in inflation.
"Underlying inflation remains too low," Praet said in an interview with Belgian newspaper De Tijd and published on the ECB website. "A substantial stimulus is still necessary. Everyone agrees that we have to make sure that the reduction of the stimulus takes place in an orderly manner, without any excessive shocks."
Consumer prices across the 19-nation eurozone increased 1.5% in August, quickening from 1.3% in July. The ECB's asset purchases from banks brings money into the financial system and takes interest rates down.
Consumers and businesses can thereby borrow more at lower costs, and their spending and investments should increase. That, according to the ECB, should take inflation nearer to 2%.
Fellow board member Sabine Lautenschläger said on Friday that a decision on when to scale back QE must be taken "now". ECB President Mario Draghi said on September 7 that the "bulk" of the decisions about phasing it out will be taken in October.
Praet said when that happens it must be communicated properly.
"We have to handle it very carefully. And we will have to be very careful about the words we use," he said. "Actually monetary policy pretty much comes down to trying to influence other people's expectations of the future. It is a quiet and difficult exercise in mass psychology."
He said the recent strengthening of the euro, up almost 14% against the dollar in the year-to-date period according to Bloomberg data, needs to be watched.
"The Governing Council of the ECB has assessed that recent volatility in the exchange rate represents a source of uncertainty which requires monitoring with regard to its possible implications for the medium-term outlook for price stability," Praet said.
De Tijd's interview took place on September 13 and was published on September 16.
(Alistair Holloway, alistair.holloway@wort.lu, +352 49 93 739)